How Bramblebuzz Will Help to Grow Your Business Through Social Media
Wherever you are along the amazing social media path to the treasure trove it leads to – we can help! Twitter, Facebook, LinkedIn, YouTube, Google+, Pinterest and the rest – they all have so much potential – we're passionate about getting them working for you!
Social media shouldn't be complicated or scary – it's all about the most natural thing in the world – communication. But you need to get it right or you'll waste time and energy getting nowhere fast!
Whether you're completely new to this amazing phenomenon and want help with getting to grips with it all, or you've been using it for a while but aren't getting the results you want, we're here for you. We can hold your hand every step of the way.
We can discuss what the best networks for you to use would be right now and set you up on them, with a fully branded and consistent presence.
We can give you training in how to use the various networks, either  1:1, or in a workshop – these can also be tailor-made to suit a group of people from the same organisation.
Maybe you're loving what social media can do (who doesn't???) but just know you won't find the time to do it all yourself? Don't panic – we can help with that too!
If you're fully competent in all the networks but something's not happening as it should be, chances are you've not got a strategy in place – or if you do, it's not working for you – let's get that straight, right now – to save you wasting any more time and energy – and start getting the results you deserve.
Maybe you are providing, or can see you need to provide, social media services to your clients, but don't feel confident in doing so? We are helping a number of businesses in this position – either working behind the scenes to create strategy, profiles and posts or providing intensive coaching and support for these B2B's to be able to offer these services themselves. If that's an area you need help with please call 0843 6580055
Last, but by no means least …you know social media is a big, hot topic at the moment – so what better than to have a speaker at your next event who really knows what they're talking about and can engage with the audience and speak on their level, whatever it is. Whether you want a talk lasting 10 mins or 90, we can help and would be delighted to do so. We love nothing more than to spread the word about the awesomeness that is …. social media. The talk can be lecture-style, or interactive seminar, or a bit of both.
Oh and by the way – don't think you have to be based in East Devon for us to help you – we travel anywhere and everywhere to spread the love – and of course we have Skype and screenshare options for discussion and training!
Please email us to discuss what you need!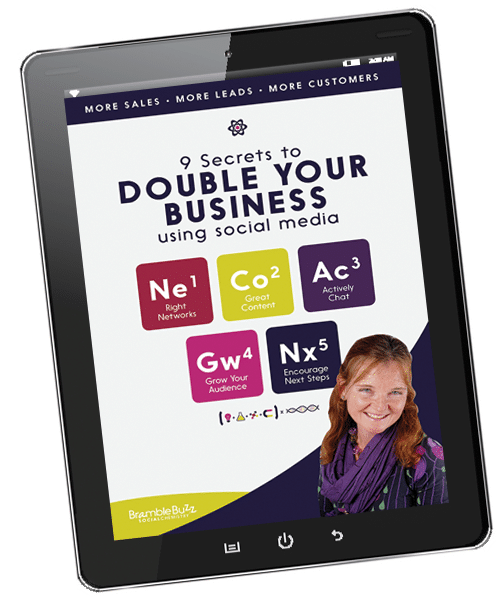 Grab your free copy of my essential guide and discover the secrets to creating a social buzz that builds your business.