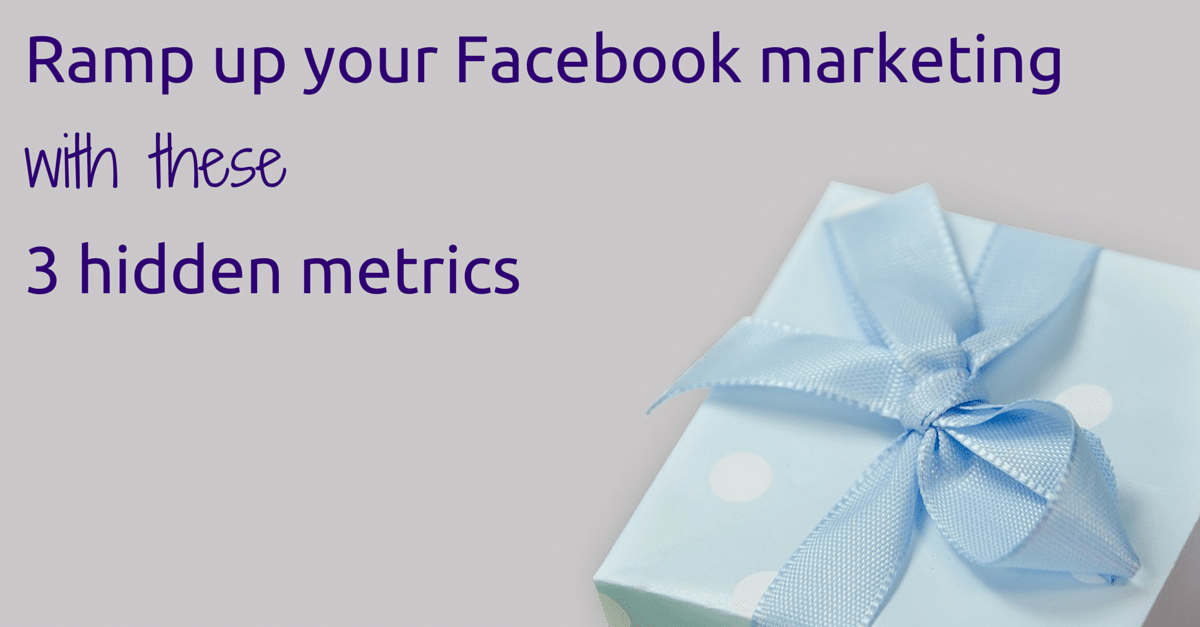 Great! You're using Facebook to market your business!
How's it going?
Are you getting the results you wanted? Or are you finding it hard graft?
Even if it's all going swimmingly, you can always improve – and if you're not doing as well as you'd like, then please read on.
Did you know that Facebook actually gives business Page admins some crucial pieces of information that could make all the difference to your Page's results?
From talking to many business owners trying to use Facebook successfully, I know that many people don't know these little gems even exist!!
I'm going to focus on the 3 most important for really ramping up your Facebook  presence in this post.
All these metrics are found in Insights, which you get to here: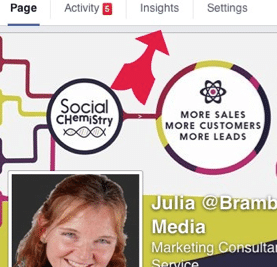 Paying attention to these 3 'hidden clues' could see you seriously upping your reach and your results from Facebook marketing for your business, without having to pay for adverts:
Times when you should post (when your audience is most likely to be using Facebook)
You can find this little gem under the 'Posts' heading at the top of the Insights page.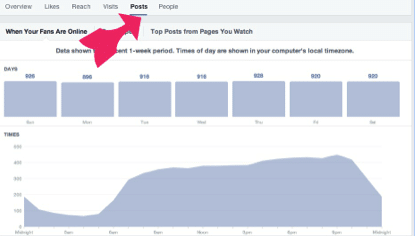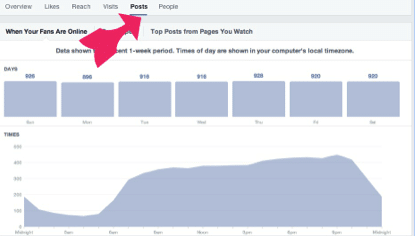 It goes without saying that there's going to be little point sharing your carefully-crafted content when none of the people who have liked your Page are there to see it, so knowing when the people you're trying to talk to are most likely to be on Facebook is invaluable.
How well you're doing  (getting your message across to people who've not yet liked your Page)
It's great to use Facebook to build a community and therefore increase sales by growing the 'know, like and trust' factors, but unless we also increase the number of people who know about us, we're only doing half of a (good) job.
One of the best ways to grow your Facebook audience is by having your current fans (people who have liked your page) like, comment or share a post – as that way their friends see it too.
And guess what? Facebook actually gives you a measure of how many people your posts are reaching through this 'organic word of mouth' method!
Staying on that 'Posts' page of your Insights, simply scroll down to the table underneath and click the arrow next to the 'Reach' heading.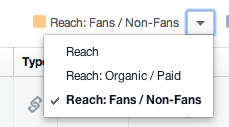 Choose fans/ non-fans and you'll see at a glance which posts of yours are reaching beyond the people who have liked your Page.
For example, the two posts shown below have both been seen by over 400 people – and 1/3  – to 2/3  of those were people who hadn't already liked the Page.


(The blue and pink bars and corresponding numbers give you the number of clicks on the post and the number of likes, comment and shares it got.)
Take note of the posts with big blobs of dark orange – you want to create more posts like them. When you do this you'll find engagement with (ie responses from) your audience increases, and with it, your brand awareness and Page likes too!
The people who are responding to your posts (your engaged audience)
You're trying hard to create great content to attract and nurture relationships with potential or current customers, or JV partners, or influencers, but how do you know whether you're hitting the mark?
Well, as luck would have it, Facebook gives you an overview of the demographics of the people who are actually responding to your posts (who are, of course the holy grail for you.)
On your Insights page, just click on the 'People' heading and then 'people engaged':


You'll see a chart broadly summarizing the age and gender of the people that are responding to your posts:


If this doesn't match with the audience you were aiming to attract, then you need to change what you share!
If it does – happy days!! Carry on and do more!!
You don't need to go mad, spending all your time fretting over Insights, but it is worth checking these key metrics regularly. Facebook put them there to help you after all!
So – did you already know about these 'hidden' insights? Will you be using them from now on?
I'd love to hear your thoughts – please comment below!
If you'd like more 'insider secrets' to getting Facebook working it's socks off for you – without you having to splash out on ads – then please click here now to get my free guide: http://www.bramblebuzz.co.uk/facebook-marketing-secrets