Are you planning an event?
Do you need a confident speaker who can offer great, unique insight and captivate a room full of people?
Have you been searching for the perfect somebody to speak to your audience's specific pain points and challenges? 
Yes? Well I could be just the somebody you've been looking for 
You know that your audience isn't at your event for a lecture. They're there to be inspired, to be challenged and to turn ideas on their head to gain a fresh perspective. They want to laugh. To think. Or maybe just to hear a great story.
If you want to give them all this, I'm your person.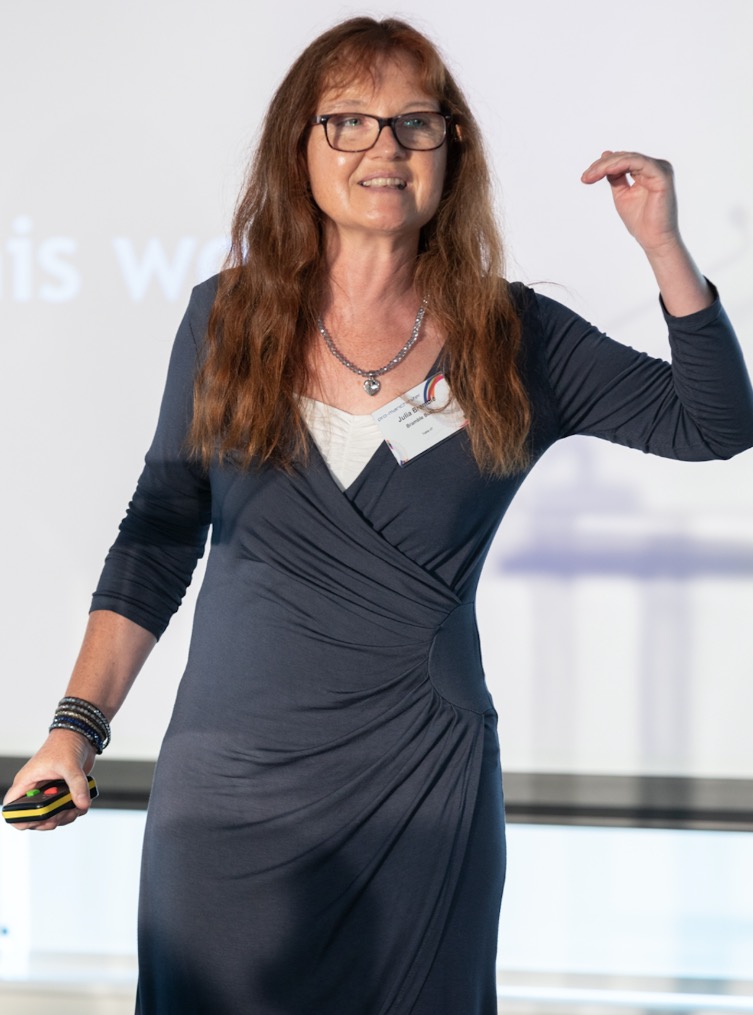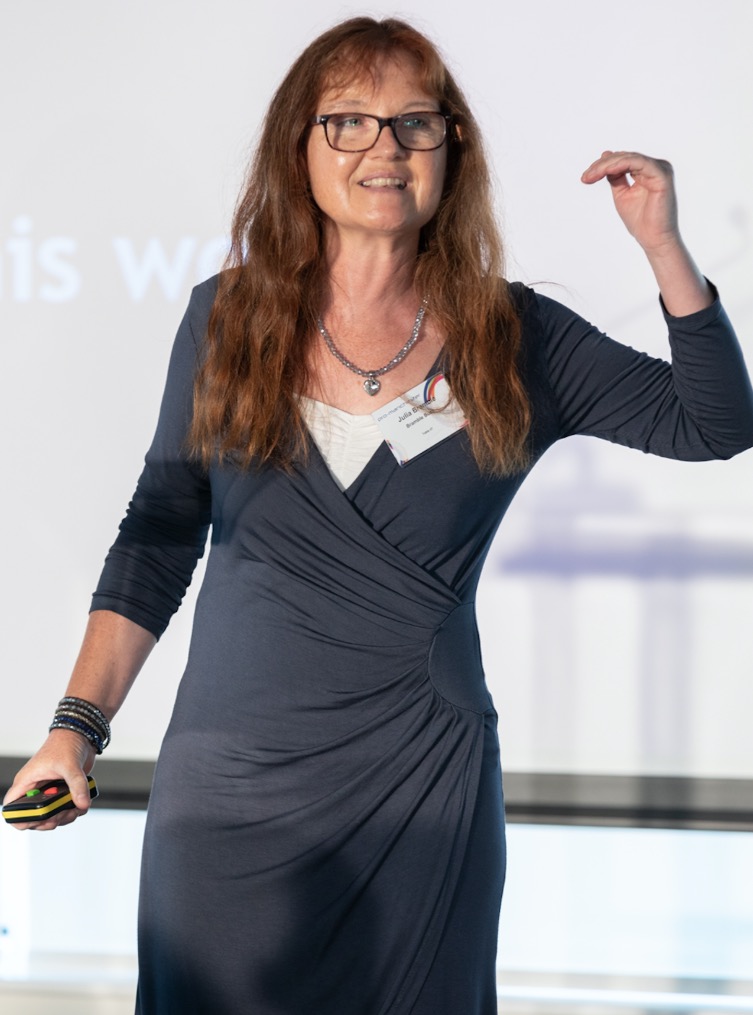 How would you like you and your attendees to feel afterwards?
Like this?…
Julia is a great speaker who knows how to engage an audience. It was a pleasure having her speak at our very first ATOMICON conference on Facebook Advertising. Would highly recommend her.
'Julia delivered an amazing training session, packed with tips on all-things Facebook. If you're trying to up your Facebook game, you got the right person!
It was lovely working with Julia, even with a fairly short preparation period, she delivered a brilliant session for our community. She used a lot of examples and packed her session with many practical, step-by-step and detailed tips!
I'm looking forward to working with Julia again in the future. She's a great trainer and an experienced social media expert. It was a great pleasure to work with her!'

By weaving concrete data and real-world examples with the power of storytelling, I'll ensure that people leave your event feeling: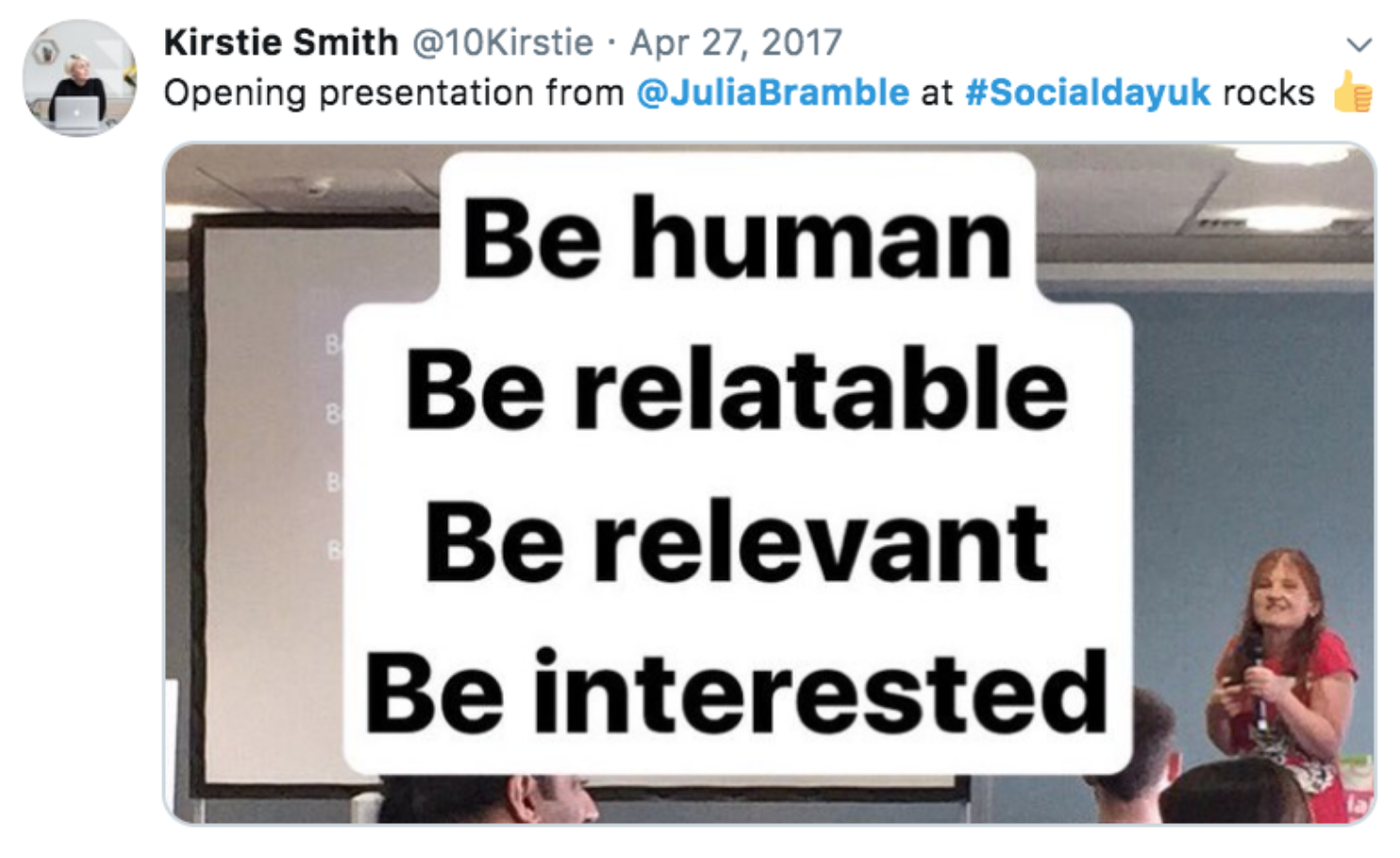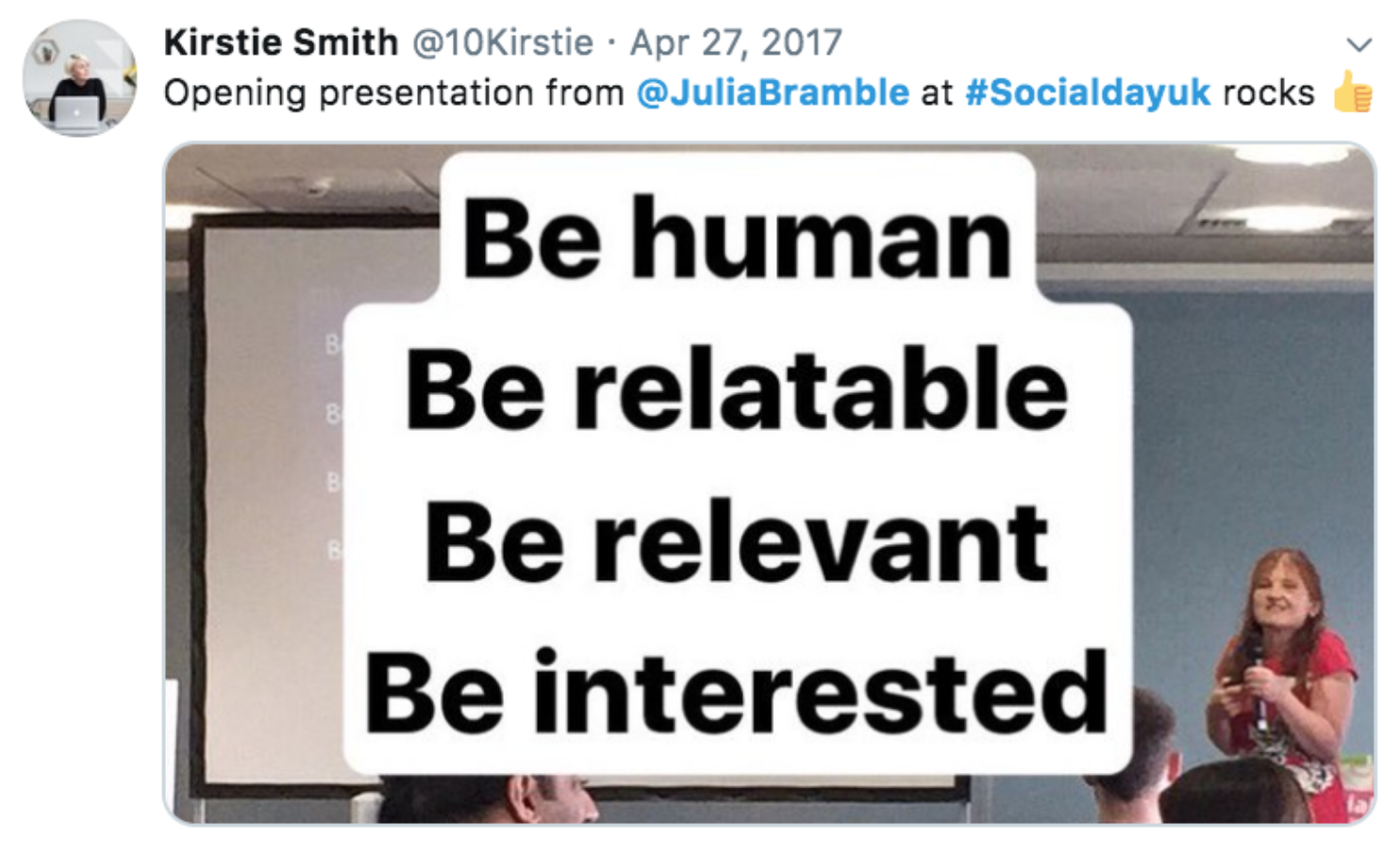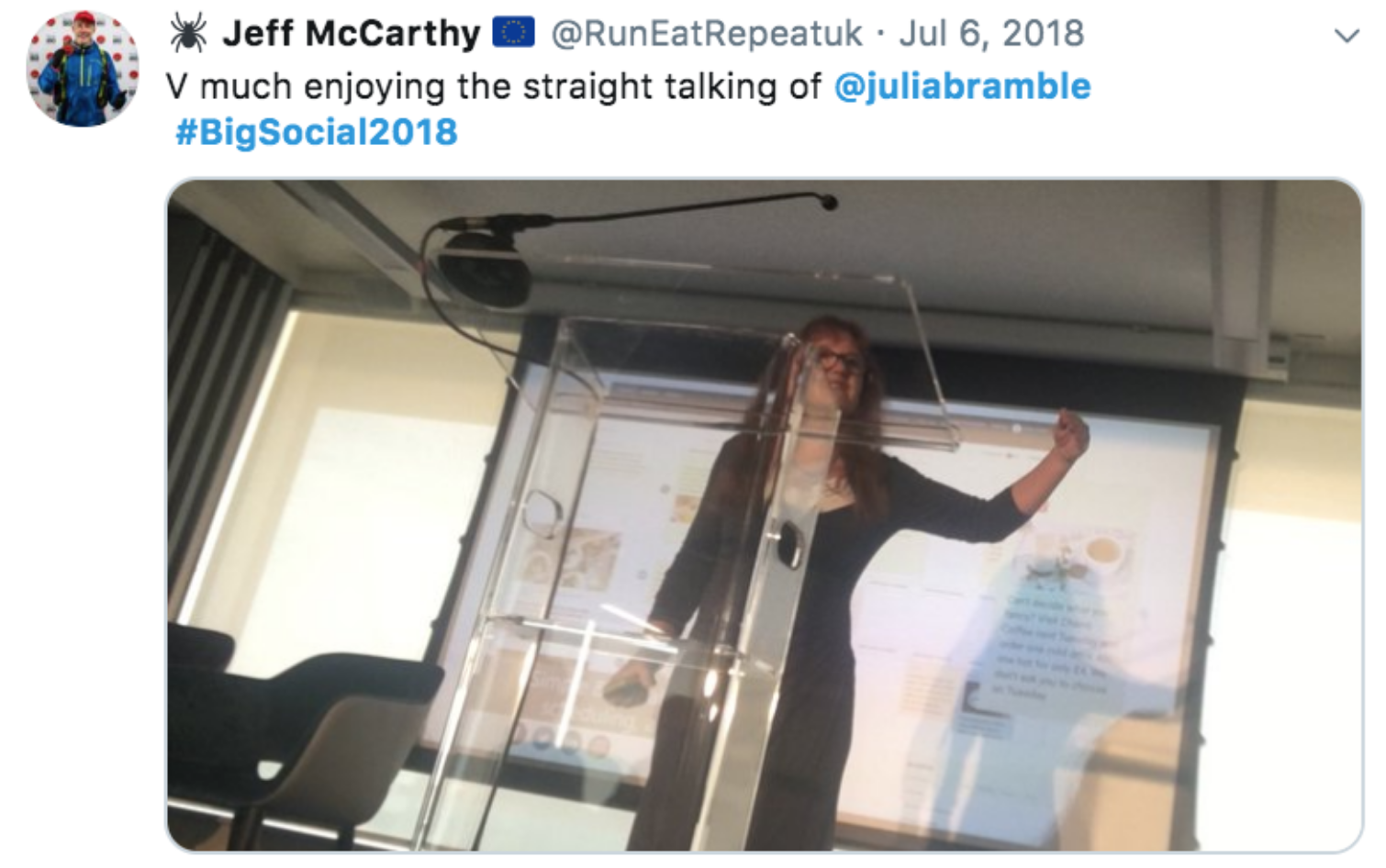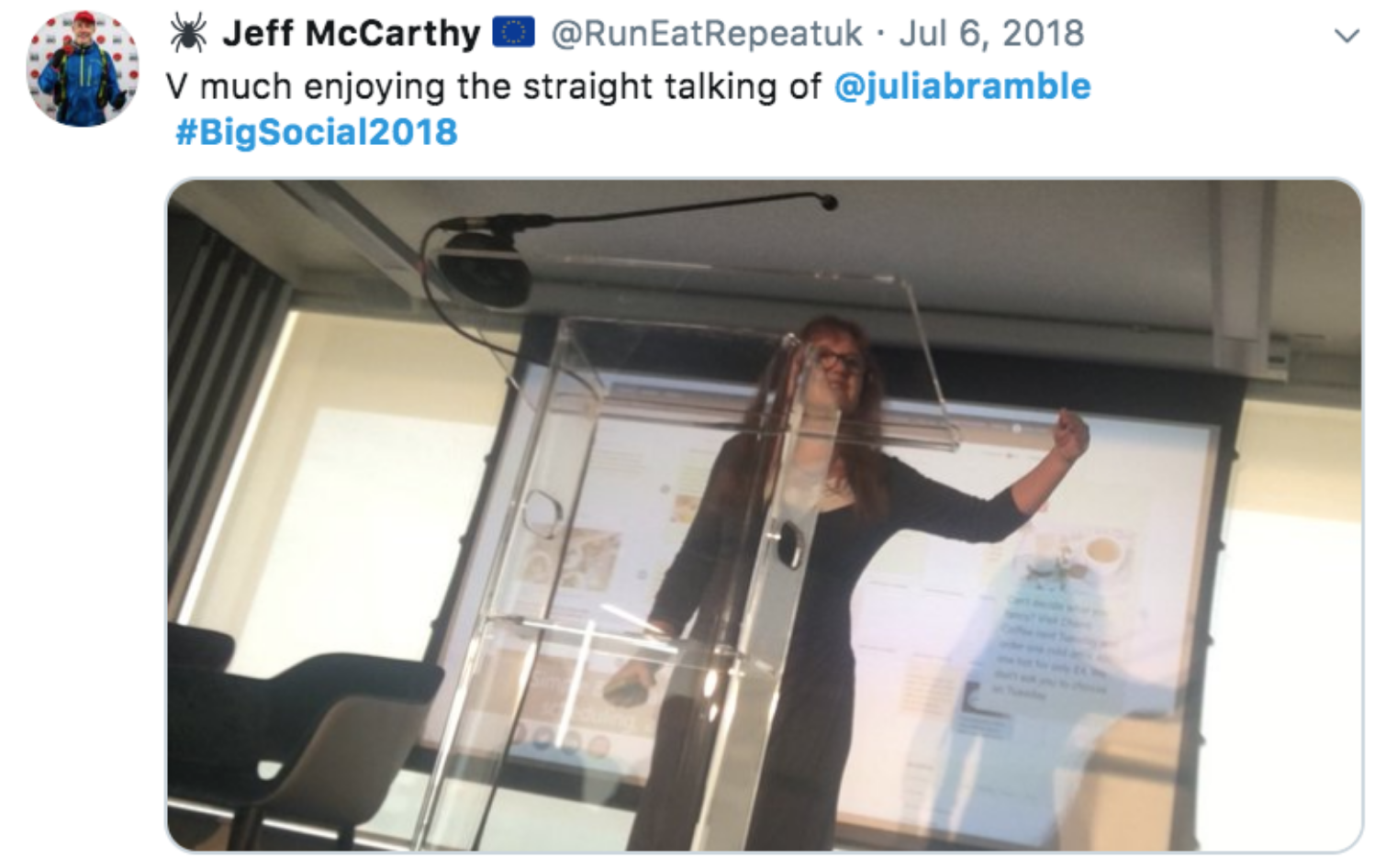 I first met Julia at Social Day Birmingham in 2017 – I was an attendee at the event (I'd never been to anything like that before) and Julia was the opening keynote. I was drawn to her instantly, she has a very kind, warm, friendly style of speaking and she certainly knows her stuff! During her talk, she asked for a volunteer and I was the lucky one that was chosen! Watching and interacting with Julia that day sparked an interest in Social Media and speaking, she was truly inspiring! Fast forward two years and not only have I spoken at events, but I've also run my own conference (FINE – Fitness Instructors Networking Event) and Julia has become a great friend whom I know I can go to for support and guidance! Promoters, you definitely need to get this lady on your speaking line up, she's incredible and she changed the direction of my career!
Julia has spoken for me at 3 Social Day events and at the last event in April, she was our Keynote speaker. I trust Julia as a speaker as I know she has the knowledge and the skill to deliver a great presentation every time, in fact: Julia is due to speak again at a new event called Kickstart Social media next month on the topic of Facebook Ads for business. I love Julia's energy as a speaker, her knowledge and experience is vast and her ability to be creative and think on her feet is amazing to behold. She is a supportive event speaker who tends to recommend the events to her own community and is very open to sharing her knowledge through Livestream and interviews pre-event. If you are looking for someone who will deliver a no-nonsense talk on social media and the subjects surrounding it, with no jargon and in an educational yet inspirational manner then Julia is your speaker. I will always recommend Julia as a speaker or workshop leader because she is honest, trustworthy, knowledgeable, enthusiastic and very experienced.
Why choose me for your speaking event?
I'm not your 'average' social media or marketing speaker, who's maybe got a degree in marketing, or who's set up a marketing business straight from college or Uni. I bring a whole wealth of other experience to my talks and engagements…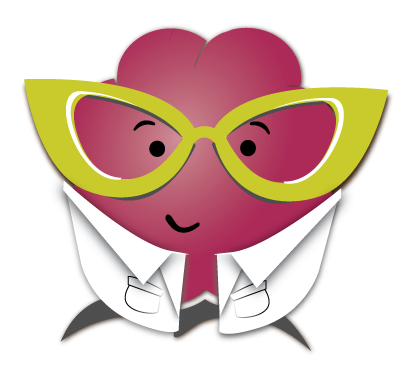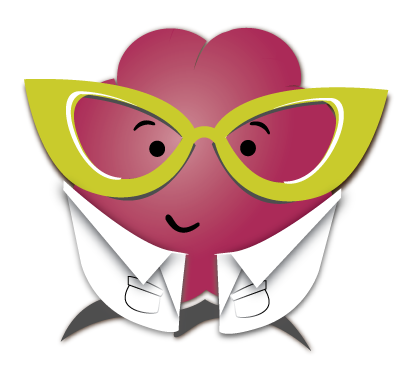 Working in forensic science – my role was to take high tech science and turn it into simple, quality-assured processes that gave reliable results every. single. time (whilst also questioning – digging below the surface is what often uncovers the truth.)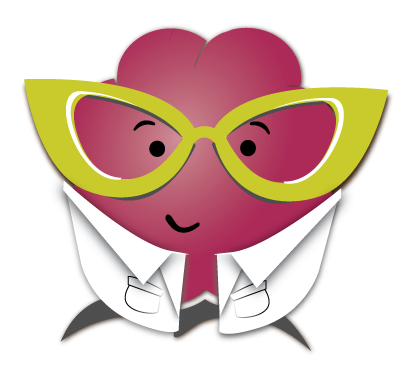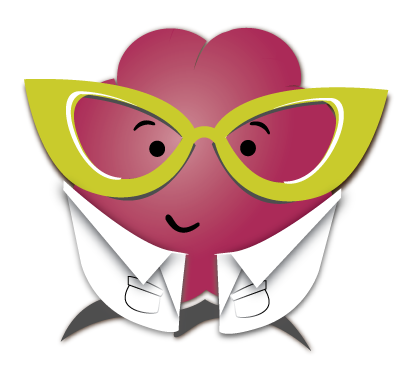 Being a Mum of 6 children – they're now between the ages of 10-22 so you could say I'm a pro at understanding, connecting with and persuading individuals who are different in every kind of way – personality, communication style, media and tech usage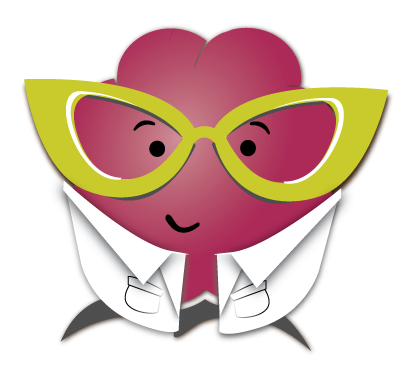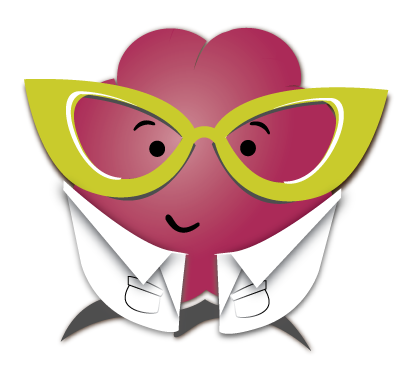 Growing up with an autistic sister – we shared a bedroom, but if I wanted any communication with her at all I had to work incredibly hard to step into her world. Without realising it, this skill of stepping into someone else's shoes became second nature and is now something I love to teach as the world needs it so much!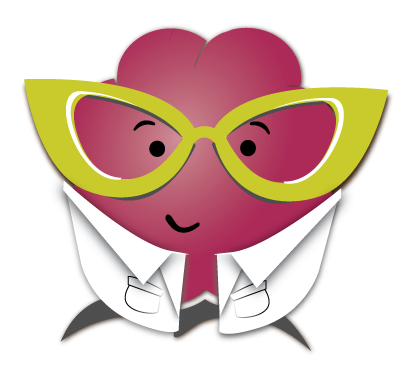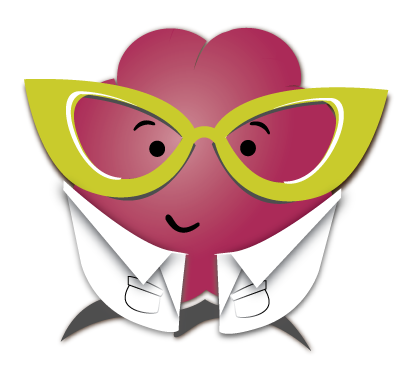 Being Chair of Governors at a primary school for 10 years – this has given me remarkable insight into how we humans interact and learn, how we can empower others, or so easily discourage them, simply by our use of language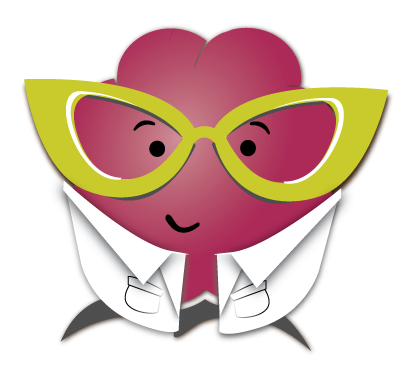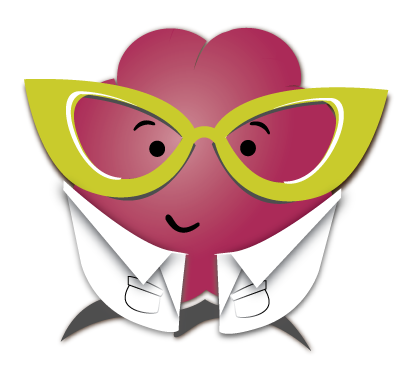 Training experience – aside from working with 1,000s of small business owners and marketers, my experience in presenting started with doing my Ph.D. and having to present my work at conferences to highly-educated (and very intimidating!) audiences. I then led a team who pioneered a ground-breaking forensic DNA testing process in the UK. This method became the basis of the National DNA Database and I went on to train and manage a team of 60 scientists who processed the samples.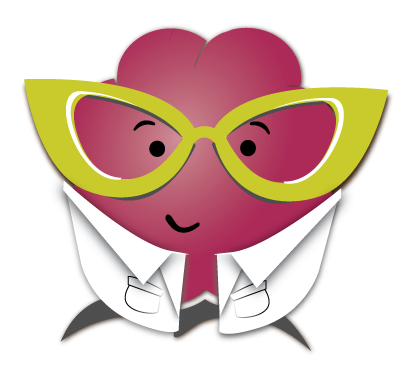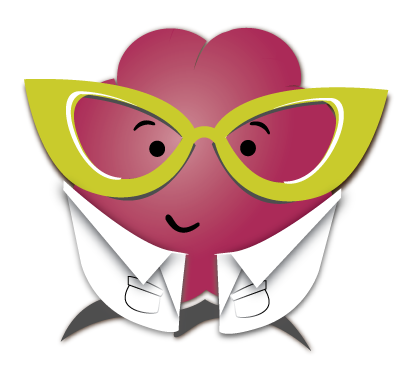 I had a 'baptism of fire' moment when given the job of creating and delivering DNA training to 40 of the most sceptical experts you could ever wish to meet – the Court Reporting Officers of the Metropolitan Police. They had to present this stuff to judges and juries in the highest ciourts in the land, so my role was to take them from not knowing anything and (for some) not wanting to know – to being fully confident to report results in court.
Phew! That was scary to say the least – but I loved it and it was a total success!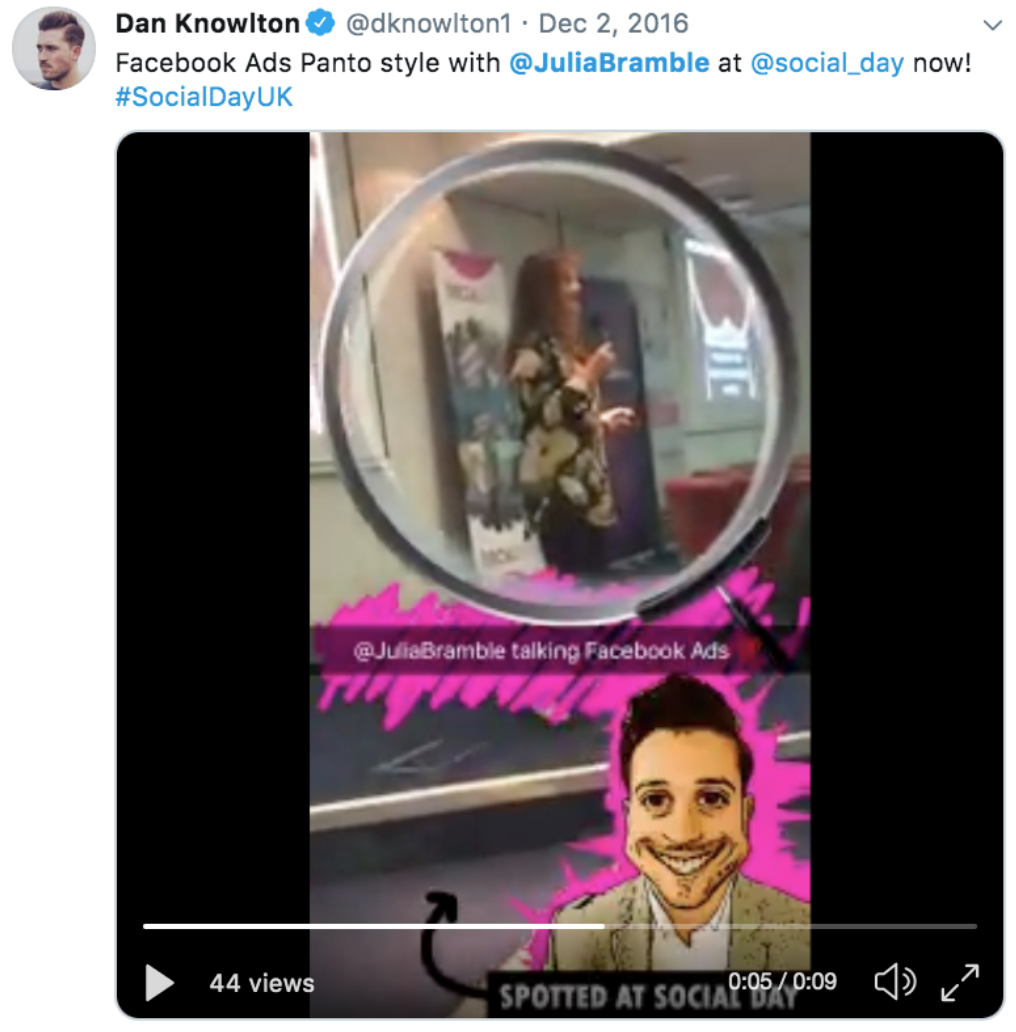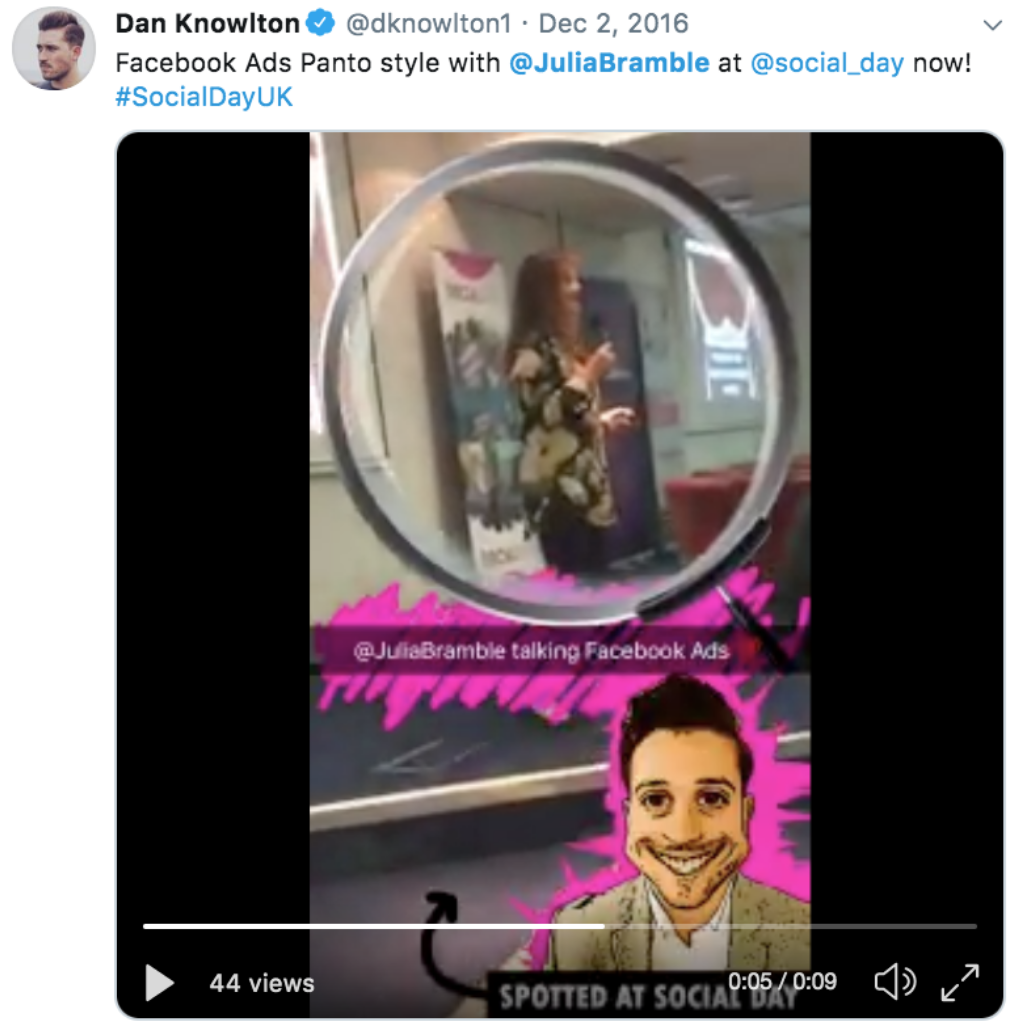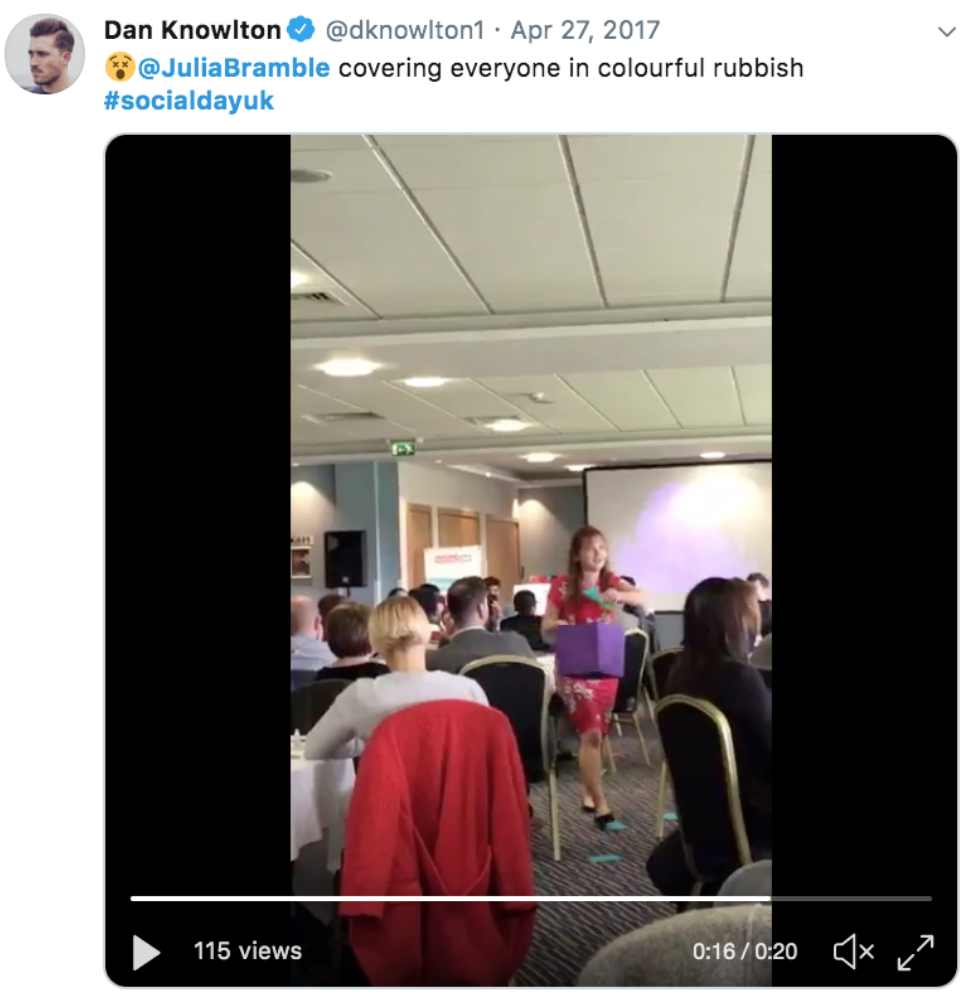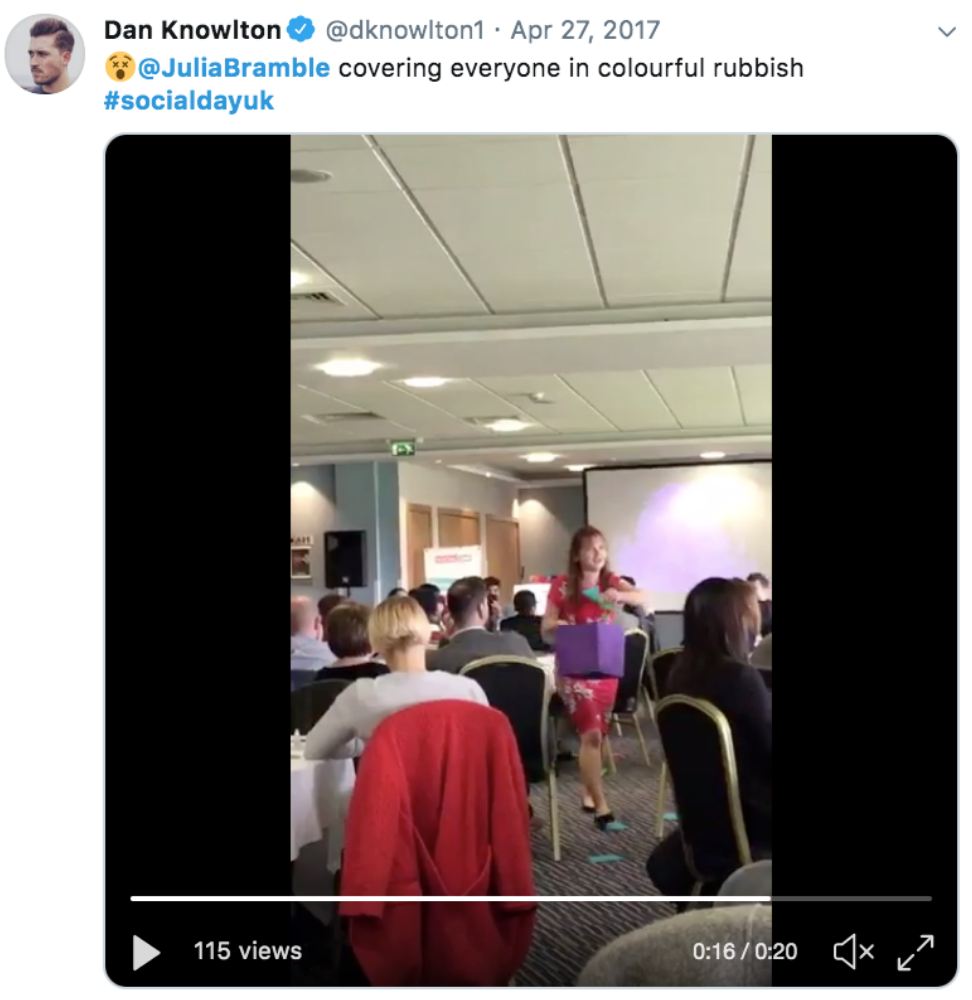 Julia is an expert in the field of Social Media. Her knowledge of the subject is first rate and her ability to help people understand and implement social media and all its nuances is outstanding. If you haven't hired Julia yet for presentations on the subject, then please do so. You will not come across a more learned individual on the topic, nor such a spectacularly popular presenter. Thank you Julia for everything you have done and are doing to help us grasp and benefit from this ever-changing industry! 
Julia presented on social media at our regional conference and managed to convert the vast majority of an initially very reluctant audience to this 'new' idea! This led to a training workshop specifically about Twitter which was very well received and has really helped kick start our regional social media presence. Building Control in the South West is finally open for business via social media – Thank you so much Julia
I was fortunate enough to have Julia present at an event I recently organised (Ladies in the Marine Industry) as one of the key speakers. Julia was easy to deal with, an excellent speaker and tailored her expertise to our audience to make it very relevant. As a speaker Julia was warm, engaging and very knowledgeable. I have no hesitation in recommending Julia and very grateful to have her attend our event.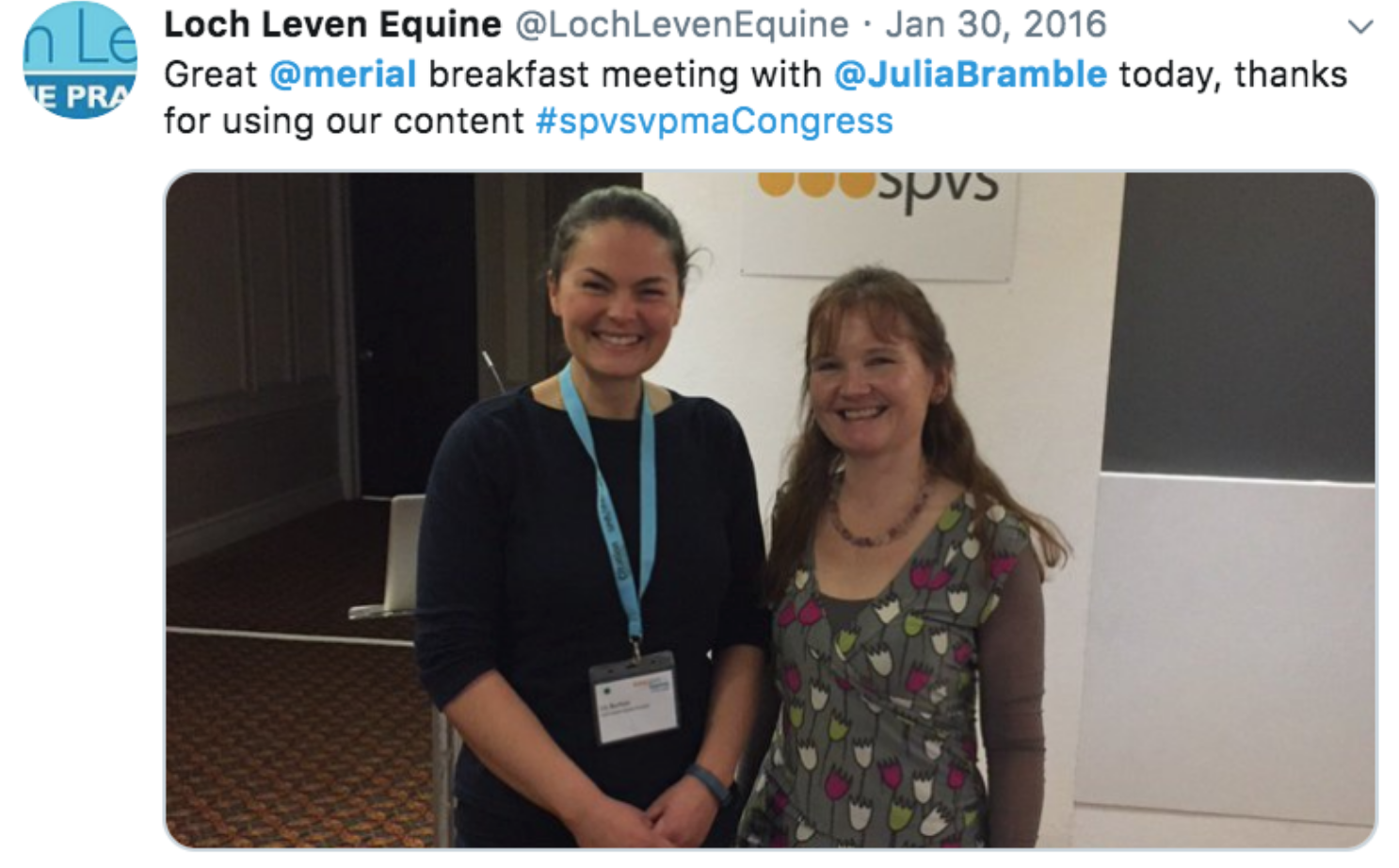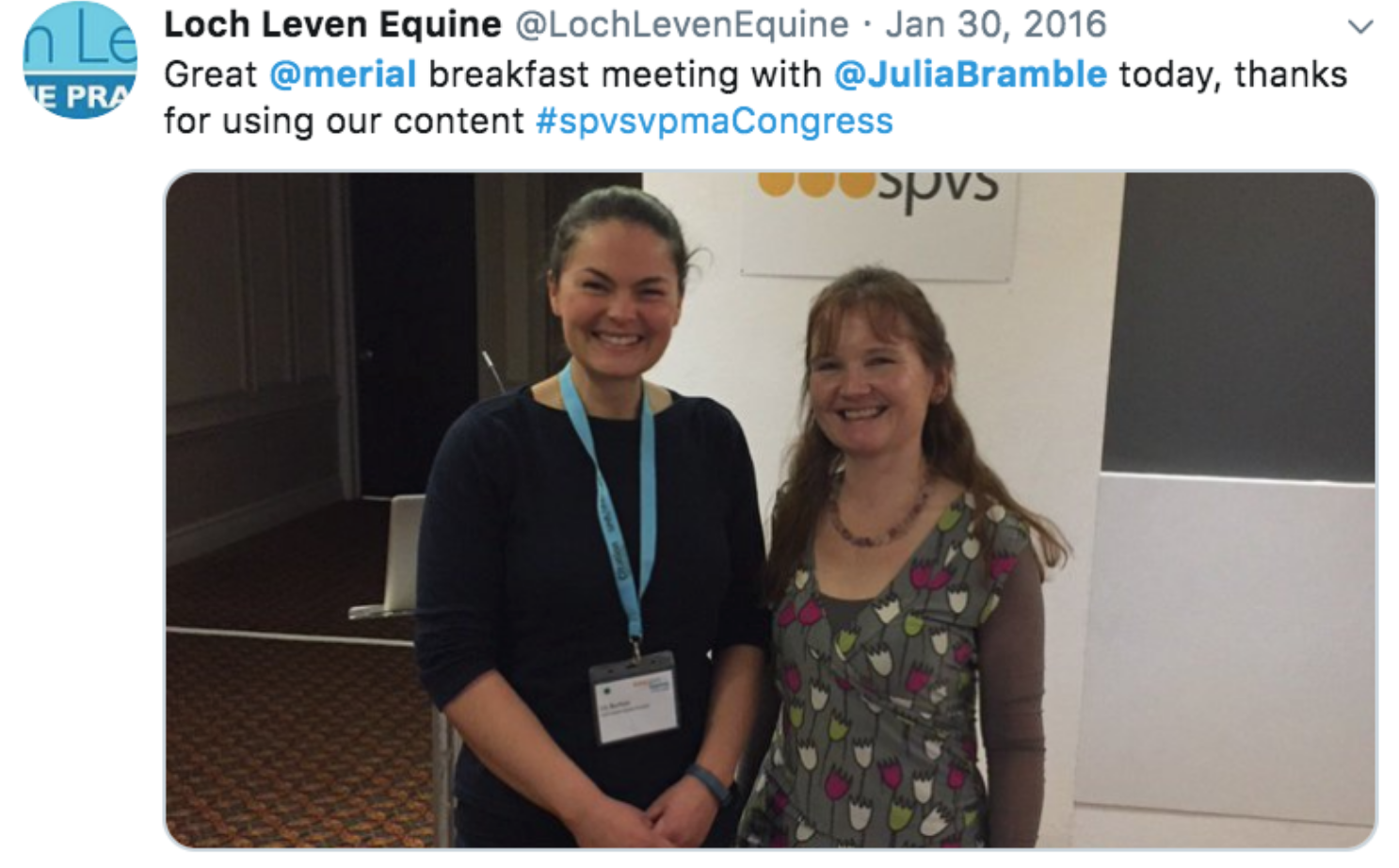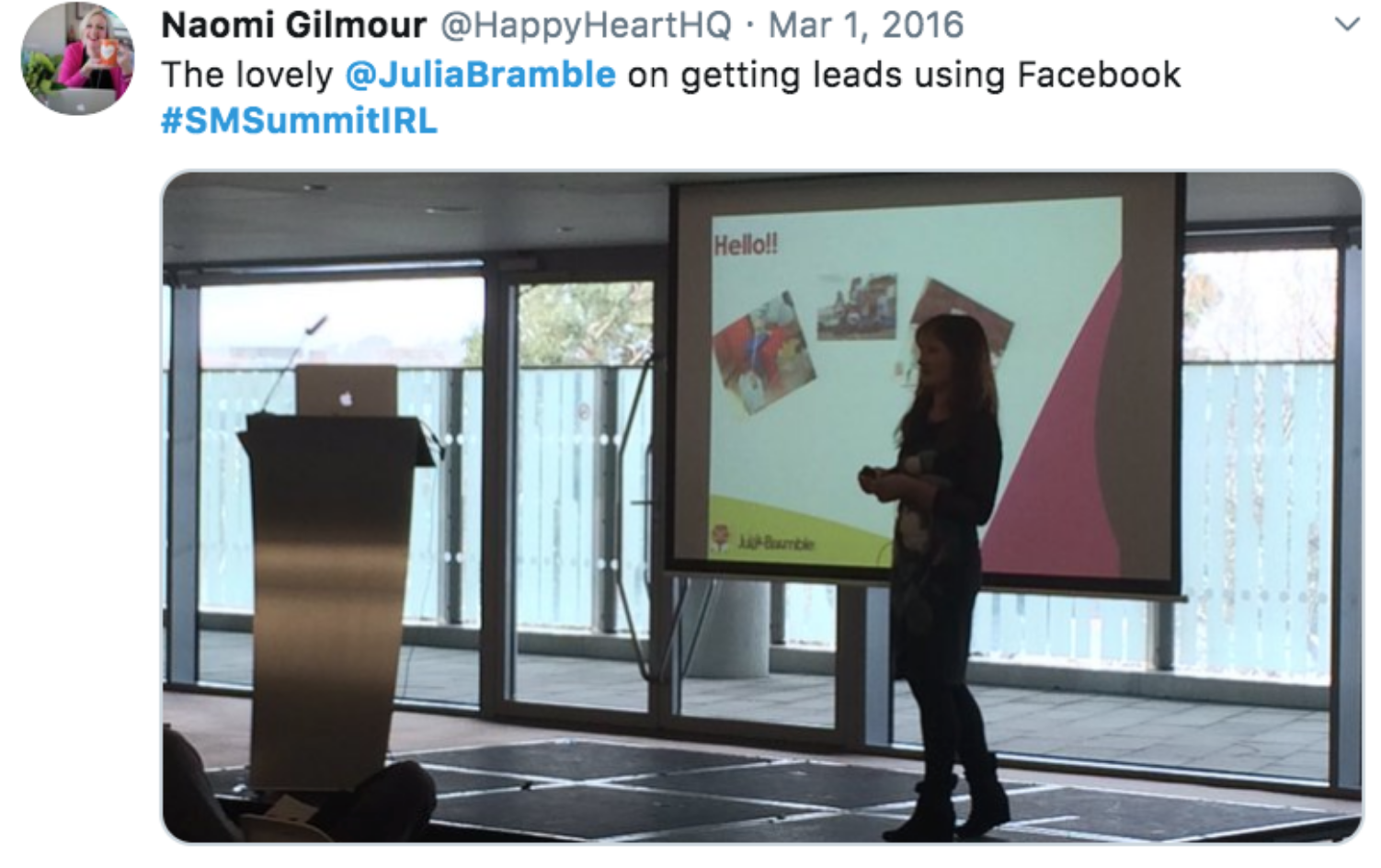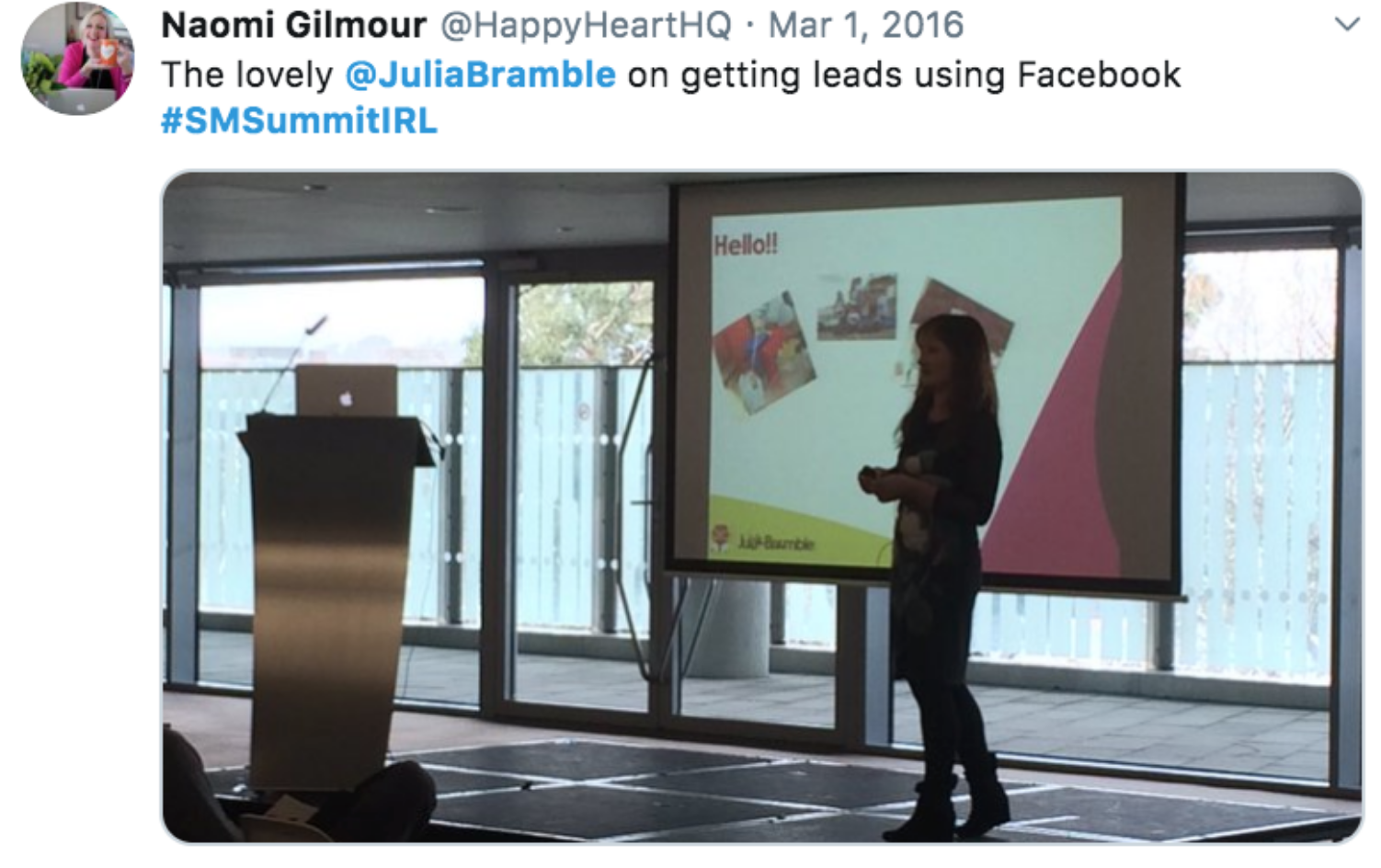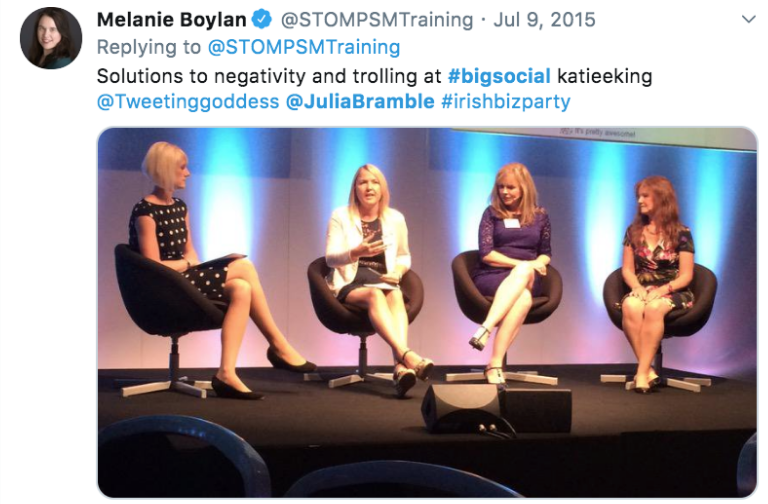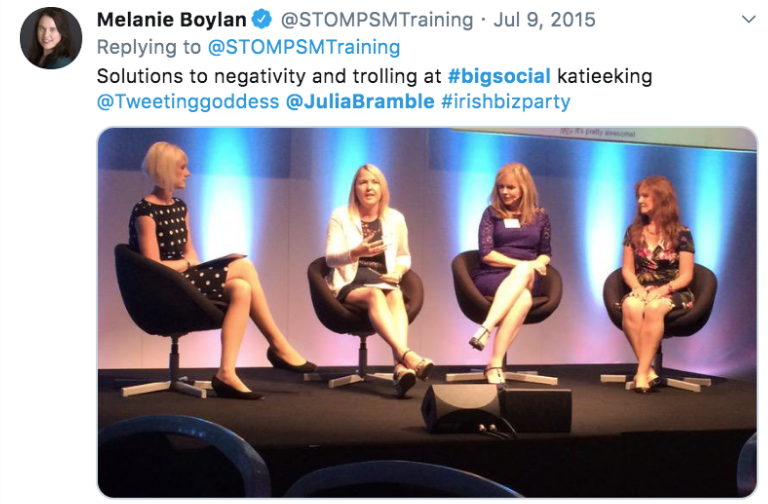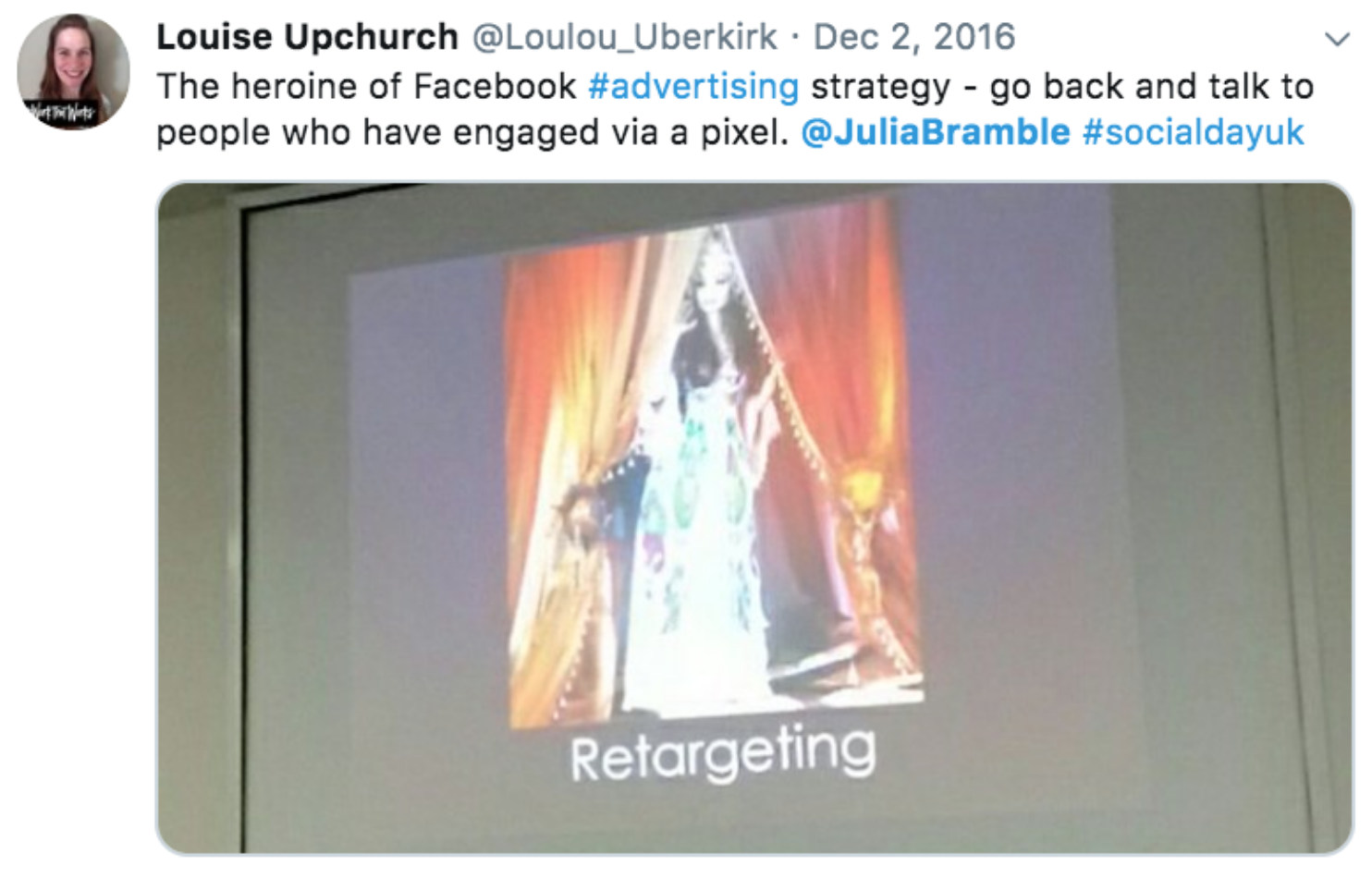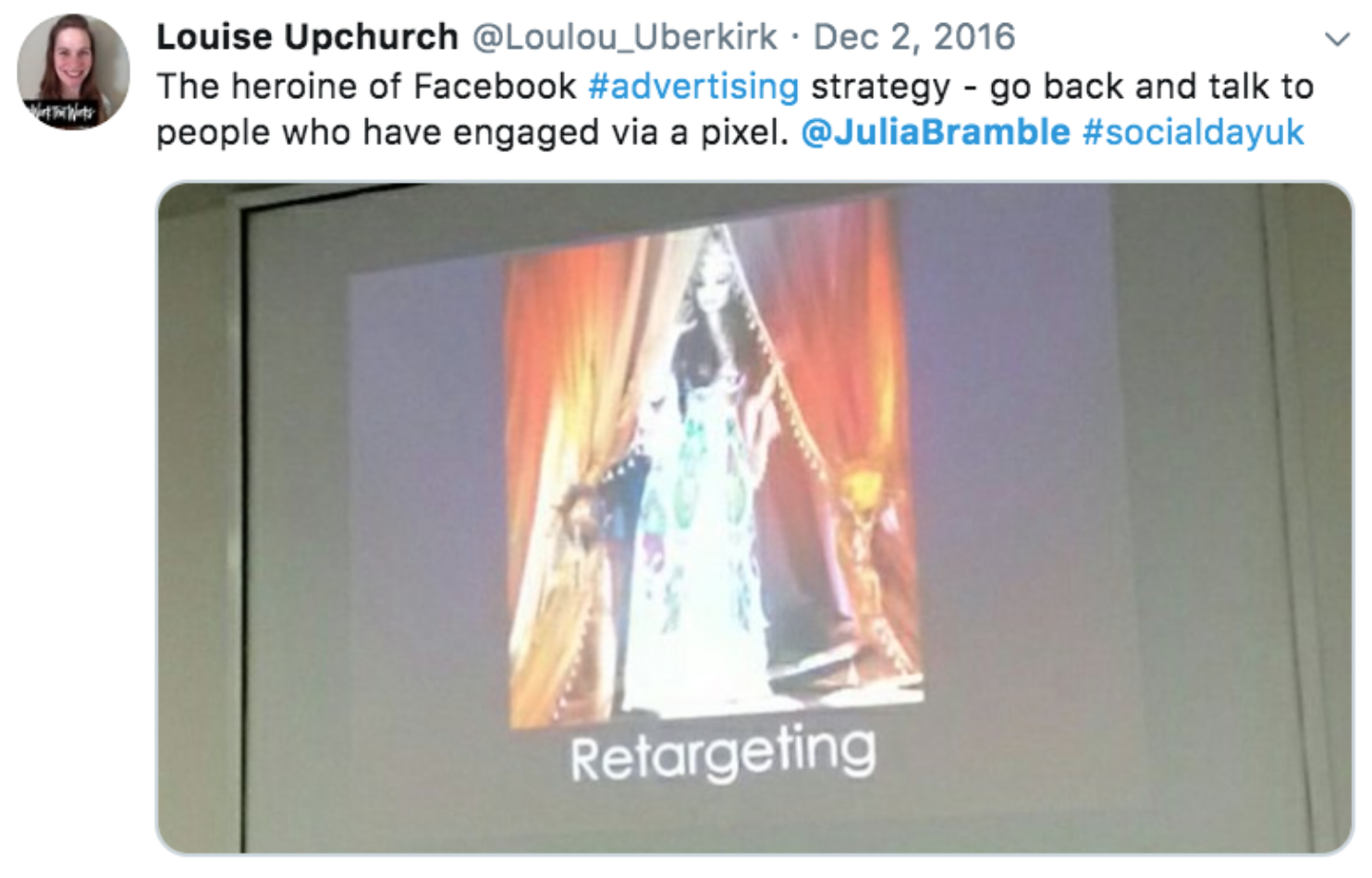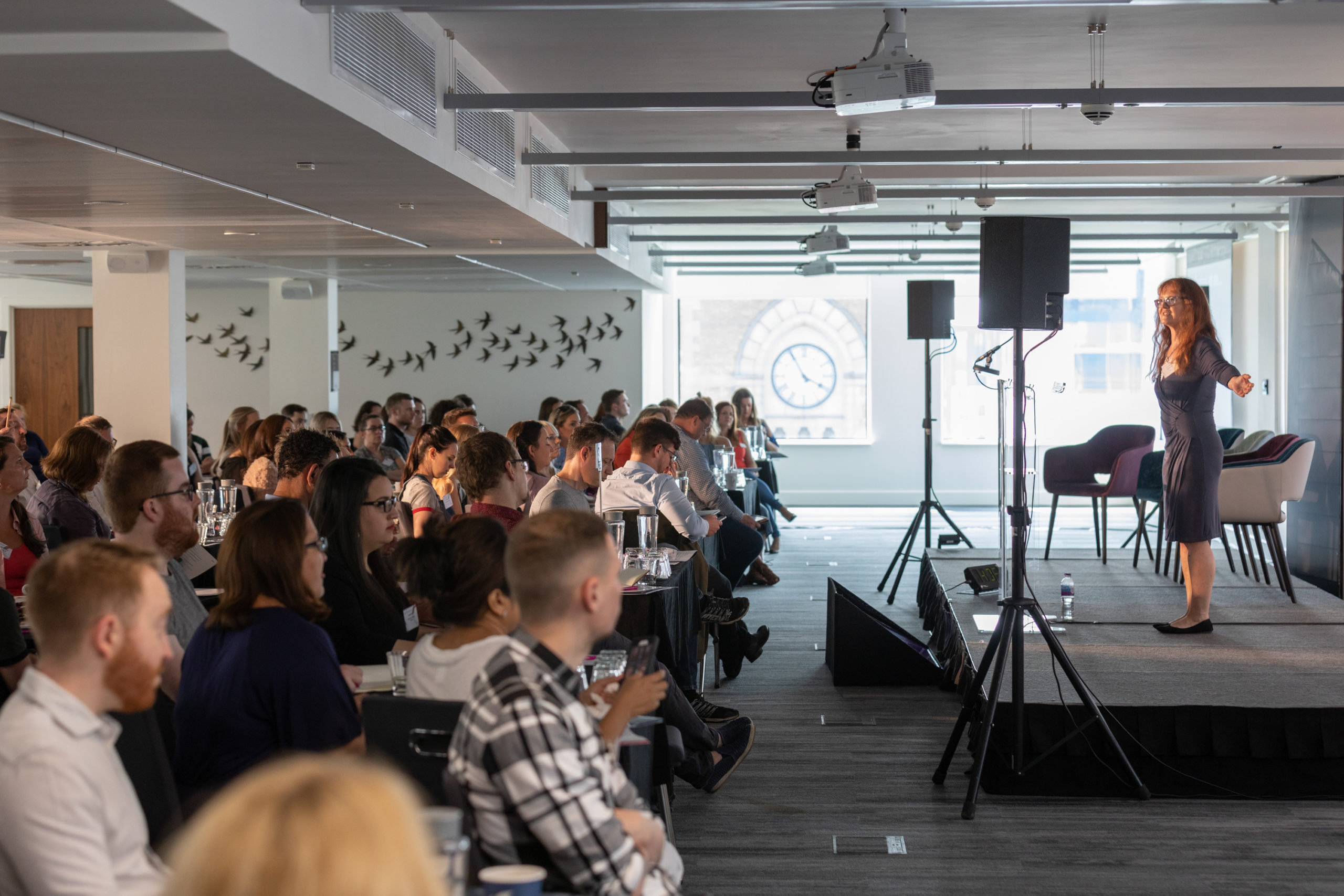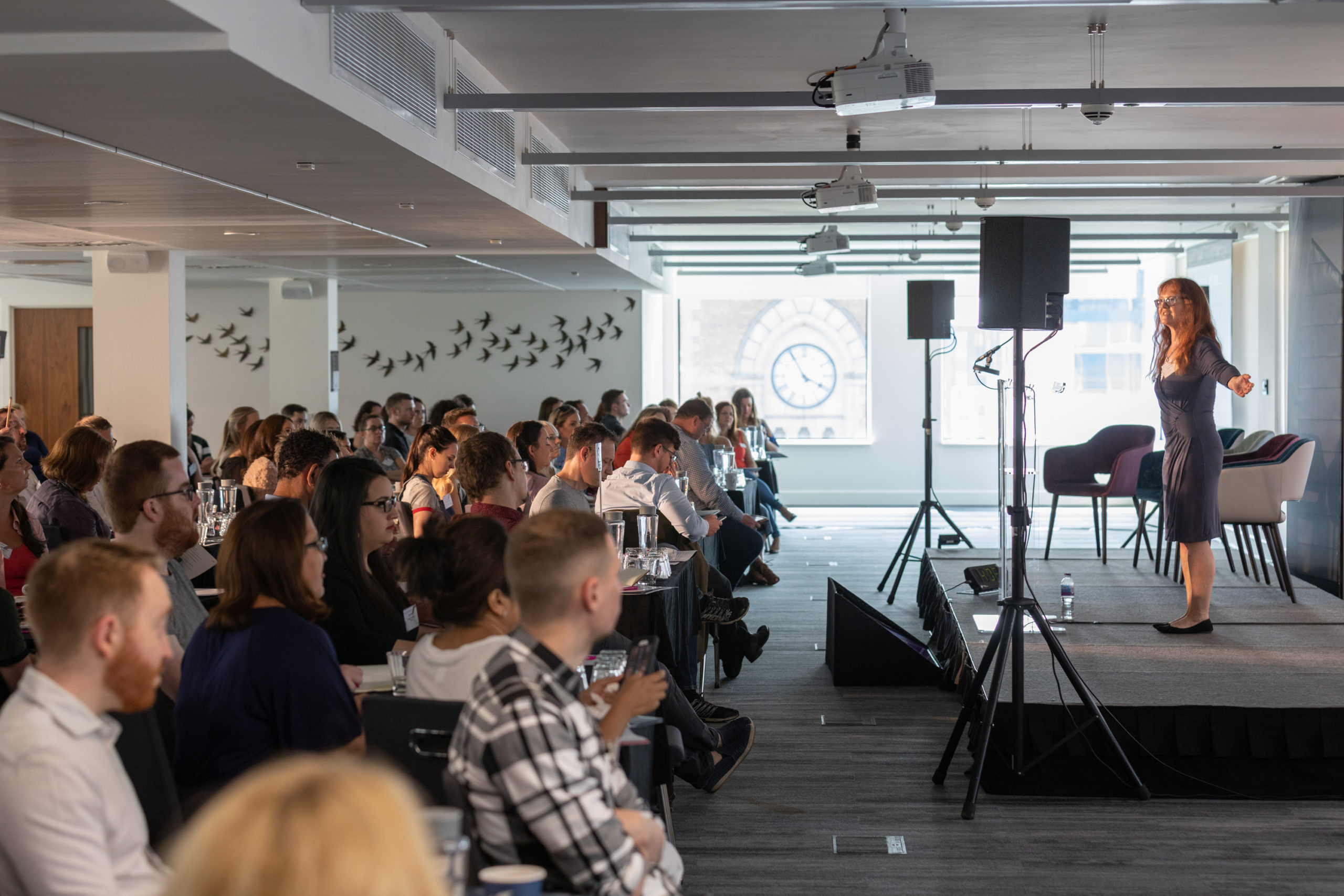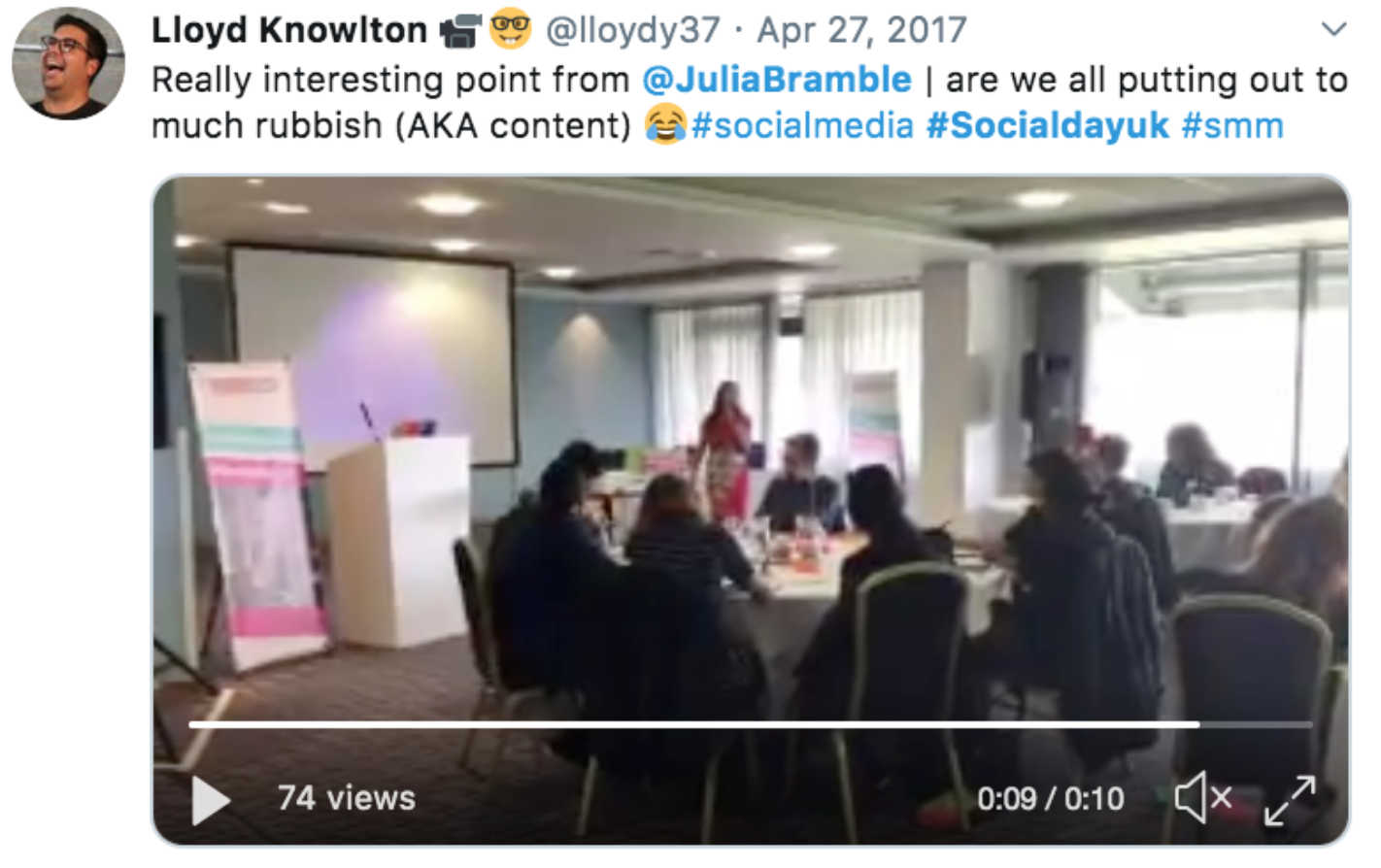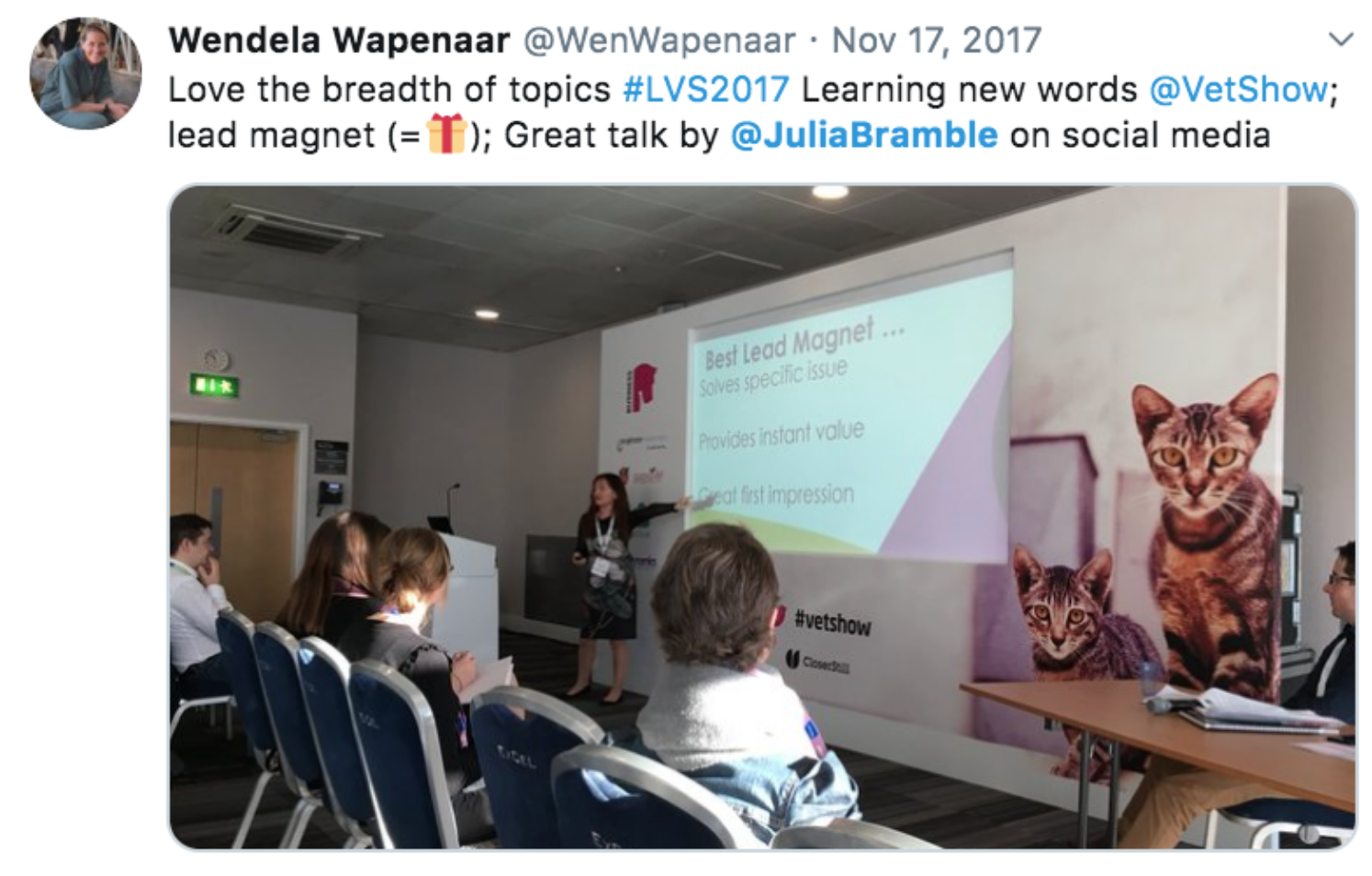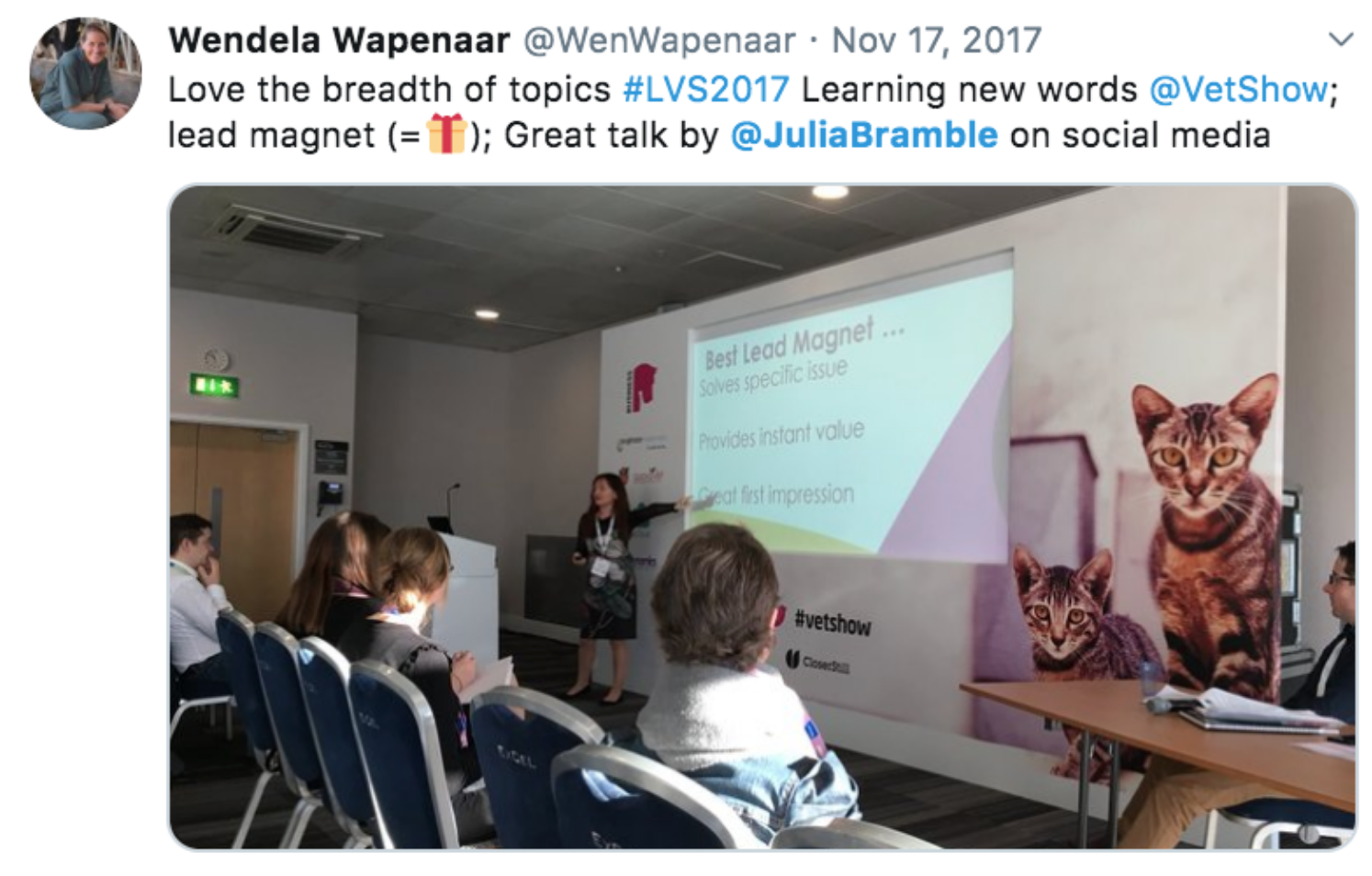 I attended a talk Julia gave about communicating with customers which was insightful and useful. She has an open and friendly style of delivery and is good at getting the audience to participate.
Julia spoke at our Cornish Hospitality event and what a talk it was . It was full of practical examples and Julia spoke with passion and knowledge . When she mentioned star jumps it moved to another level . She kept the audience engaged throughout which shows the calibre of the speaker. I would have no hesitation in asking her to speak again.
Julia came to my notice through an Evening Standard article on social media and when I contacted her to invite her to speak at one of our Discovering Futures conferences, she agreed immediately. Julia knows her subject well and is an engaging speaker. She is also very friendly and approachable and our delegates gave her very high ratings. When seeking social media expertise, Julia is the perfect person to ask.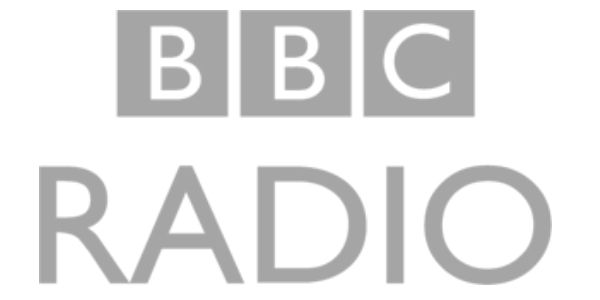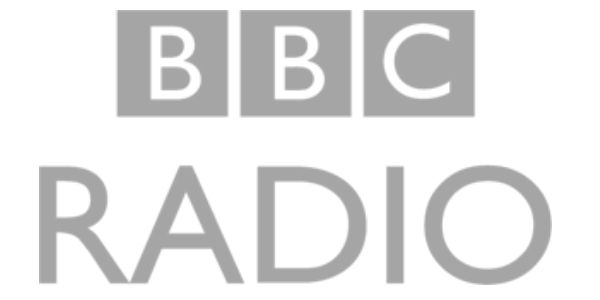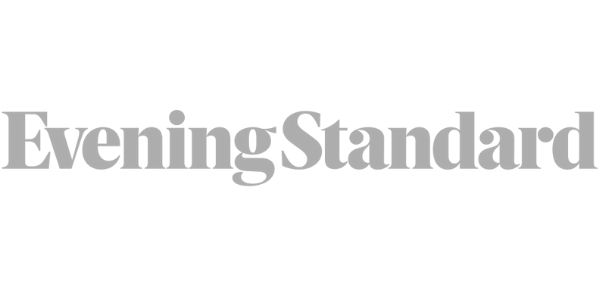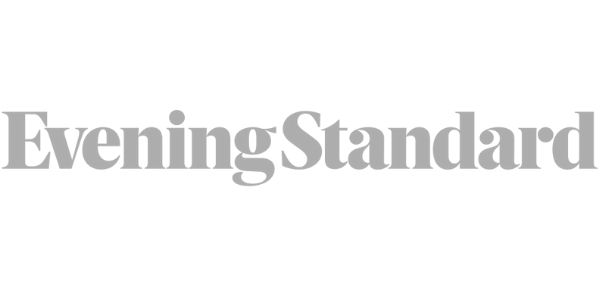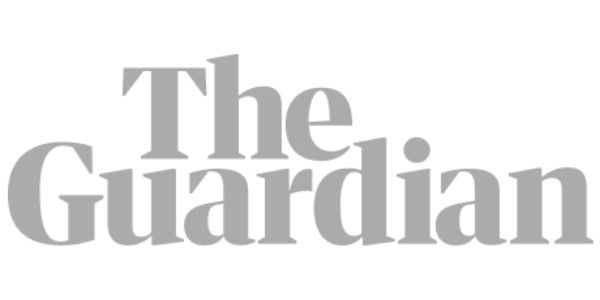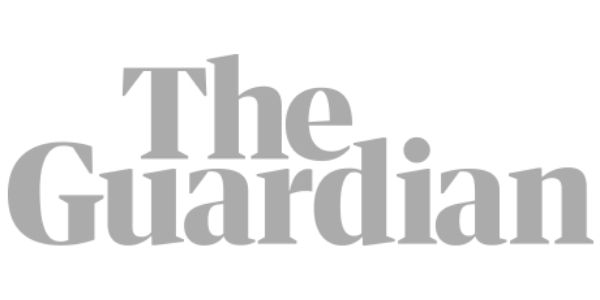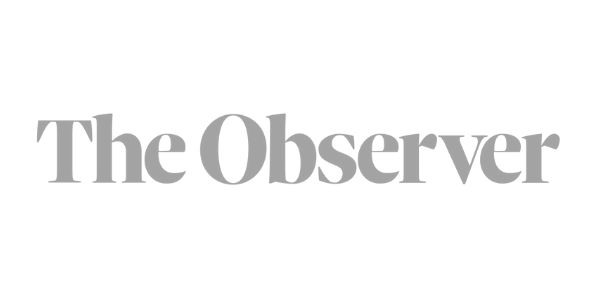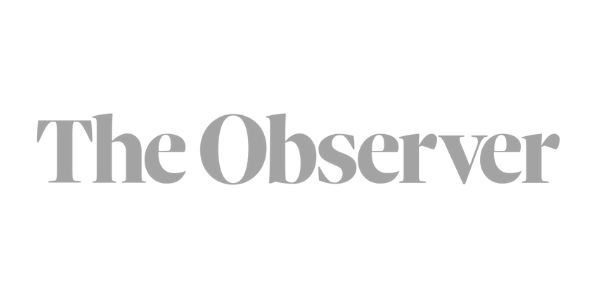 As we discussed earlier, your audience doesn't want to be lectured at – they want to be fired up, they don't want to be overwhelmed with facts – they want 2 or 3 key takeaways, they don't want theory, they want tangible, real-life examples, they don't want notes that they'll never look at again – they want the confidence to start putting what they've learned into action.
That's why
I'll take the time to understand who's going to be in your audience and what 's important to them when planning your talk
That's why
I'll immerse myself in your sector or the world of your audience, before creating your talk (and why my examples and language will reflect exactly that.)
That's why
I will empathise with your audience during my talk, discuss their challenges and share solutions that make the most of their resources (what's the point in telling a room full of time-starved receptionists, for example, that they've got to be on social for 3 hours a day?
That's just going to frustrate them and they'll switch off.)
And that's why
my talk will get your audience involved – I'll get them answering questions that lead them to the answer, I'll get a volunteer up on stage, I'll get them working on a small task right away – so that the learning really sticks and they feel confident … and I might even get them doing star jumps (it has happened!!) 
What do I talk about when I'm up on your stage?
I can delve into topics including (but not limited to) the following list, but will, of course, create a bespoke presentation for your event to wow your audience.
My focus is always on the human behind the digital.
So, for example, if I'm talking about creating engaging content, I'll encourage people to think about which posts they're instinctively drawn to on social media – so they put themselves in their audience's shoes; if I'm talking about using social media in the hospitality sector I'll be focusing on the experience that customers are seeking and how we can get that across on a digital network …
It's all about the humans behind the digital!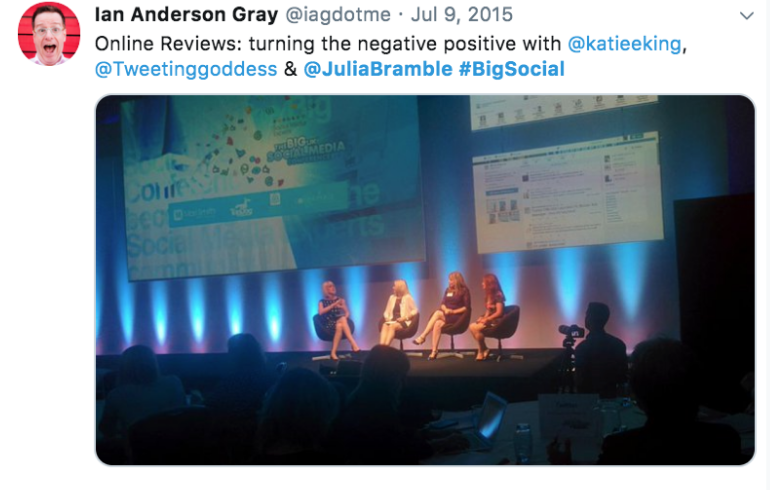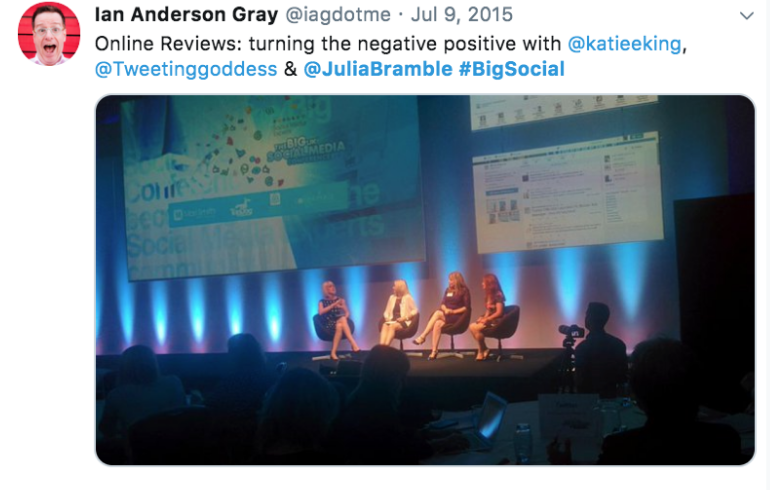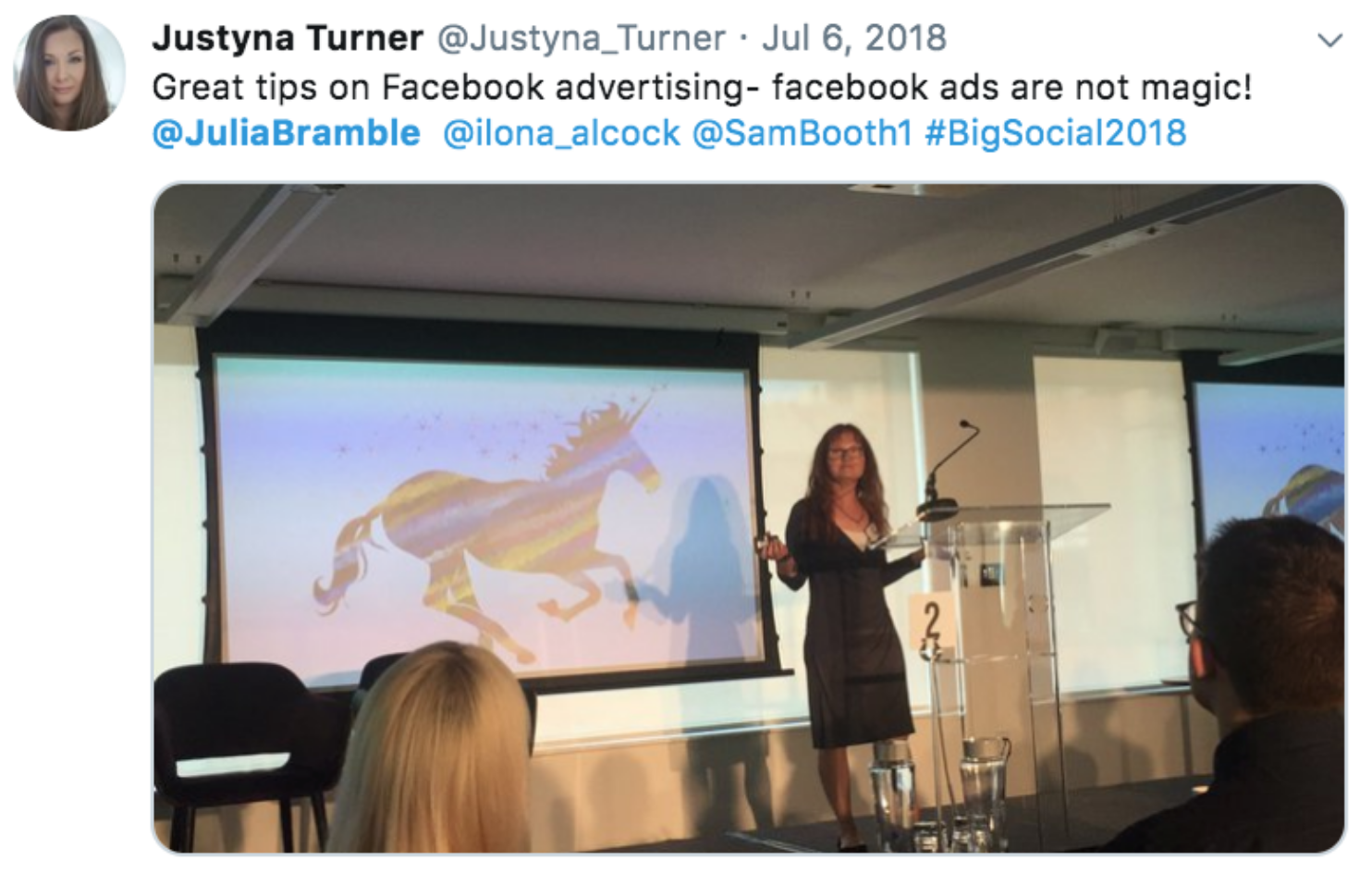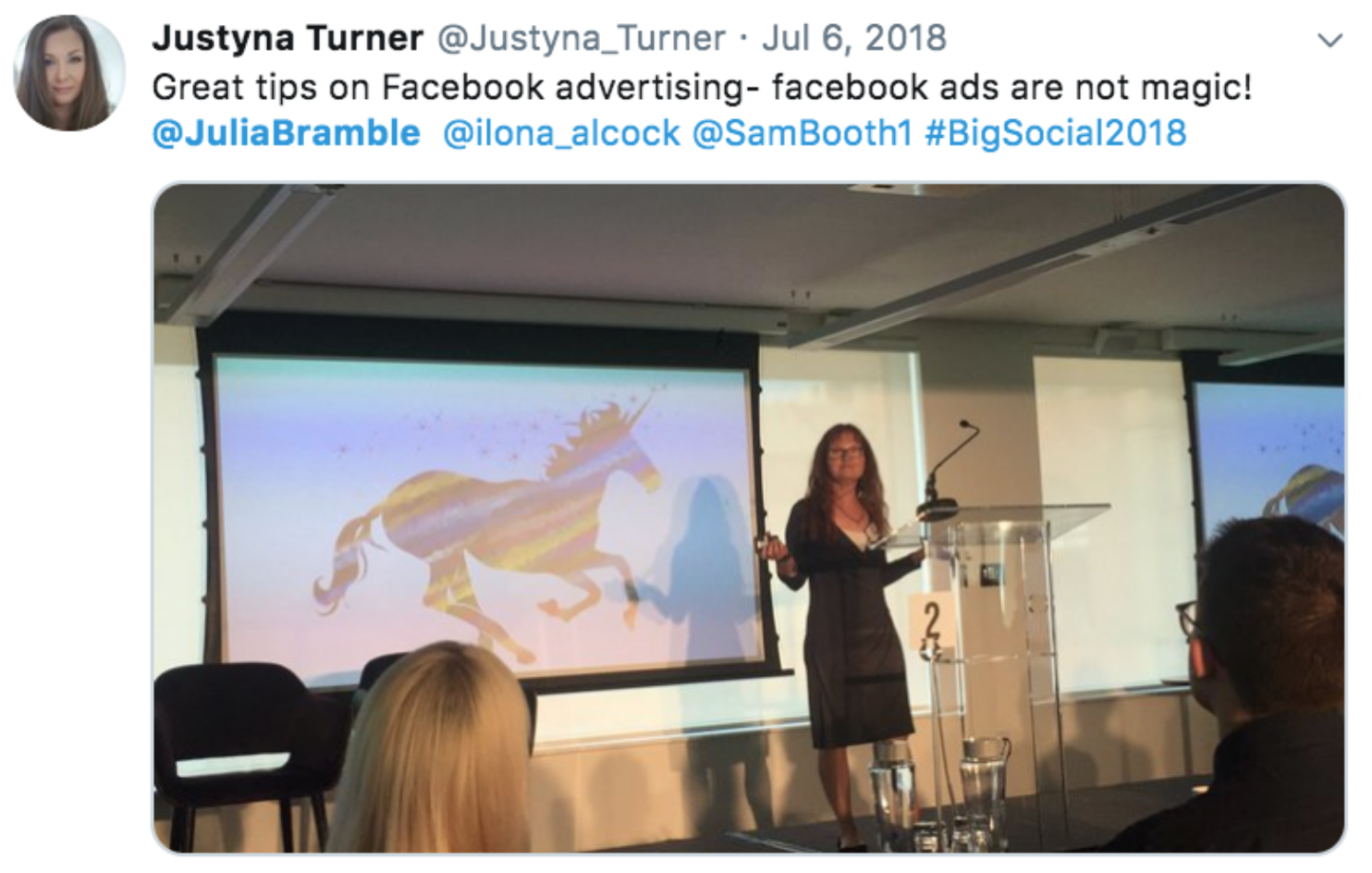 I've given talks for audiences in all sorts of sectors – including magicians, universities, vets, finance professionals, district councils, beauty professionals, hospitality business owners, HR professionals, childrens' art & craft providers, independent magazine publishers, climbing wall franchise owners, restaurant owners, beauty spa owners, surveyors and photographers – and they've all had rave reviews.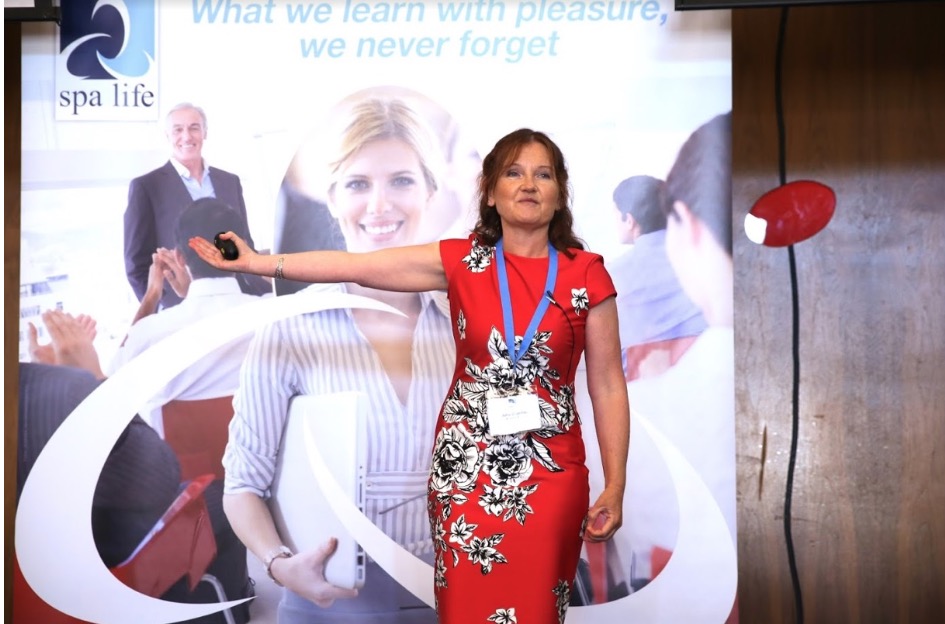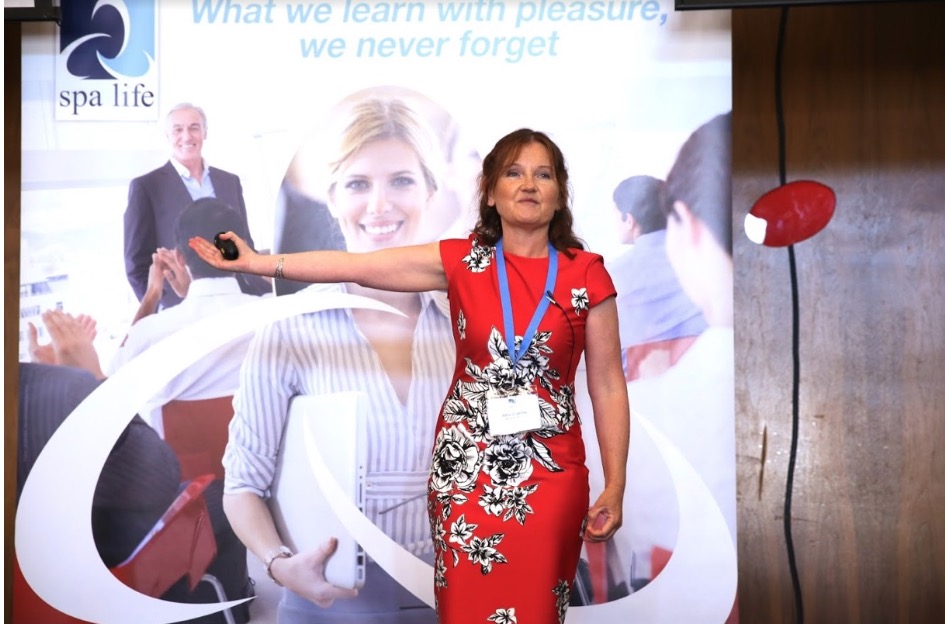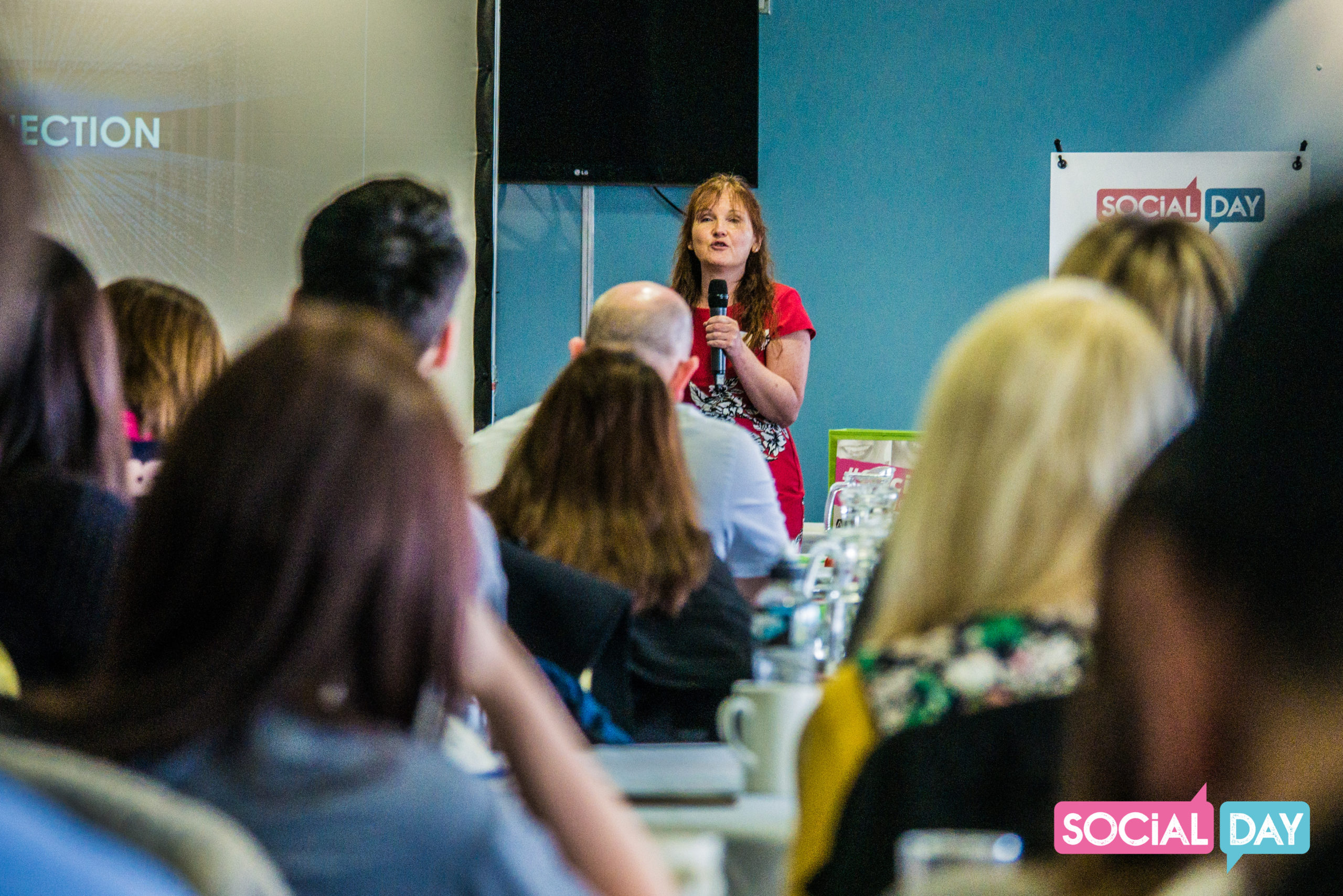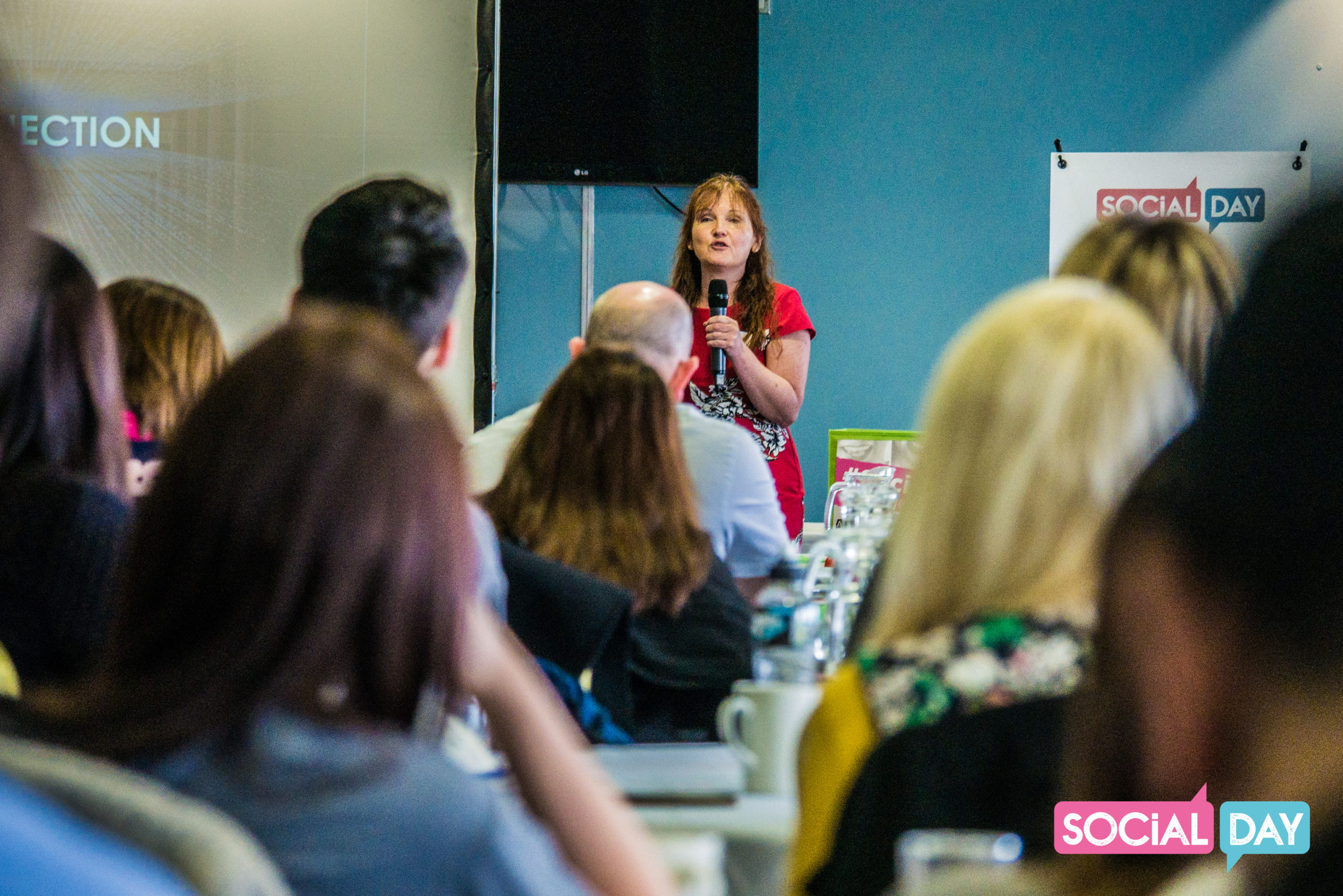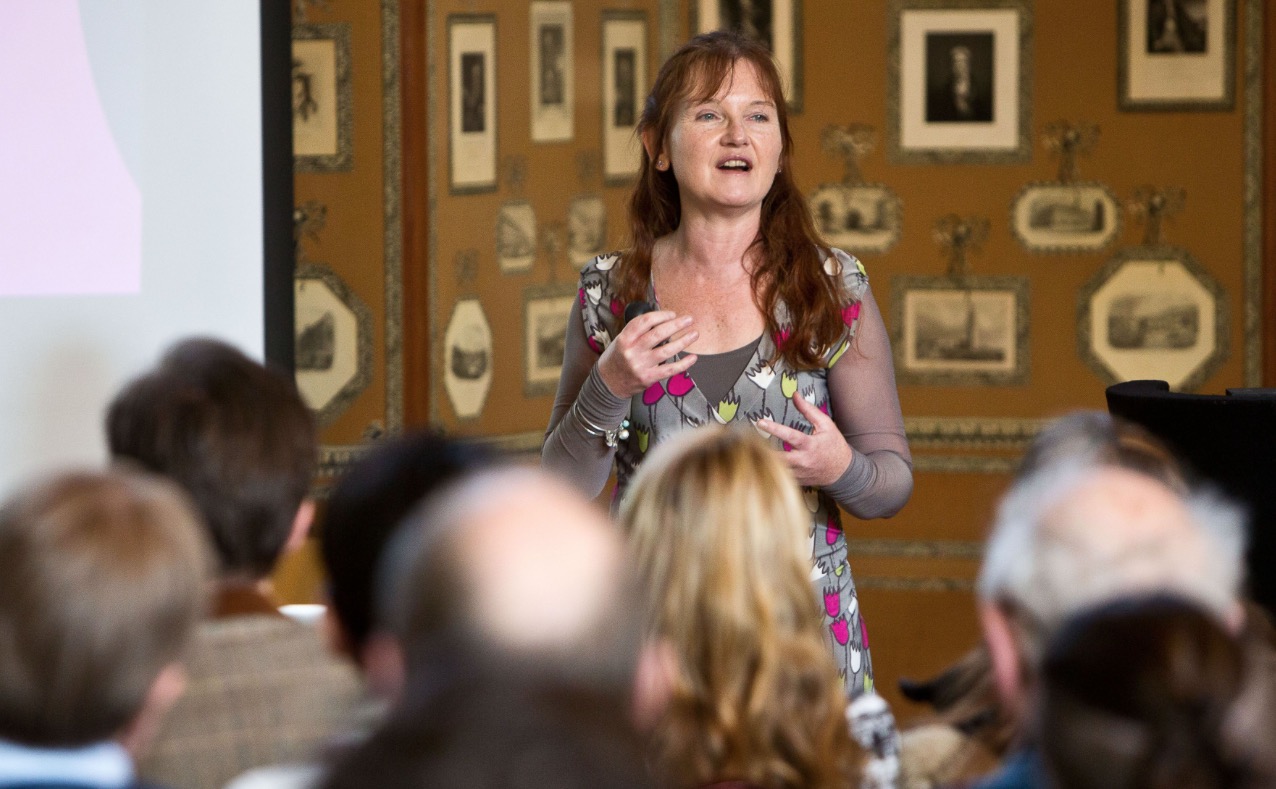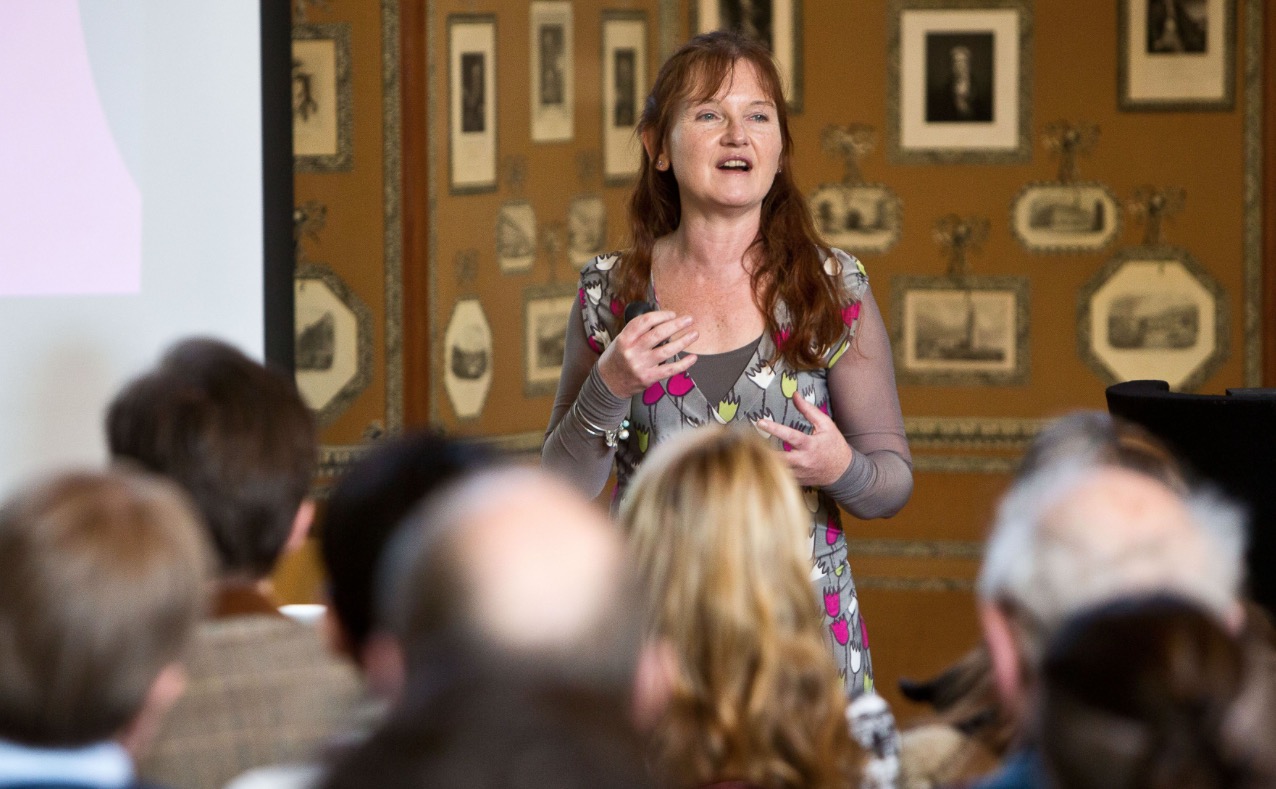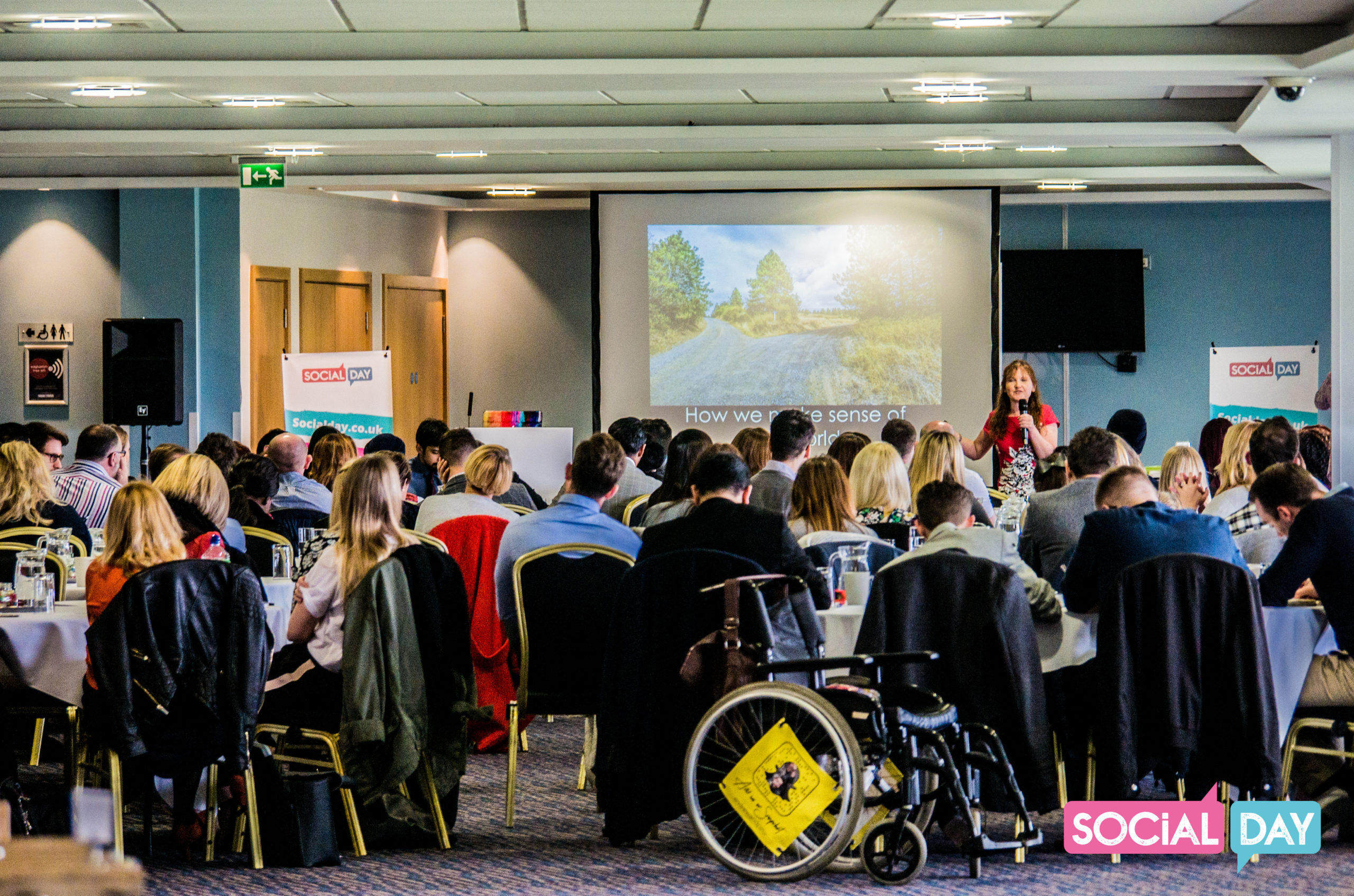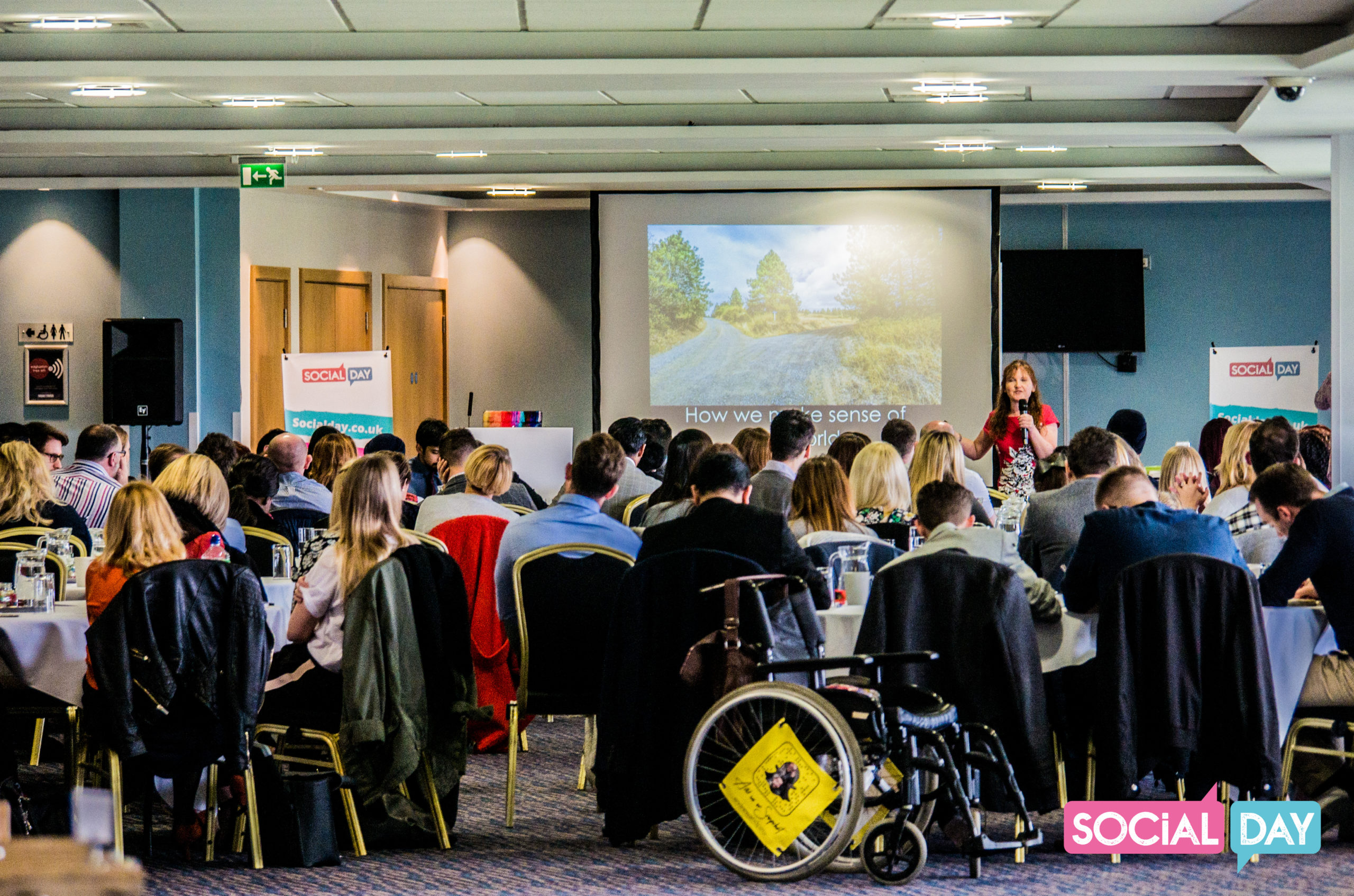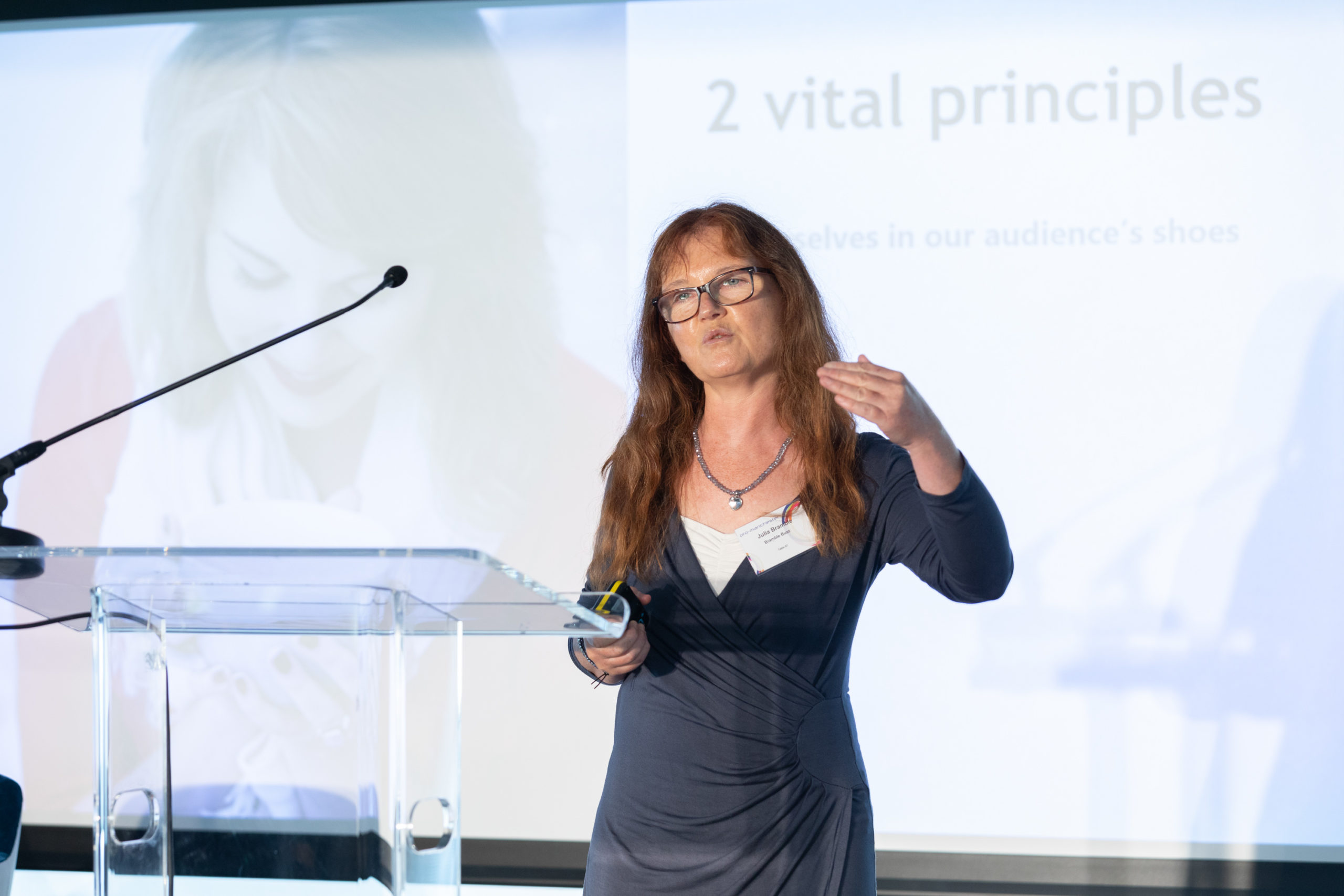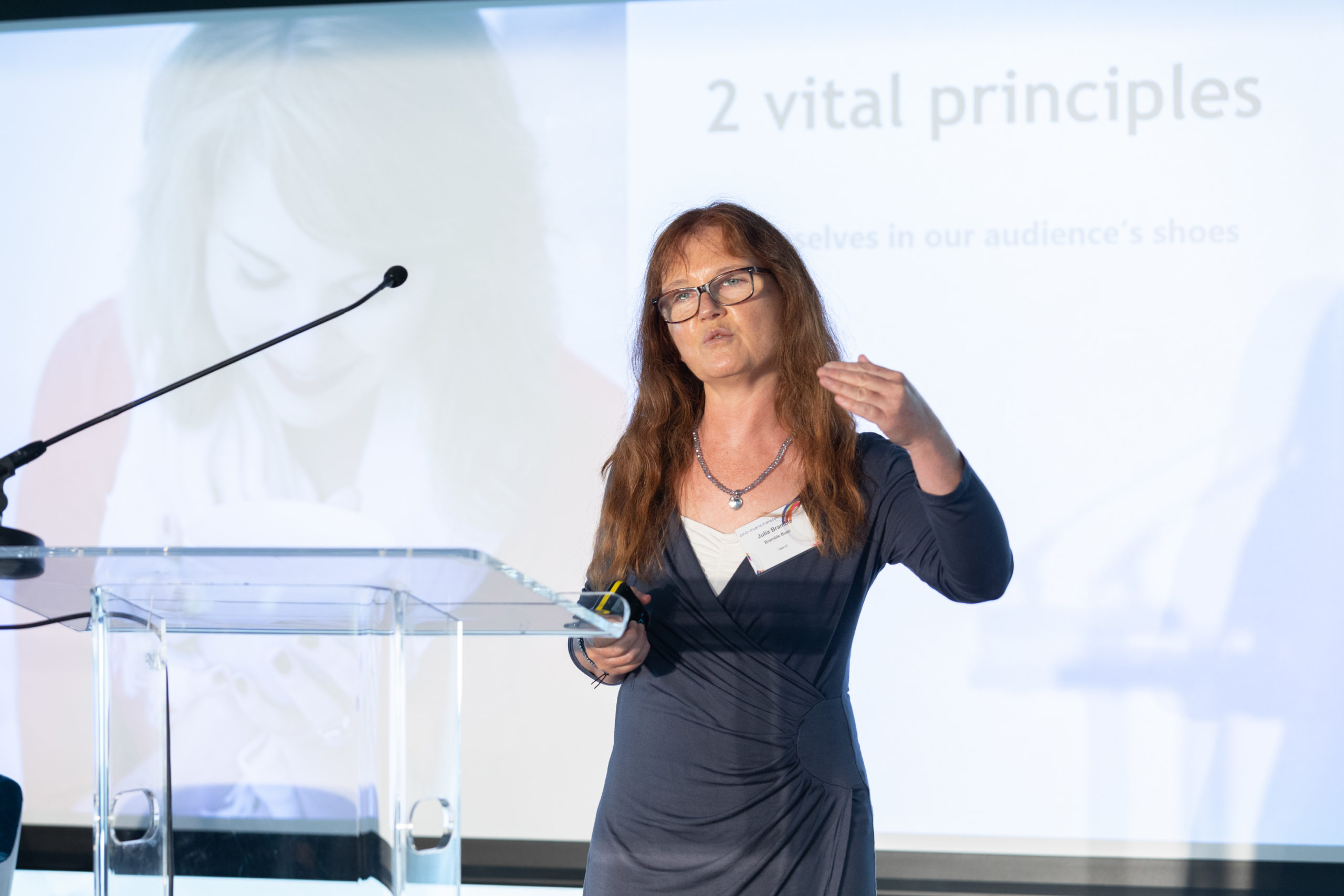 Why choose me for your speaking event?
The business events I've spoken at include: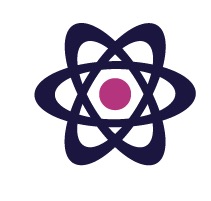 Local Area Building Control Conference, Devon 2014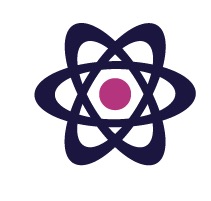 Discovering Futures Conference London 2014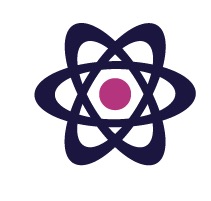 Personal Finance Society Conference, Taunton 2015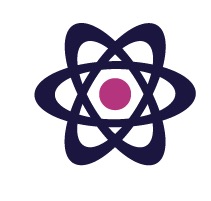 School for StartUps, Plymouth 2015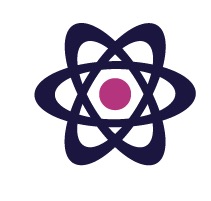 Big Social Conference, Manchester 2015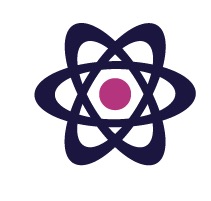 VPMA SPVS (The Society of Practising Veterinary Surgeons ) Congress Cardiff 2016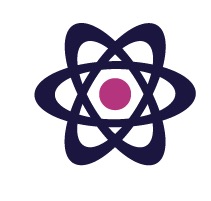 The Social Media Summit, Dublin 2016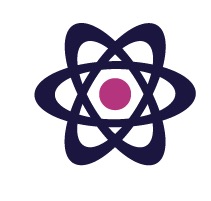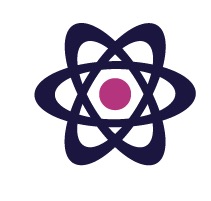 Social Day, Birmingham 2016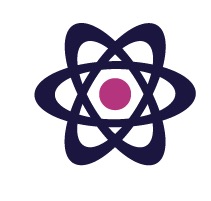 Spa Life International, Cork 2017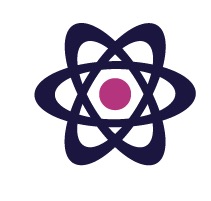 Kickstart Social Media, London 2017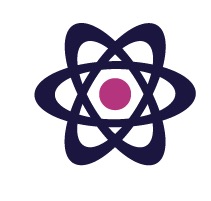 School for StartUps, Plymouth 2015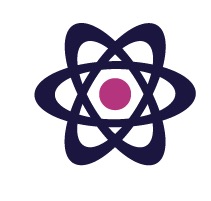 Kickstart Social Media, London 2017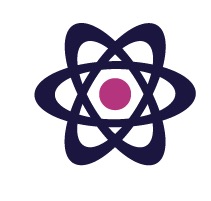 School for StartUps, Plymouth 2015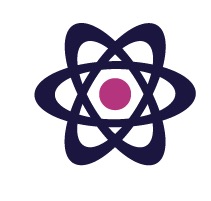 London Vet Show, The Excel, London 2017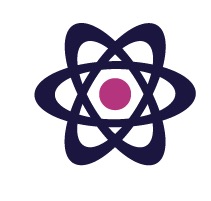 Women Elevating Women Conference, London 2017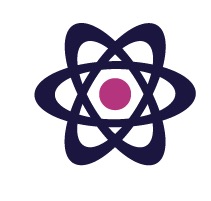 Big Social Conference, Manchester 2018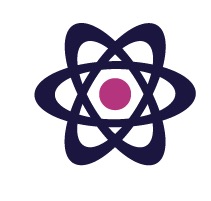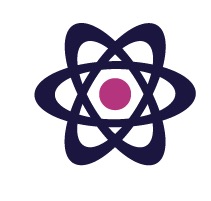 Cornish Hospitality Network Conference, Cornwall 2019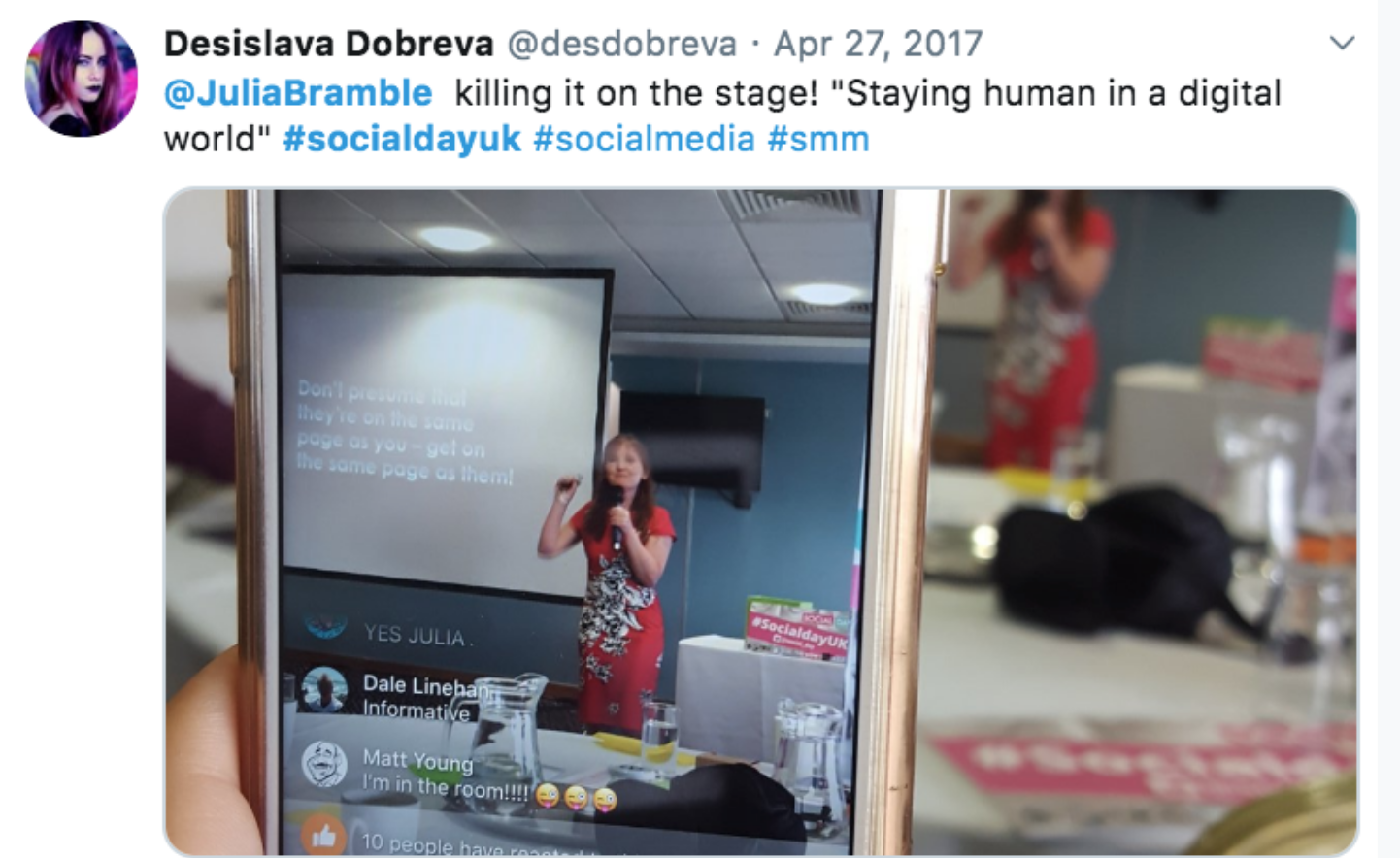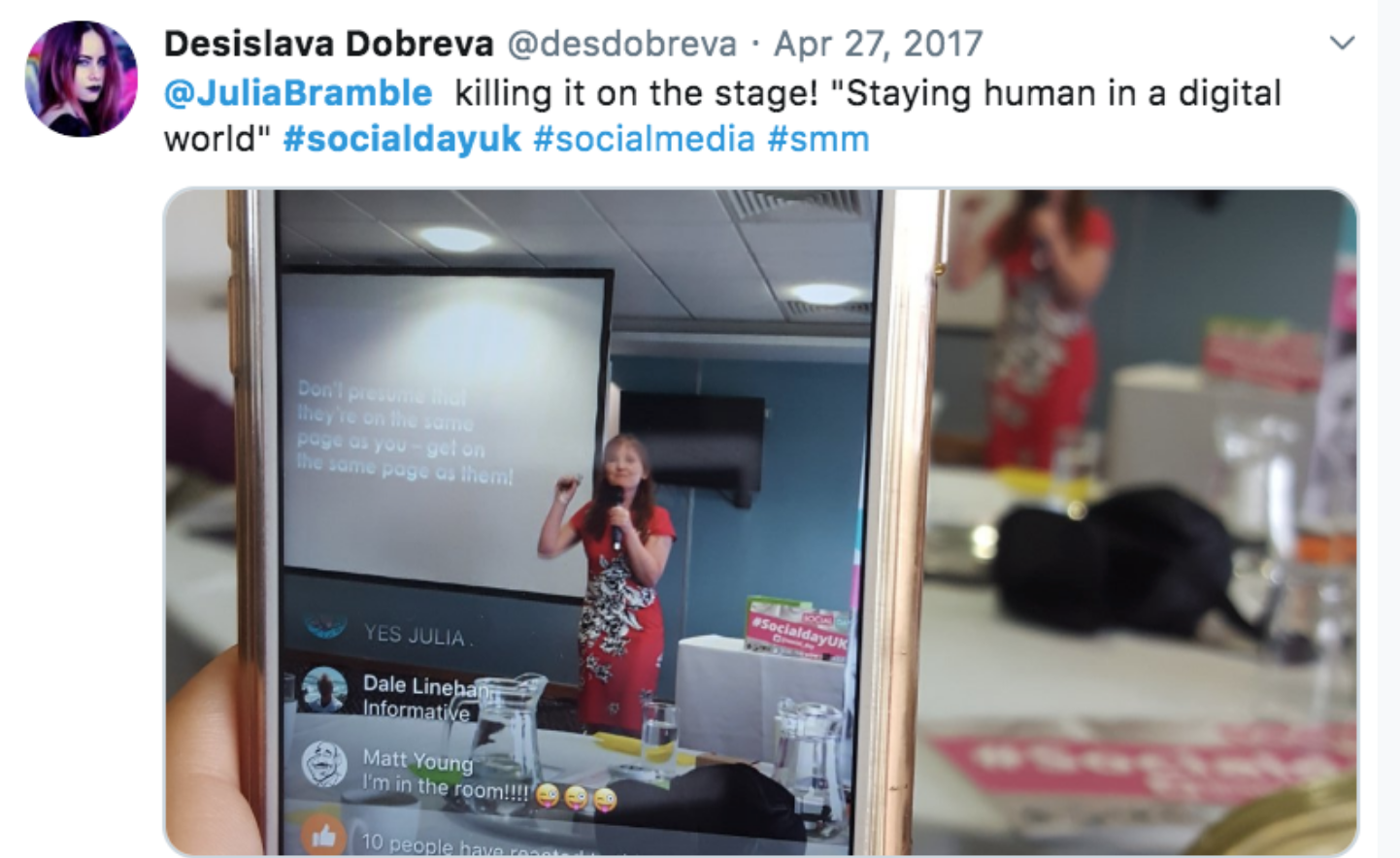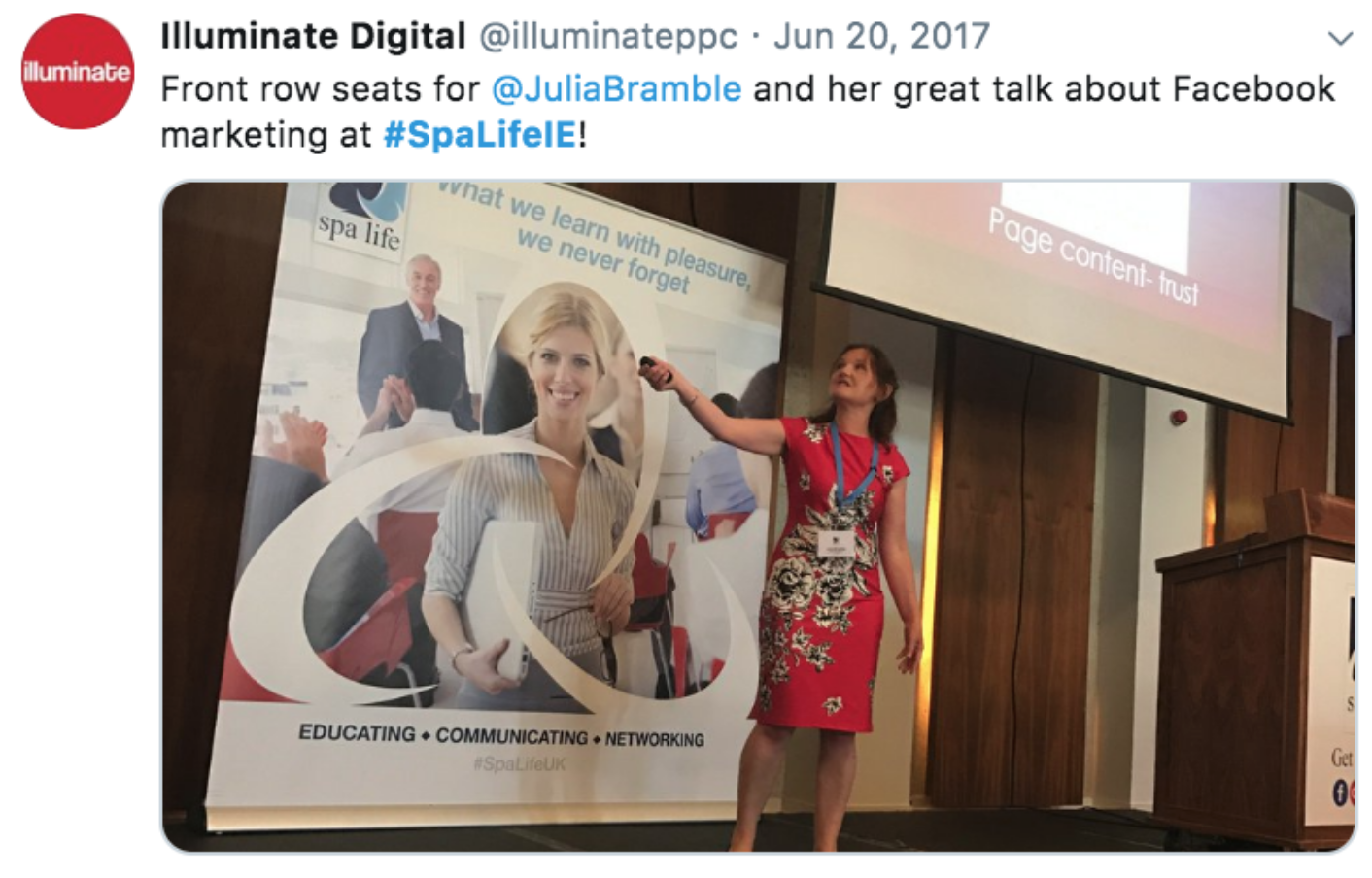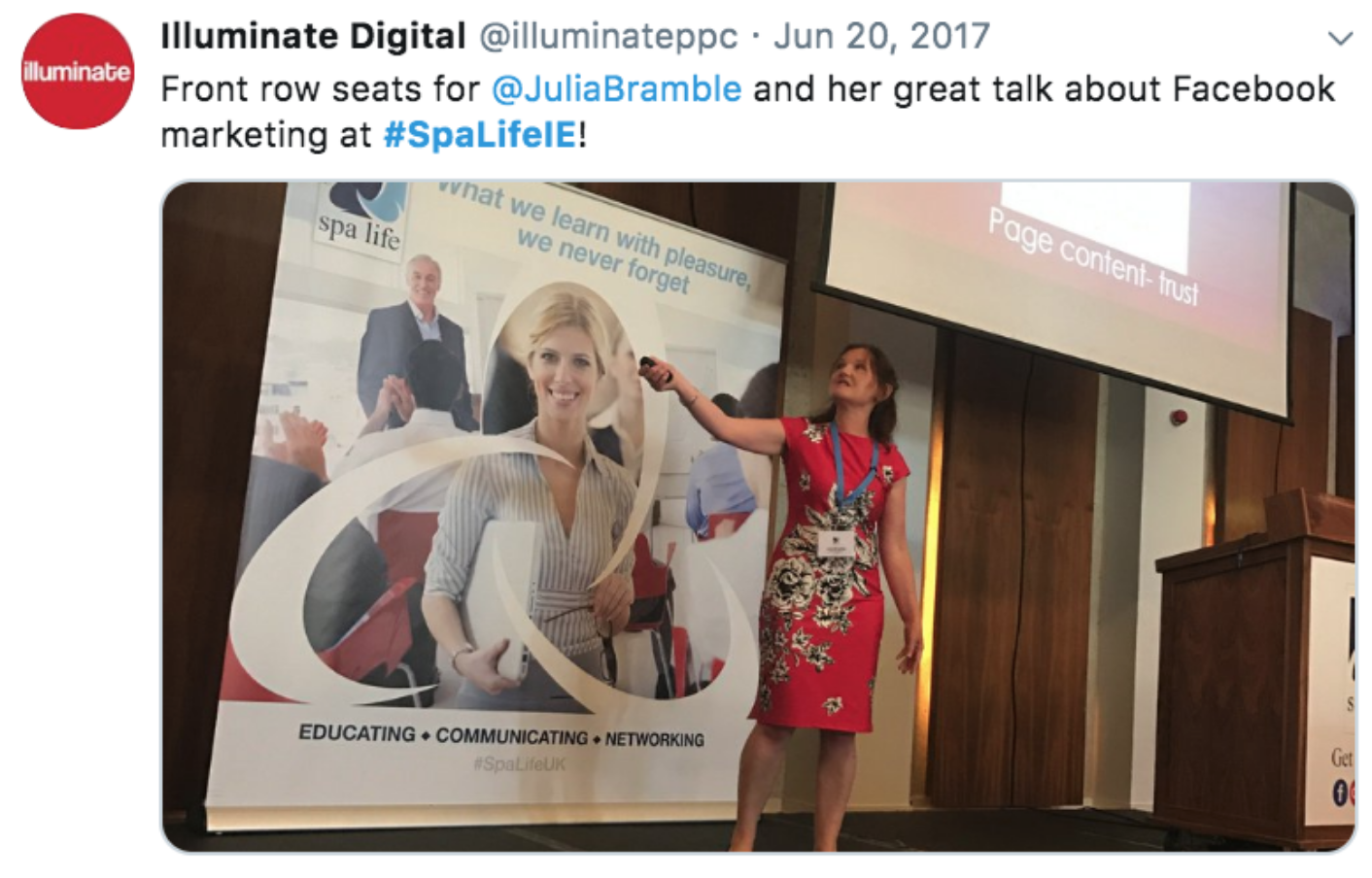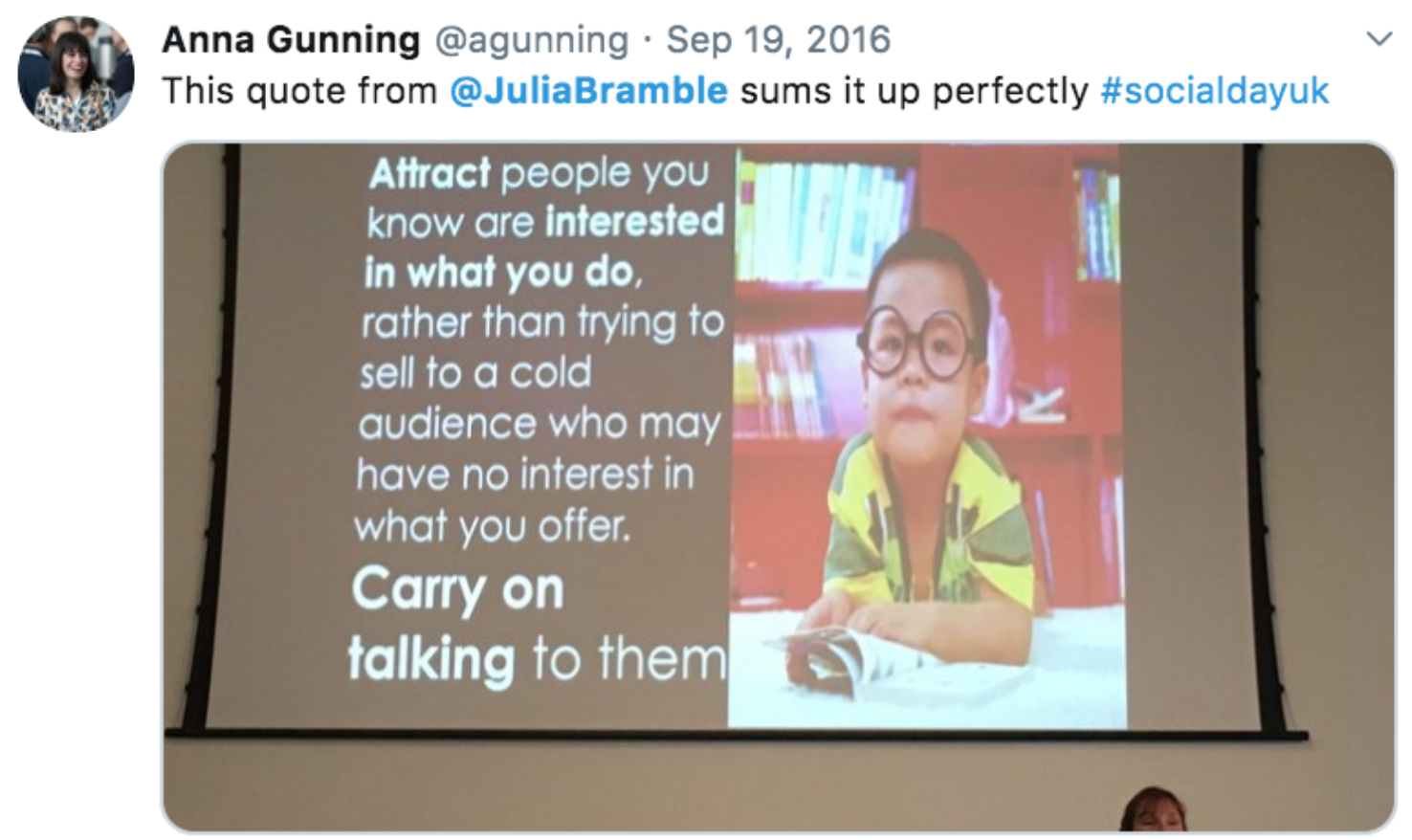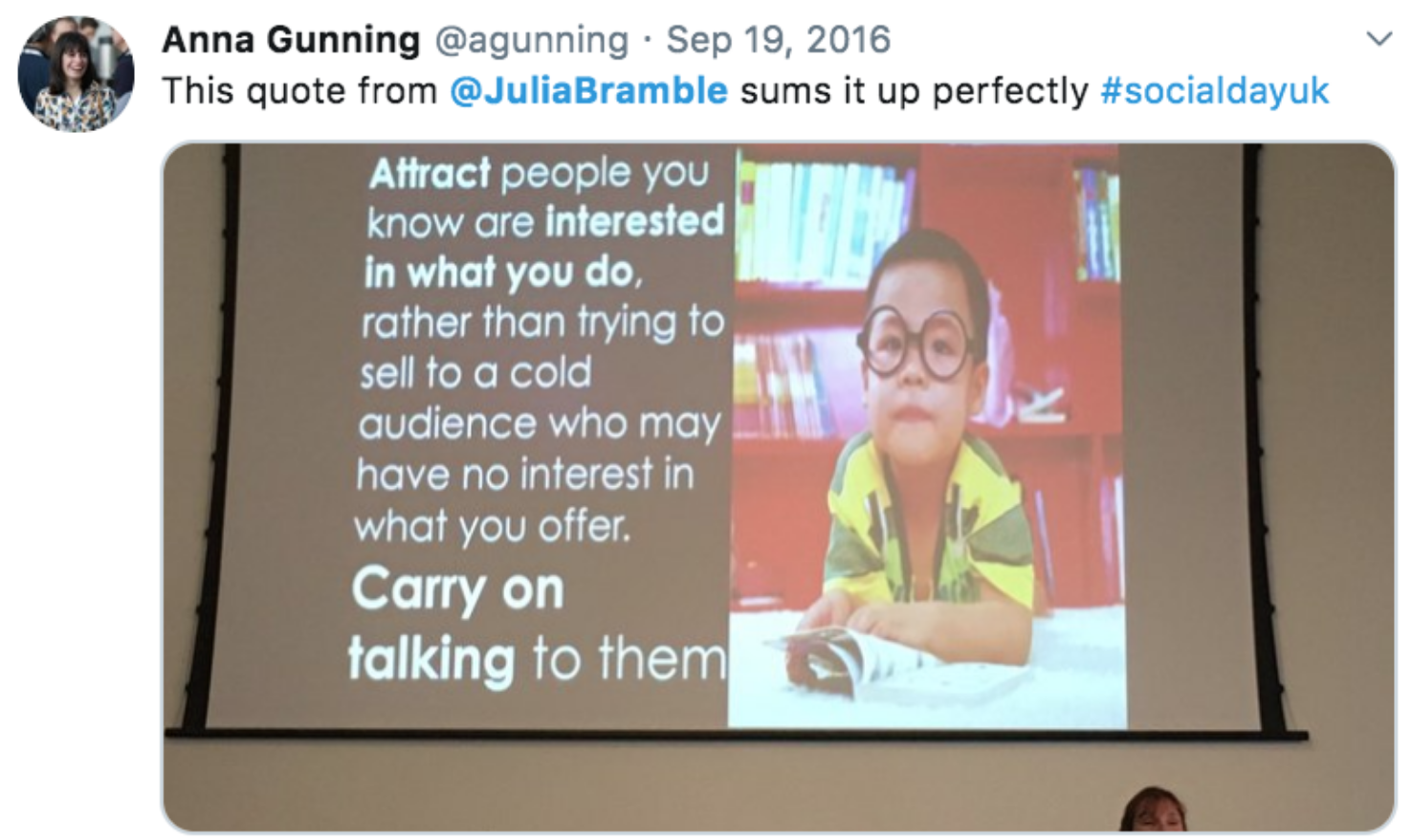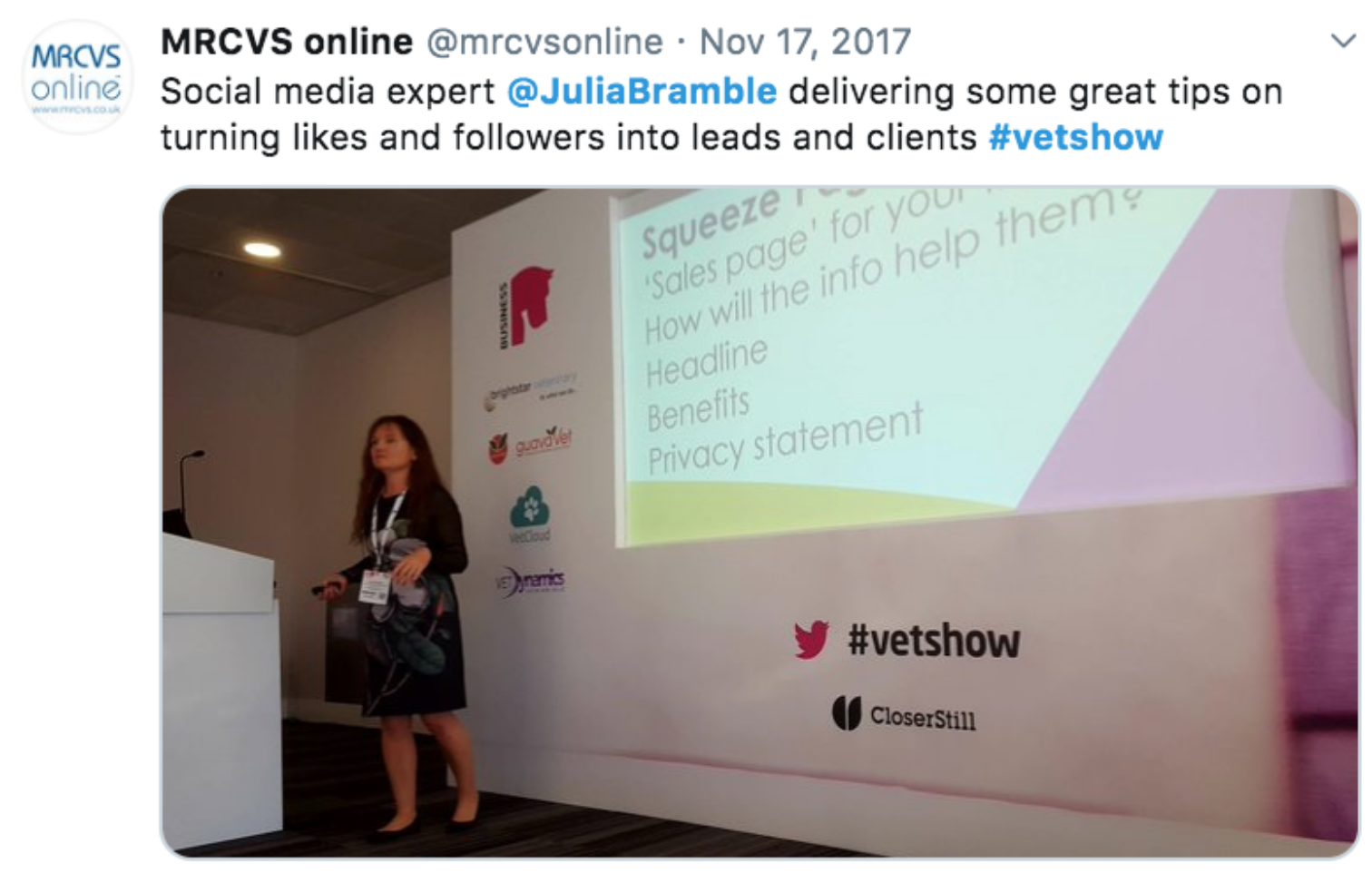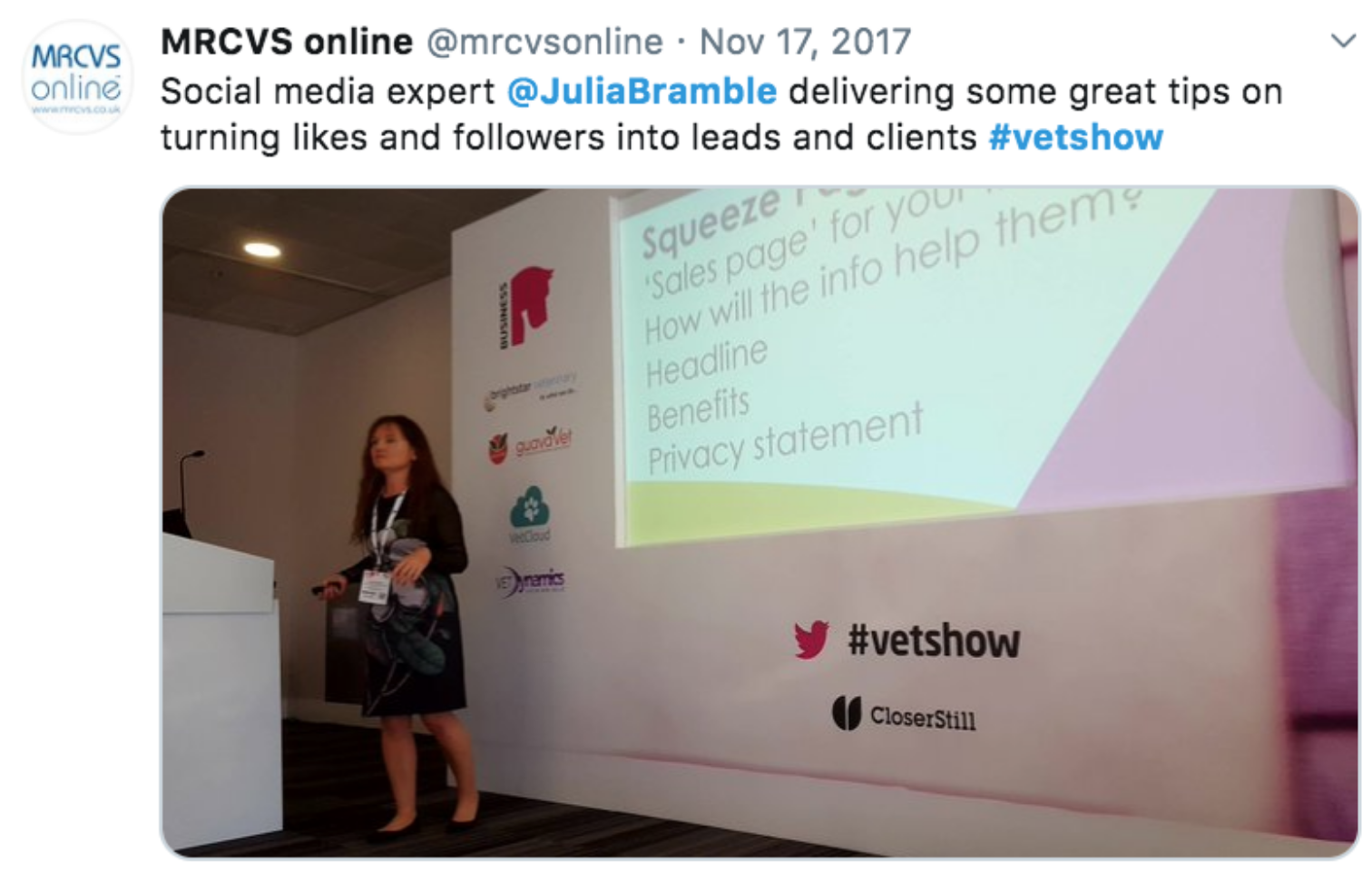 Is your event next?
Let's take your audience on a meaningful journey together.
Please contact me: