Are you struggling to get results from social media for your business?
You've been on social for a while, you're putting posts out, you get a few likes, comments and interest, but you know there's got to be more … It's just not happening!
And it all seems like a stomach-churning waste of time when you've got so much else to do! (And that's before you get sucked into the overwhelm of deciding which network or shiny new tactic might work best!)
Would you like to discover the simple changes you can make that will turn this around, so that you can ditch the overwhelm and confidently use social media to get the results you want (without  having to spend all day on it)?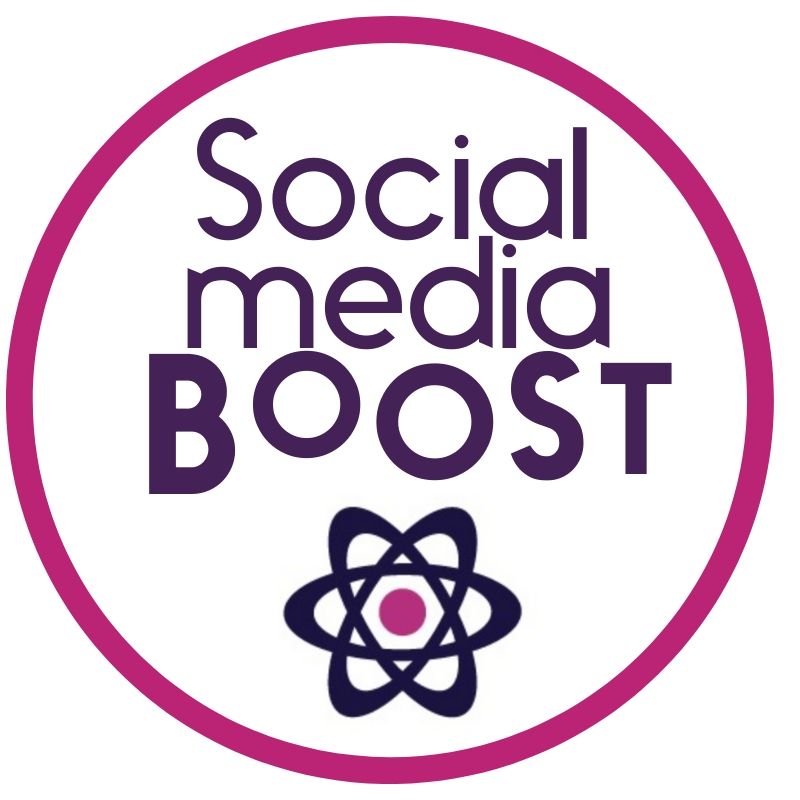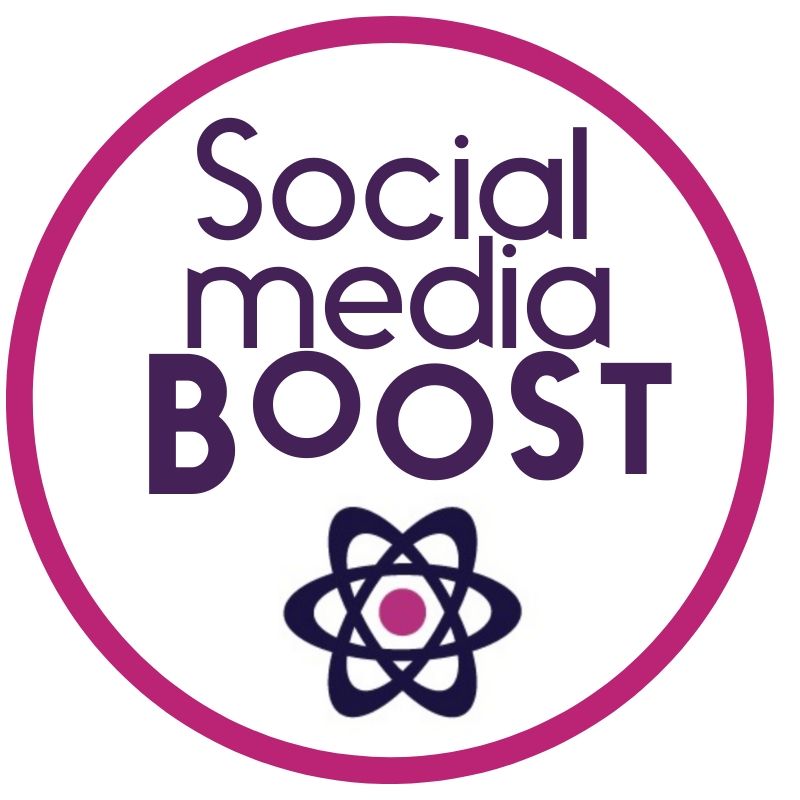 Then you need a Social Media Boost!
Together, we'll review your social media, discover what's working well (YAY!), and what's been holding you back. Then we'll create a bespoke plan for your business to get you the results you want, and I'll support you while you make it happen.
Does that sound good?
Then just click here to book 
clarity, confidence and the excitement of using marketing that works
an end to the overwhelm by only focussing on what's going to have the biggest impact
to regain precious time and mental energy every day

1:1 support that's unique to your business and your customers
Then  Social Media Boost will be perfect for you!
You complete a short questionnaire all about your business and what you want to achieve – then we jump on a quick call so that we can confirm details and any specific areas you want to focus on
I run an audit of your social media activity, delving into your audience, your posting, your content, your engagement … the whole works
In an hour's call over Zoom, we discuss (briefly) what's been limiting your results and (more importantly) the simplest changes you can make that will have the biggest impact.
We create a bespoke plan for you to get these changes into place over 3 months (the plan will be based on the time and resources you have available.)
Over the next 3 months, you make the changes we've agreed, with the support of a one hour Zoom call with me at the end of Month One, Month Two and Month Three.  
(In between calls, I'll be available to answer questions and give support by email.)
We celebrate your new-found confidence, clarity and social media success!
On the calls, we'll check in to chat about your results, any challenges, what might need adjusting and any recent updates that are relevant and can be taken advantage of in your marketing. You will get all your questions answered and we will plan content and strategy for the month ahead.
 (I'll send you the recordings of all the calls so that you've got your own training resource.)
Julia is my go-to expert when I need a strategic sounding-board for social media, and is an absolute genius when it comes to impactful Facebook advertising. Rare are the experts who truly tune into their client's world, aims and needs, and understand the importance of crafting an approach that is truly aligned to brand and values – Julia is one such rare gem in the world of social media marketing. If you're looking for a social media strategy partner who will deliver and walks the talk, Julia is your woman!
'I took Julia's 5-day Instagram Stories and Reels course. It takes you from being overwhelmed by fear to being overwhelmed by ideas. She was wonderful, warm, practical and action-minded. I immediately put her teachings into practice and, lo and behold, I got 1000€ in sales, and that was just after Day 1!'

Julia has been a great help in moving my brand forward, being the social media voice in my ear when I've needed it and helped with the social media strategy I'm using. For example we set up and ran a 30 Day Parenting Challenge together, getting over 100 parents on board with Julia maximising the results of the advertising for it. Thanks Julia!
I had a wonderful, satisfying face-to-face experience in my social media training session with Julia. We were able to work through my internal blocks and come up with a do-able and progressive strategy enabling me to move forward and create content that is professional and engaging. Julia has a wealth of knowledge of the wide weird world of social media, is so easy to talk to and she really listens. I would highly recommend her for anyone who is ready for that spark to get involved in social media. Thank-you Julia!'
Thank you Julia for all your help developing my business. Your a font of knowledge and your coaching has been invaluable for me moving forward. I loved meeting you at the SheerSense seminar last year and I learnt so much….. throughout the year I've enjoyed your lives and the push forward you gave to go out of my own comfort zone!!!!! Ty xxx
Julia gave me a call when she heard that I was struggling to promote the street where my business is based. She listened patiently to my ramblings, asked a few key questions and, as if by magic, came up with a number of simple recommendations that have proved to be extremely useful. In summary, Julia is a bit of a genius at coming up with suggestions that both suit her audience AND get results. Highly recommended!
Who is Julia?
In case we haven't met before, I'm an international social media strategist, coach and speaker helping small business owners and marketing teams have the biggest impact in the simplest way.
I've got 6 children, a Ph.D. in molecular biology and a history of working in Forensic Science and I bring all of this experience into my work.
I've had my social media business for 9 years. At first, I bought into the idea that I had to get up crazy early and/ or upset my children by missing their bedtimes to go to networking events every week.
Much as I love chatting with people, that wasn't how I'd seen my business in my minds' eye. So, pretty quickly I developed ways of networking and growing relationships entirely online (that still work to bring in clients and referrals today.). And for years now I've planned my days exactly how I want them to be – which is usually around the children.
And that's exactly how social media can work for you too…– as a tool in your business, opening up opportunities and bringing in customers, while still leaving you plenty of time and energy to get on with the other important parts of your business and life!
It all starts with getting clear on some key areas – which is exactly what we work on in Social Boost.
When I managed a team of 60 scientists who tested samples for the National DNA Database, my ability to troubleshoot and to optimise to get the best possible results were essential. This involved having a (forensic!) eye for detail as well as being able to review the overall picture. And it's these same skills that I've relied on to support hundreds of small businesses and marketers to turn their social media around.
.You should also know that I'm allergic to selling. I once tried that 'free strategy aka sales call' tactic that so many 'gurus' recommend and it was an unmitigated disaster – I had some brilliant conversations with fab people and gave away tons of advice – but I was rubbish at asking for the sale!
I know that 'they' say 'always be selling' and that when you're in a business where you do pretty much everything you have to get good at selling … but the great news is  that social media really does allow you to  avoid that yukky feeling if you want to!
I've developed social media strategies that bring me in clients and referrals without having that 'washing machine in my stomach' feeling- and they work! I'm excited to share them with you!
Join me today for just 
£960 (including VAT)
(£797 excluding VAT.)
That's crazy value considering you get
The price is:
£960 (including VAT)
(£797 excluding VAT.)
Social Media Boost is perfect for you if:
You're marketing a business (yours or someone else's) on social media and you're tired of putting time and effort in, without the results you expected. You realise it's time to stop spinning your wheels and to take focused action.
You're helping other businesses with their marketing but you're not fully up-to-speed with social media yourself – I can support you as you work on a client's accounts
You're just starting out with using social media and you want clear direction  and support, rather than spending hours reading blogs and watching videos that are probably outdated and will all give you different advice
Social Media Boost is not right for you if:
You're looking for an online course 
You don't want to use social media marketing
You want a 'magic pill' – although I'll be supporting you every step of the way for 3 months, you'll still need to do some work yourself.
Julia has provided social media business support for over 18 months and it's been invaluable advice. Julia has always explained the "why" behind her advice which makes it more understandable and relatable. I have had ideas that I have run past Julia to get her opinion. She's always forthcoming with thoughts and help. I would thoroughly recommend Julia's business help and insight regardless of your business size.
Julia's Reels and Stories training was exactly what I needed. There are so many people out there teaching content strategy, which is all well and good, but if you don't even know which buttons to press on your phone to create a Reel – that's no good to me! I needed a hands-on practical course that literally showed me how to create Stories and Reels, and what you could do in them which then encouraged me to give it a go. Now I know how to create reels and make more of Stories and feel so much more comfortable using Instagram. Thanks Julia. '
Finally I've met someone who understands my needs with social media. I already had so much of the basics down, but found it really frustrating to put all my ideas together into a coherent and logical strategy that could be easily implemented. During the 4 hour 1-to-1 session with Julia – she helped me to get right to the bottom of my ideal client's needs – building a strong audience to target. This has been my toughest challenge – and Julia made the whole process enjoyable – leaving me with some real direction to implement my strategy. Being able to lay everything out on the table in person is highly recommended – I've been able to piece together all the most pertinent parts of my business into a plan that I can't wait to put into place. It's taken so much stress and worry away from 'How on earth do I put all my ideas across to my potential clients?' and focused my strategy into a streamlined system that I know will deliver results.
How much is Social Media Boost?
The programme cost is £960 (including VAT) (£797 excluding VAT.)
Is this just another online course ?

No – this is bespoke 1:1 work with me focussing on your business, your customers and your challenges.
How do I know this will be right for my business?

When we have our initial call, if I can't help you, I'll let you know right away and refund your payment.
What if I'm not happy when I've started working with you?

Please let me know and I'll sort it out straight away. I don't want your money if you're not happy.
Can a member of staff join the calls?

Of course – I'm happy to work with your team – however it works best for you.
Do you offer a payment plan?

Not yet – this may be something I can offer in the future if I get requests for it.
If your question isn't answered here then please email me and I'll get back to you or we can have a quick call.

Julia has been a Social Media revelation for my business! I was needing some outside eyes to create my own social media strategy and wanted a real expert who knew the 'what' as well as the 'how'. During the session I gained fantastic & easy-to-use knowledge from someone who breathes social media and understood my business needs exactly. Julia's support has been a real asset. Highly recommended.