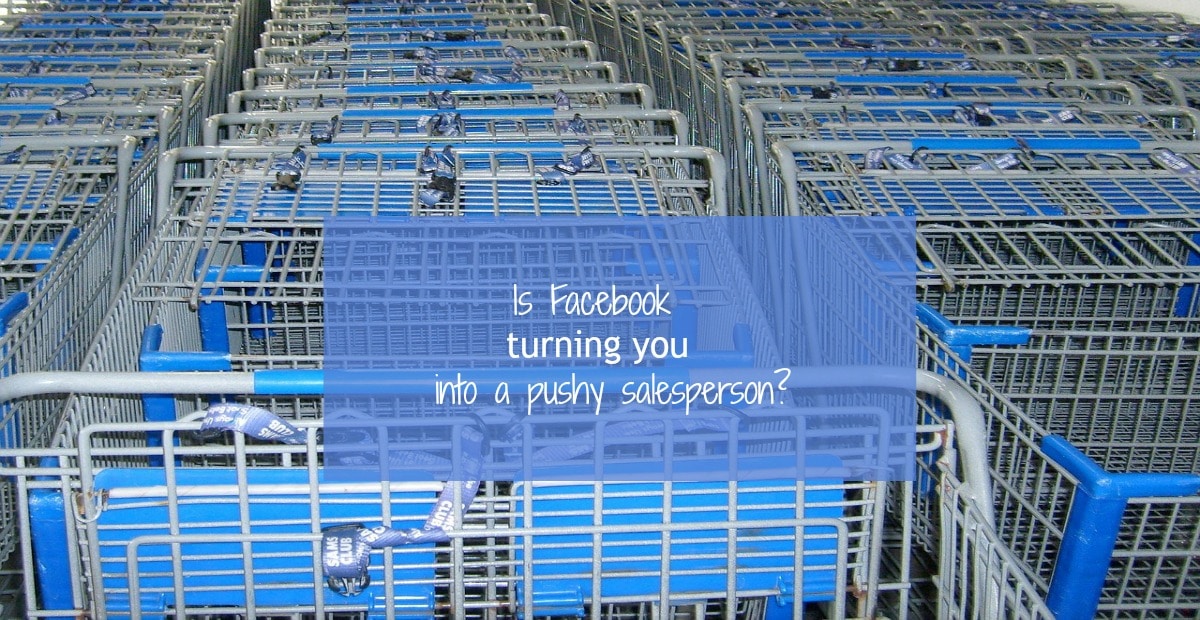 Do you use Facebook adverts?
I do – and I recommend them to all my clients too!
They're one of the most exciting marketing tools around at the moment, as they're easily accessible, cheap to run and give impressive results.
60% of all UK adults actively use social media and pretty much all of them are on Facebook, so it's a good bet that your potential customers will be too.
They say that you need at least 10 'touches' these days to convert someone from not having heard of you to a customer; the alternative theory I've heard is that someone needs to have experienced 7 hours' worth of your stuff (that's a lot of videos and blog posts!) before they'll buy from you. Using Facebook ads effectively can play a huge part in achieving both of these.
I am amazed that more businesses aren't using them , given their affordability.
I target business owners with my ads, which, as you can imagine, is a pretty competitive niche, but I can still generate leads with a spend of under £1 each.
(NOTE: Want to get amazing results with Facebook ads, each and every time? You need to know the 10 Essential Elements to Facebook Ads Success. Get your copy of my free, essential checklist by clicking here NOW.)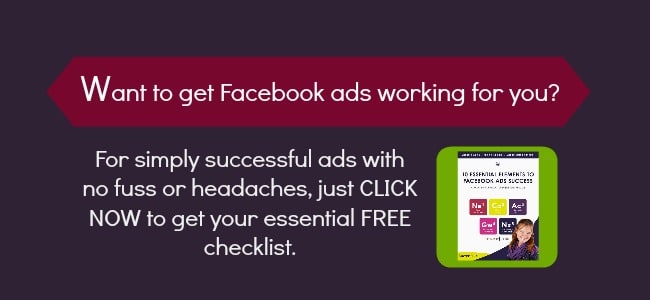 Clients I have worked with have paid literally a few pence to get a click from an interested person to their website – and the beauty is that these website visitors can then be re-targeted with more specific Facebook ads down the line.
What other marketing tool allows you to do so much, for such a small outlay?
But …. before you rush off and start paying Facebook to play on their platform, hang on a minute! …
What message are you going to share?
I'd like to make a very big and bold proclamation here: JUST BECAUSE THEY"RE CALLED FACEBOOK ADS DOESN"T MEAN YOU HAVE TO USE THEM TO SELL!!
Say I have never heard of you before and your ads start cropping up in my newsfeed because you're targeting people like me. How am I going to feel if all the ads I see from you are trying to sell me something?
Whether it's a no-brainer offer, or just a plain old sales piece, you really are going to seem like an unwanted door-to-door salesman, offering me no value, and just expecting me to buy from you, from cold.
What are the results of that approach likely to be?
However, presuming I've never heard of you and I start seeing ads that share answers to the kind of questions I might have around your niche, I'm likely to start warming towards you.
If, alternatively, I see ads which show customers of yours getting great results, or which share a fabulous testimonial, I'm going to warm to you and start to trust you.
Then when you show me an ad which invites me to take the next step, maybe to opt-in for a free guide, I'm very likely to take action – and to listen when you can continue the conversation by email (supplemented by more ads if needed.)
When you finally ask me for the sale, there's every chance that it will be as easy as running a hot knife through butter.
I know that putting together ad campaigns and content in a structure like this takes more work that just creating a single ad with a sales message, but if you're going to go to the trouble of creating Facebook ads and spend money on getting them out there – would you rather get a fantastic response …. or a lukewarm one?
Too many business owners are seeing Facebook ads as the new silver bullet whereas, in reality, they are another form of marketing – a fab one at that – but they still play by the same rules.
The thing is that, ads or not, you're still communicating with potential customers on Facebook, a social network. Therefore you need to be social, not a salesman.
Use Facebook ads to amplify your content strategy, not circumvent it – and you will see excellent results!
(NOTE: Want to get amazing results with Facebook ads, each and every time? You need to know the 10 Essential Elements to Facebook Ads Success. Get your copy of my free, essential checklist by clicking here NOW.)