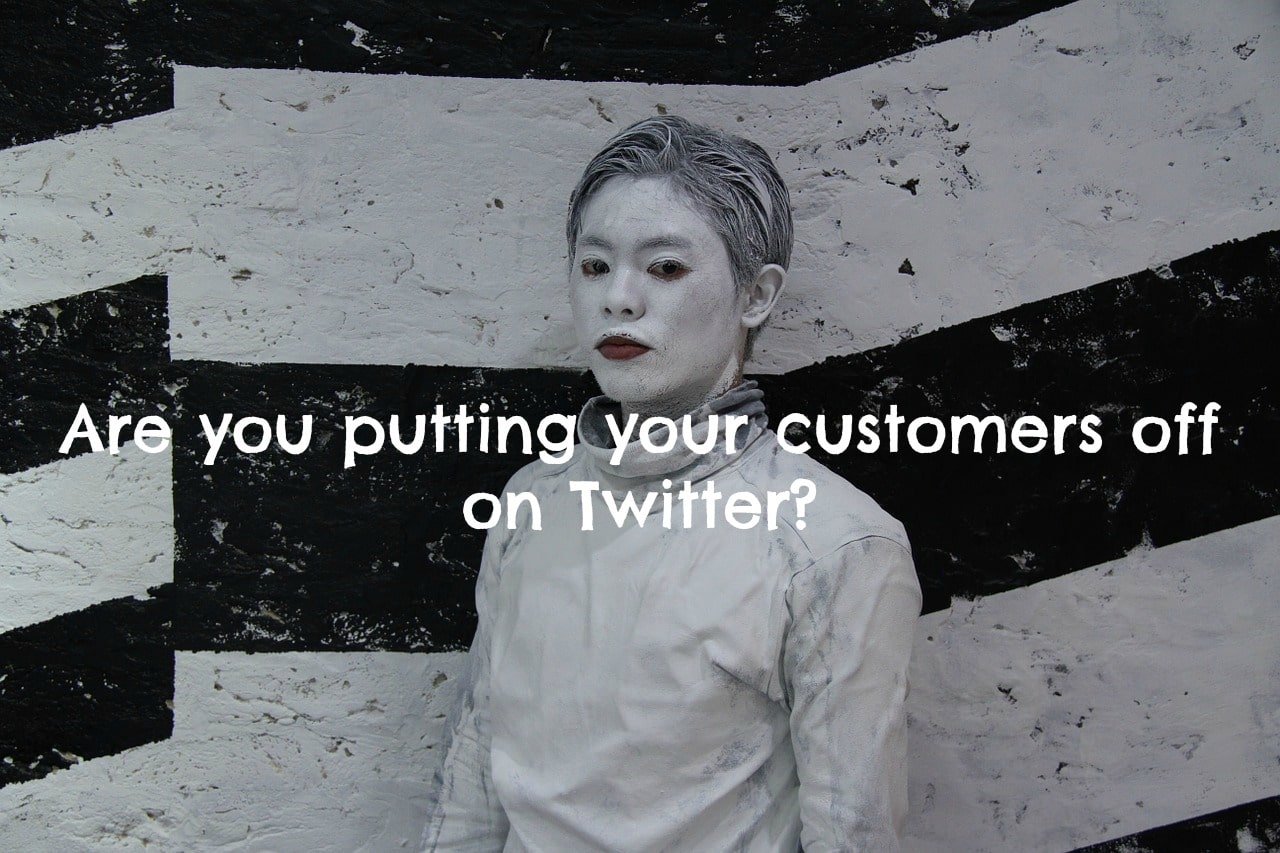 Are you using Twitter for social marketing?
Twitter is a brilliant social network to be on – it's so easy to find the people your business needs to talk to – and to talk to them! You can do the equivalent of going up to someone at a party, or networking event – and start talking to them!
But that's also where the problem starts for many business owners who use Twitter for marketing– although it can look chaotic and very busy, it's all about starting and building relationships. Tens of thousands of businesses get great results from Twitter, but I see so many businesses still unwittingly sending out the wrong signals, that I knew this blog needed to be written.
I'm all about helping business owners making the very most of their time and energy when it comes to social marketing, so it upsets me to see people hinder their own efforts, when a few simple fixes could change that. Read on if you think you might just need them …
So – imagine that a perfect potential customer, or JV partner has just found you on Twitter – maybe Twitter suggested you as a person to follow, or maybe something you said was re-tweeted by a contact of theirs
…. and they click through to your profile to find out more about you …. If you have any of these going on, then you're going to do a good job of putting them off you before you've even met!
Having a bio that sounds like everyone else in your sector.
Don't!
Try and include at least one element here that makes you stand out, eg.
why you do what you do (passion sells!),
an extraordinary benefit (that only your customers get),
how you do what you do differently,
why your customers love you (my personal favourite – pick power words out of your best testimonials and use them here),
a fab guarantee,
a celebrity connection or endorsement,
or some other factor that will make you interesting and encourage the right people to find out more about you.
Tweeting only about yourself/ your business.
Admit it – you know all about this one!
You know that the maximum proportion of promotional tweets in amongst your other tweets should be around 20% (and personally I prefer 10%).
A tweet is a conversation-starter after all! How many conversations do you hear where people say 'Hello I don't know you but I've got a special offer on today would you like to buy from me? " None. Point made.
A basic guideline I share with clients is to plan what they will share on Twitter in advance, to include:
 tweets that will attract potential new clients or customers by talking about stuff they're interested in,
tweets to help positioning or credibility (sharing your own tips and blogs and those of others),
tweets that show more of the human side of the business – encouraging the right people to get to know and like you
tweets that show what a good job you do (success stories, testimonials, PR stories,
sharing other people's tweets and having conversations too.
Want to know more about what to say on social media for maximum effect? Get my free guide by clicking HERE!
Automated 'thank you for following' tweets in a sea of nothingness
When you've not got a lot going on in your twitter feed because you've been busy recently, yet you still have an IFTT recipe or other automated system set up to thank people for following you – and every message says the same thing ….yuk! What is that saying to the lovely new person who just found you?
(The occasional message, mixed in amongst a whole load of other great tweets is, of course, an entirely different story!)
Tweets fed through automatically from your Facebook page.
Have you actually checked and seen what these look like in your Twitter feed? If you do, you'll realize that linking your Twitter feed to your Facebook posts isn't actually a clever way to save yourself 2 minute's of work. What it does is to tell people on Twitter that you don't care enough about their experience to share stuff in a way that fits with the Twittersphere.
Your Facebook post will be truncated halfway through with a fb.me … link, making no sense and making it obvious that you're just doing an auto-broadcast. Yeuuuchh!
Not engaging
If all you do is blast out stuff and don't talk, then you're the equivalent of the (boring) person at the party who talks about themselves all night and has no interest in others. Result? Other people have no interest in you either.
The biggest feature of Twitter is that you can get in front of pretty much anyone there and have a conversation, straight-up, not gatekeepers. That's huuuuuge!
Don't waste this amazing opportunity by just blasting your stuff out into the Twittersphere hoping that something sticks.
It's very easy to kick the sabotage I've highlighted here – just think about how others are experiencing what you put out and you'll be fine!
Then you'll be well on the way to creating the results for your business that you hear others talking about – Twitter really can be a goldmine!
I'd love to hear any other big 'no-nos' you've come across – please let me know in the comments below.
If you want social media to work effectively for you to bring in new leads and customers, you need to create a simple, smart plan. Get your hands on my free guide that shows just just how to do it by clicking HERE.