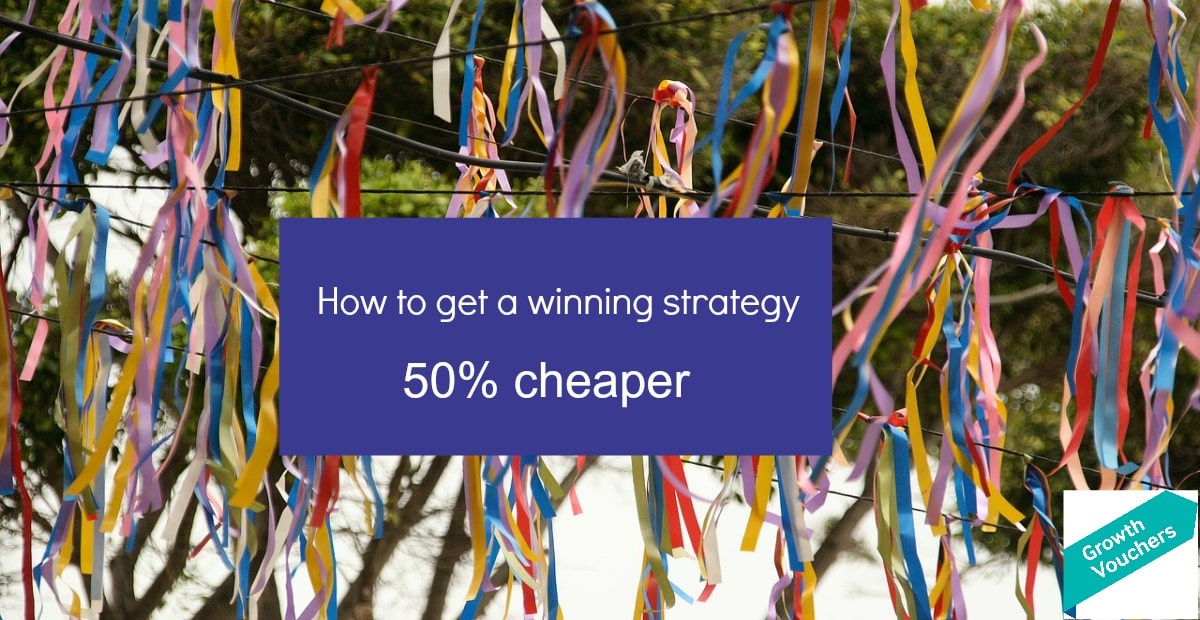 Using social media effectively is a no-brainer for business growth – your customers are there and you can interact with them and grow real relationships fast. You can reinforce your credibility, create your own PR and provide great customer service to boot!
BUT without a strategy in place it's all too easy to go round in circles, wasting time and energy, or to just 'post stuff' for the sake of it, with no real plan.
If you're stuck, not knowing what to say, or how to make the most of this amazing opportunity (and remember, it's free) – then you know you need a plan! A cookie-cutter approach designed to fit all businesses won't cut it with today's savvy purchasers – you need your own success formula.
If this is you, I have some great news for you …
FOR A VERY LIMITED TIME, you can get 50% OFF your social marketing strategy creation!
How?
I have just been approved as an ACCREDITED GROWTH VOUCHER ADVISER!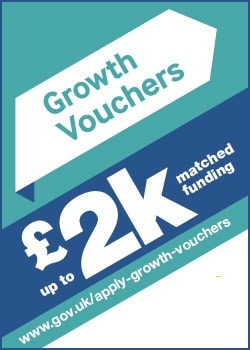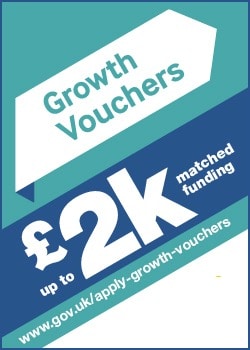 In January 2014 the Government put up £30 million to support small businesses in getting the strategic advice they need for growth, from approved, key advisers. The scheme is called the Growth Voucher.
The Government is literally giving money away to small businesses – all you have to do is apply for it, via a Voucher!
Thing is, you've got to get a move on!!
If you've not yet applied for a Growth Voucher you can still do so – BUT  ONLY until  Tues 31 March.
A voucher gives you match-funding  to get  strategic advice in any of these areas, from key advisers:
finance and cash flow
recruiting and developing staff
improving leadership and management skills
marketing, attracting and keeping customers
making the most of digital technology
(If you wanted to work with me you'd need to apply for a voucher in the Marketing, Attracting and Keeping Customers category – that's where my work  on social media and Facebook ads strategy sits.)
The great thing is – you don't need to have a certain number of employees to apply – in fact you don't even need to be VAT-registered!
(However, to be transparent, you do need to have the funds to pay up-front and then claim the 50% back – it's the way the system works!)
You still have time to apply for a voucher as the closing date is 31st March –  and then you have 3 months to redeem it – so why not apply for a voucher today?
The link is to apply is here:
https://www.gov.uk/apply-growth-vouchers?
Seriously, they set aside £30 million for this scheme and only £5 million has been allocated – why not grab your own slice of the pie!
So – stop putting it off, get a shift on and apply for your voucher.
Then email me – julia at bramblebuzz dot co dot uk – and we can get your social media or Facebook ads marketing getting you new customers on autopilot AND make retaining them a piece of cake!