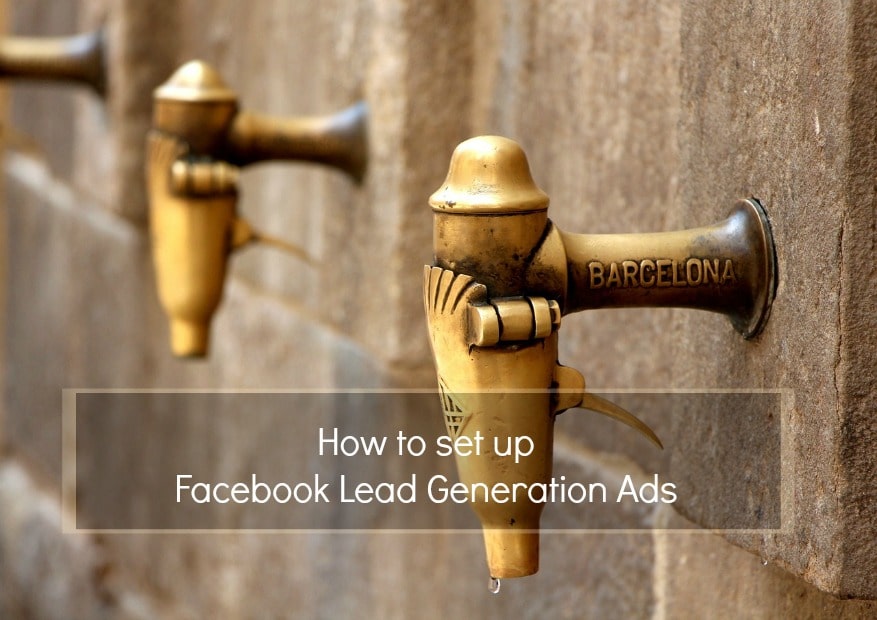 Have you heard all the buzz recently about Facebook Lead Generation Adverts, but you're not quite sure about what they are, why they're so different, or how to set them up?
Facebook introduced this new type of advert  with an article here: https://www.facebook.com/business/news/lead-ads
They're being dubbed as a game-changer in the world of Facebook adverts
a. This is a biggie … when you use this kind of Facebook advert, everything is completed inside Facebook.
Until now, with a regular advert, if you wanted someone to give you their email address in return for a download for example, or their phone number so you could call them with a quote, you would have to take them off Facebook to your web page for them to input their info. Now, with Lead Generation Adverts, your prospect doesn't have to leave Facebook as the details are collected within Facebook itself, by way of a form.
Less clicks means less friction, which intuitively means a higher rate of success. And that means more actions taken for the money you spend on ads (or at least, that's the theory – you never know what will work best for you until you test it!
b. The other big change with Facebook Lead Generation Adverts is that your audience no longer have to spend time and energy (and potentially make mistakes) inputting their email address or phone number. When they click on your ad, Facebook will automatically infill with the information they hold for that person (although your prospects get a chance to edit the data, and nothing is sent across until they click the button!)
Once again, this means less steps to take and less friction for your audience to give you their information, which should give better results, for users and advertisers alike.
Given that people who respond to Lead Generation Adverts now have to do less work to get the download or information they want, than with traditional Facebook adverts, there might be a difference in the quality of the leads obtained. However, results will, of course, depend on your follow-up as a business.
The good news is that you can ask for all sorts of qualifying information up front, (as shown in this screen grab from the set-up page)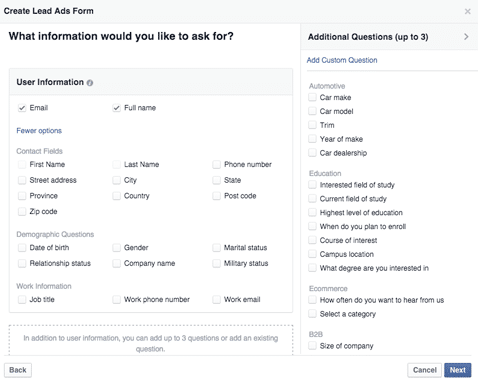 but experience and perceived wisdom tells us that the more information you ask for generally results in decreased responses – ie. people really don't like giving too much away when they've only just met you!
At the moment, the option to run these adverts is only available in Power Editor, but I'm sure it won't be long until Facebook adds it to the choices available in Ads Manager too.
I've created a video to show you just how to set these new Facebook Lead Generation adverts up – and where to find your lead data to download – I hope you find it helpful!
As you will have seen, there is a really clunky downside – at the moment you can't yet integrate your crm with the lead data that Facebook collects on your behalf – you need to remember to manually download it. However, app and software creators are falling over themselves in the rush to provide an automated solution, so that situation won't last for long!
(NOTE: Want to get amazing results with Facebook ads, each and every time? You need to know the 10 Essential Elements to Facebook Ads Success. Get your copy of my free, essential checklist by clicking here NOW.)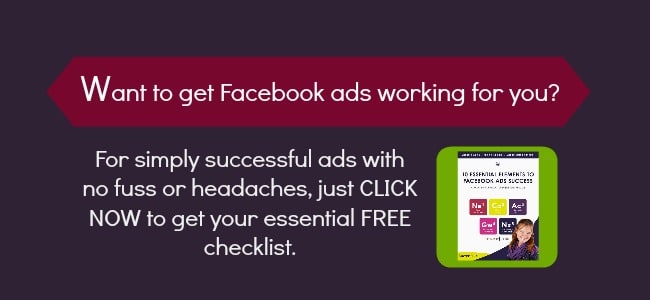 Initial results from businesses that have tested Lead Generation Adverts vs. standard Facebook adverts look really promising in some cases, with greatly reduced lead costs. This just goes to show that it's always worth testing out new features on a small scale to see whether it will be worth your while rolling them out on a larger scale.
(Note that, as these adverts are so new, it's possible that your audience may be a bit put off by the new format, so if your initial results aren't as good as you'd hoped, it would be worth trying again when they're a little more mainstream!)
The one disadvantage that I can see is that, if you are busy building custom audiences in Facebook from your website visitors, these adverts won't build them as consistently as the regular Facebook adverts taking prospects to your web page (although you can add a web address at the end of the ad which users are invited to click on.) However, this downside must surely be outweighed with the potential for a much greater opt-in rate to your email list from the Facebook Lead Generation adverts.
(NOTE: Want to get amazing results with Facebook ads, each and every time?  There are some key principles to follow, whatever the format of the ad.  Get your copy of my free, essential checklist by clicking here NOW.)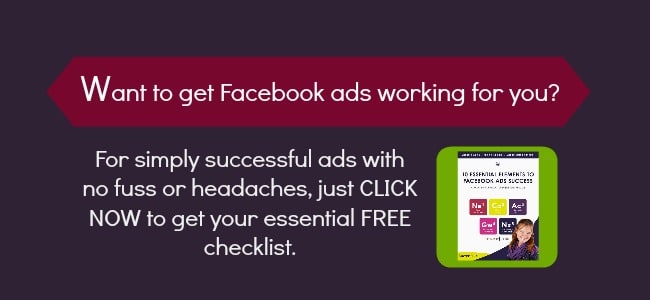 Have you tried these new Facebook adverts yet? Are you excited about seeing how they work for your business? What are your thoughts/ results? I'd love to know – please comment below!