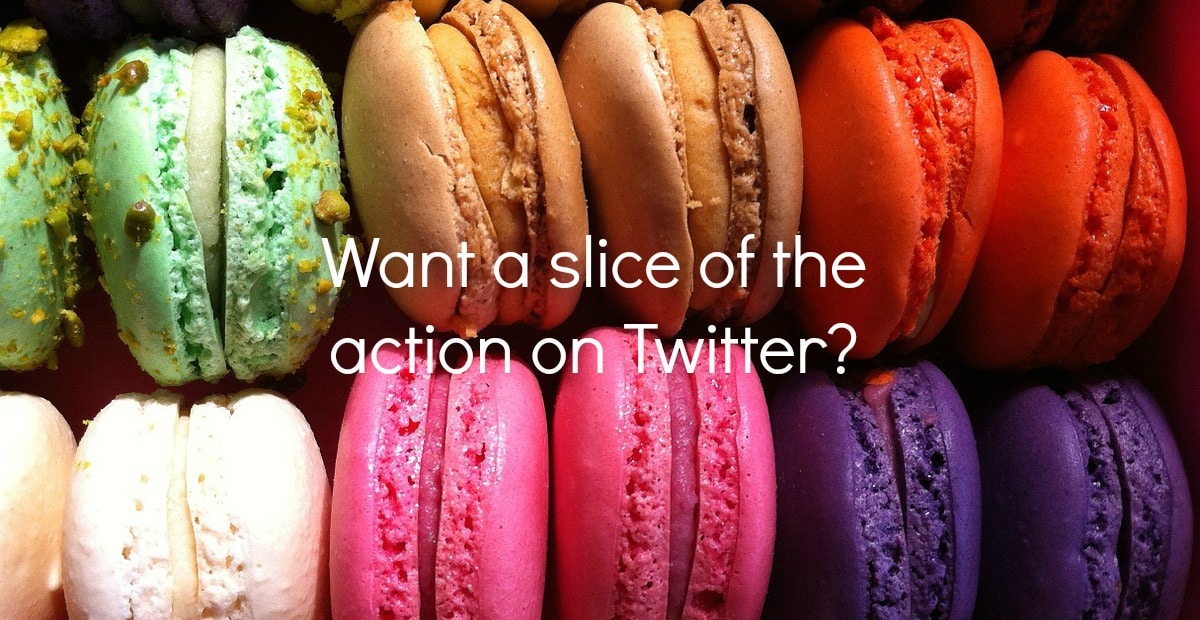 Did you watch the Great British Bake-Off Final #GBBOFinal ?
You weren't alone!
Apparently (according to The BBC) over 14 million of us tuned in to watch the final throes of the seriously sugar-craving-inducing series!
It's one of very few TV series that I make time to watch – partly because my daughters love it too (others being Dragons Den and The Apprentice!)
And what better way to really get into the swing of it than to share the unfolding dramas of iced buns with no sugar, pastry without creme pat (You see I know all the lingo!) and the innuendo-laden comments, than with masses of others enjoying exactly the same feast – on Twitter?
It turns out that quite a few others thought the same way (not surprisingly!) Apparently, a total of 248,437 tweets were sent in that one hour – that's 34.5 tweets per second!
(Source: http://www.bailiwickexpress.com/jsy/life/current-affairs/can-you-guess-how-many-tweets-minute-were-sent-during-great-british-bake-final)
It's a well-recognised habit now – fans of TV shows love chatting about what's going on in them on social media, whilst watching. Twitter is a favourite network because of the quick-fire nature of tweets.
But it's a habit that, in my opinion, marketers don't make the most of.
And I don't mean using Twitter ads to target people who watch specific TV shows – I mean  actually jumping in and joining in the conversations that real people are having, in the moment!
Businesses can really stand out from the crowd and be memorable for the right reasons if they show a personality, a human side – and what better opportunity than this?
So – the thought process for a marketer might be:
…This Great British Bake Off 2015 series is very popular
The final is likely to be even more popular
A good proportion of those watching the final will also be tweeting
Would my ideal customer be in that group? …
Let's jump in and have fun then!
When I went into Twitter last night , I (along with thousands of others I'm sure) searched for the relevant hashtag for the Great British Bake Off 2015 Final, to keep up with the conversation – and the hashtag that came top of the list in the Twitter search box was #GBBOFinal.
So I entered this hashtag into the Twitter search box and kept the search results open so that I could see every tweet coming through containing that hashtag – and only those tweets. (No ninja tricks or expensive software needed for this!) And wow – there was an absolute torrent!
Whilst enjoying all the fun, I couldn't help but notice some (savvy) brands doing a great job of interacting:
And some, predictably enough – just trying to sell …

Even BBC One got in on the act by changing their Twitter handle for the hour to BBC Bun: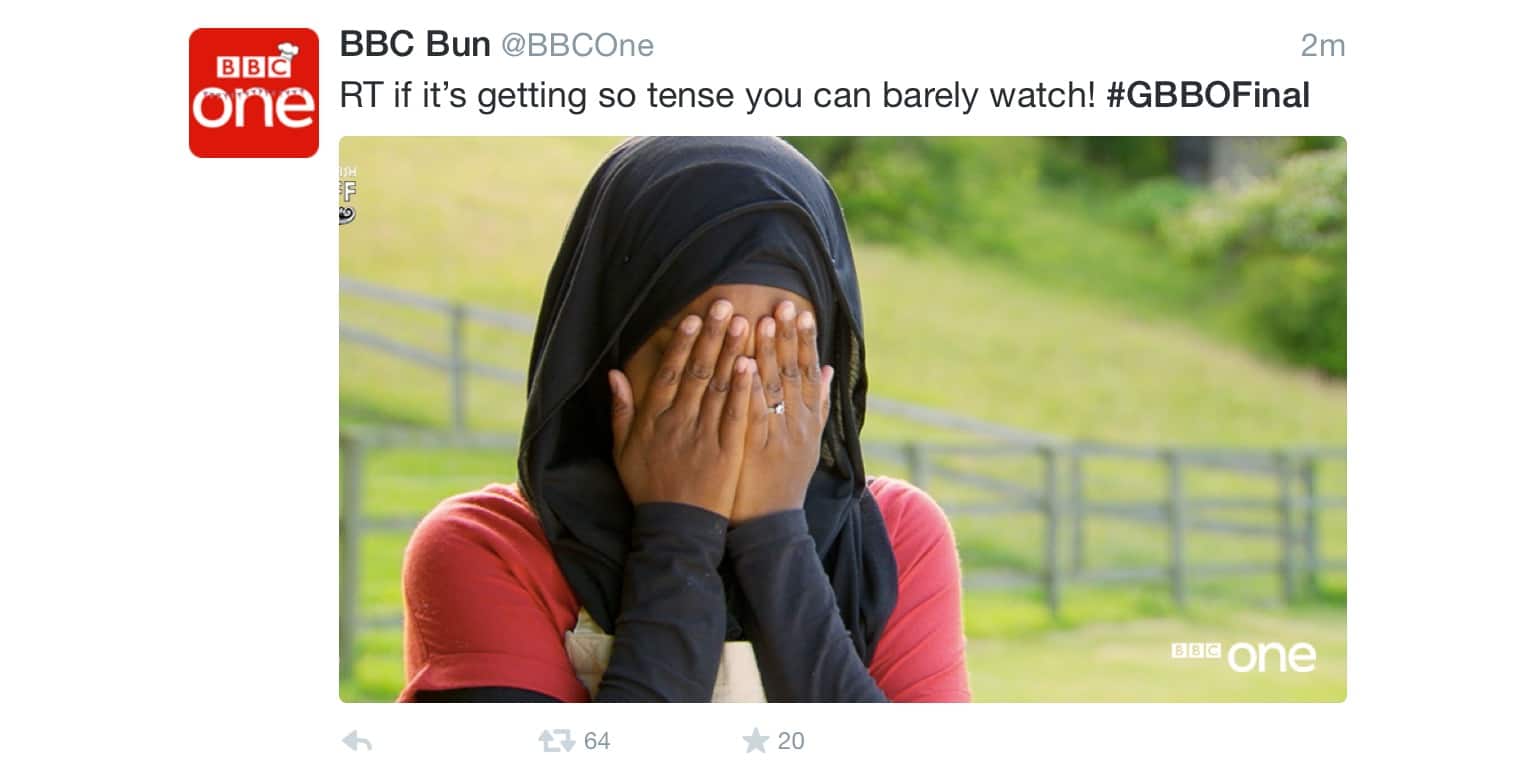 And I was delighted that they responded to my tweet to them – sparked by this: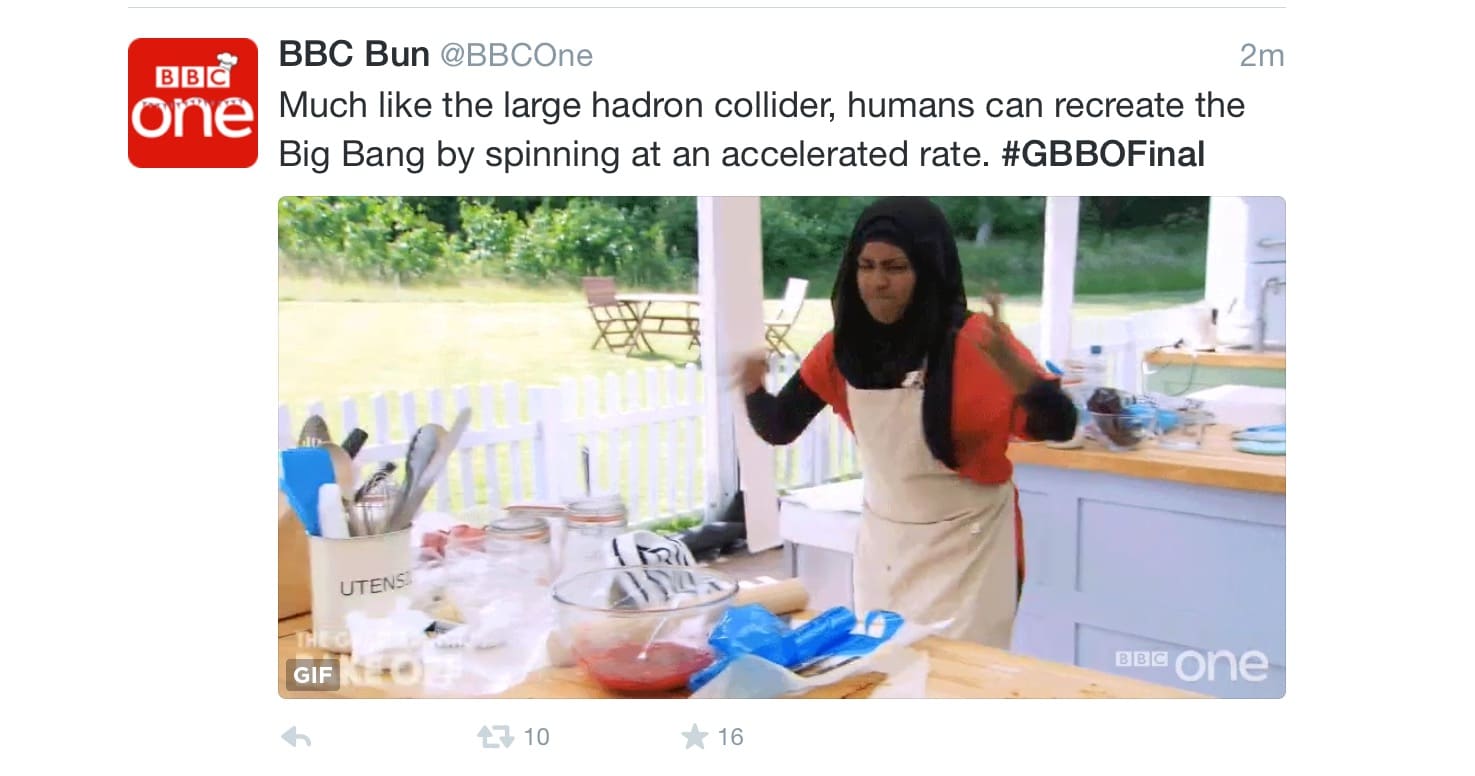 But I was truly surprised, given the huge opportunity, that more businesses, brands and marketers didn't take part in the amazing, cake-fuelled exchanges that were taking place.
Not only was this Great British Bake Off 2015 Final an obvious place for bakers, and suppliers of cake-making kit to hang out (where were you Lakeland?), it was a wonderful opportunity to make friends, demonstrate your human side and share your sense of humour with a captive audience (who were, on the whole, in a great mood and very receptive to friendly and funny shares.)
In total, my tweets just during that hour got over 2,800 impressions, plus I got tweeted by BBC One and had a tweet favourited by a Gogglebox star. I wasn't doing anything special – just adding a few comments into the mix, and replying to and re-tweeting other tweets. I even found that some of my tweets got re-tweeted by other digital marketing and SEO companies. (Just because we're in business doesn't mean we're not human!)
If you're a brand, then joining in with events on Twitter like this can really raise opinion of you; if you're an expert or consultant, then you stand the chance of making real connections with new people, fuelled by a joint interest – and who knows where they could take you?
So – how can you take advantage of a TV show (or live event) rounding up a captive audience for you to interact with?
I'd love to know what ideas this has sparked – and – more importantly, what happens when you put them into practice! Please drop me a line at Julia at Bramblebuzz dot co dot uk or tweet me HERE to let me know.